Yeedi Vac 2 Pro review (initial)
The Yeedi Vac 2 Pro appears to be an advanced version of what was called the Yeedi Vac Max, and the main difference between the two seems to be that the Vac 2 Pro ups the mopping game significantly. We reviewed the Yeedi Vac Station / Vac Max back in August 2021 and today we're reviewing the Vac 2 Pro with a docking/auto empty station.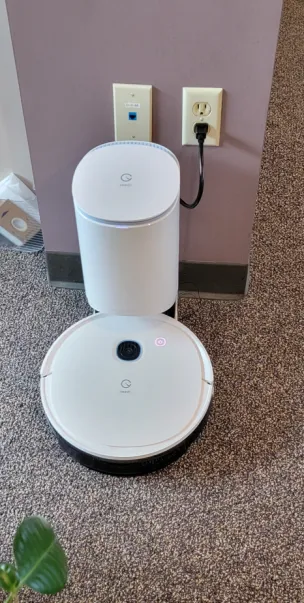 Let me preface this review – if you want a mopping robot, this may be the second best one (for cleaning,) I've run across and the best in its price range. That said, remember my last suggestion at day 67 on the previous Yeedi review was to skip until some of the software issues had been resolved. Have they? read on (or don't.)
---
Yeedi Vac 2 Pro mopping
What's new and great about the Vac Pro 2? Well, that oscillating rear end scrubs the dirt rather than just dragging a damp mop across the floor. Drag mops I've just stopped bothering with because there's not a terrible lot of difference between them, and really very little good way to metric them.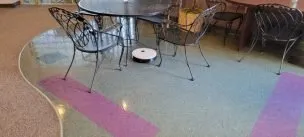 They generally are meh. The Yeedi Vac 2 Pro is not meh, it's possibly the second best mopping robot I've run across and did a number on every mopable surface I put it on.
Unfortunately the mopping appears to be an either/or situation. You mop, or you vacuum. If you want your Yeedi Vac 2 Pro to be docked on a carpet, you don't appear to be able to start it from there with a mop and head to where it needs to mop. This requires a bit of manual intervention. Not terrible, but I've become spoiled by puck vacs that pull up the mop.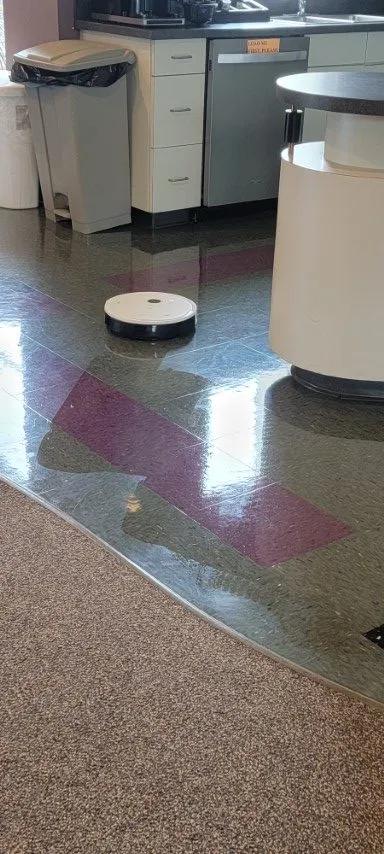 The mopping did really well. Fairly dirty kitchens, odd corners, it didn't get the edges particularly well but I have not run across a mopping vacuum that does edges particularly well. It mops, and it mops well.
The mop's oscillating causes the entire robot to shake a bit, so be aware that in mop mode it looks a little like it's having a meltdown. That said, it appears to be scrubbing pretty well.
The Yeedi Vac 2 Pro in a dock does not have a way to clean itself automatically which some of the higher end mop bots I've seen have. You'll need to clean off the mop manually every now and then.
I generally found that if I wanted to use the mop the process was the same. Put on mop rear, move vacuum to floor, press button, walk away for a while, come back to clean floor. I had no programming that worked for it in my use cases as I can't have it in the kitchen/mopping areas.
---
Vac 2 Pro vacuuming (the good)
As a robot vacuum, it does slightly better than pucks like this. This may be due to the suction power, might also be due to the hybrid silicon/brush it has. It claims only 3000Pa, but my guess is the airflow and bristles throwing dirt up are causing it to pull more dirt than I expected.

Remember, it's not about just suction, it's getting the dirt near the suction, and trapping the dirt. This did as well as 4000Pa units I've reviewed. Possibly better but still working on that test.
On the first large scale run I ran it on medium for nearly two hours and it picked up so much dirt it was unable to empty itself into the dock. This sounds like a complaint, it isn't. There was so much packed in dirt from a two hour run at my office building that I was astounded. Office vacuum evidently not picking up particularly well.
Followed by Vacuuming (the bad)
My review of the previous Yeedi, we had a lot of problems getting the unit to ever finish the initial mapping. The Yeedi Vac 2 Pro has the same, or worse problems with real-world initial mapping. It takes forever, it looses the map quite often. And in my case I spent 56 minutes watching it map, had someone ask me a question, and then while answering a woman came over, picked it up, and put it in her office killing the mapping.
I've got a map now. The map looks ridiculous. Blocky weird. Here are 3 different vacuuming softwares I'm running at the same time. The first two are competitors to the Yeedi Vac.
You'll notice the one on the first one (Mi Home / DreameBot,) I have many areas defined, you've got a pretty decent idea what the place look like.
The second picture below (ILIFERobot software) is the second floor – pretty much the same layout as where the Yeedi Vac 2 Pro is running (floor 3 has a kitchen.) The same basic layout on 2 & 3 I am able to define things on competitor software, Yeedi… eh.. blocky. Not a problem for most, but something to note.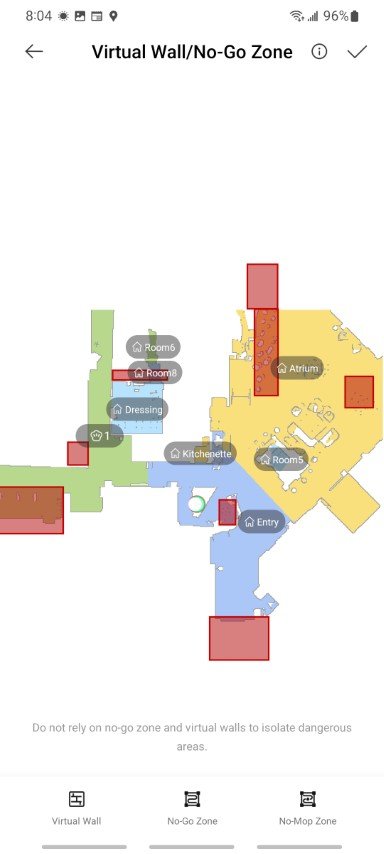 What is problematic, at least when I bring these into a corporate environment, is docking. Like the Vac Max is just loses where the docking station is. Last night I got informed it was lost, I jumped in on security cameras, located it, tried to get it to the dock but it claimed it did not know where the dock was.
It knew where it was, but the dock based on the map is floating 18 feet in the air. Looking at the picture on the right in the gallery above that green lightning is where it thinks the dock is. The bluish line down and to the right is where the unit started, off of the dock. It's moved into the air.
This could be observed when the mapping was happening. Should be noted that the floor this is being used on has about 22 offices. I could watch it mapping correctly, go for a loop around the floor, and when the physical robot was back where it should have been for the start it would think it was a few feet off. This doesn't happen with any other robot vac I've run into. It happened at my father's house when he was reviewing the other Yeedi. His house is not that huge.
Problem? If you've got a large house yes. If you're attempting to pit 3 robots against each other and also see if you can bring allergy season to a halt at work while simultaneously helping out the cleaning staff (we'd much rather they did anything but vacuuming,) a big problem because you can't have something that just gives up 6 feet from the dock because it misplaced it.
The features you might want
Works with Alexa / Google Assistant
Mops very well
240 minute runtime in eco mode (light)
Compatible with the Yeedi self-empty station
Carpet detection
Programmable schedule
Yeedi Vac 2 Pro more issues
Software is currently a hard pass. It's got several issues such as somehow just disconnecting from the unit while claiming it's still disconnected. I've got a map that it's sitting in front of the elevator, I jump in and look on the security cameras and it's plugging along on the other side of the floor. Kill the software, relaunch, it's good.
The software problems really hurt this unit in my eyes, but the obstacle avoidance is weird. It sees something, it slows down, and then bumps right into it slowly and turns, bumps into it again, turns, bumps into it again, and gets on with its life. A large amount of runtime feels like it's bumping into things, pausing, and turning.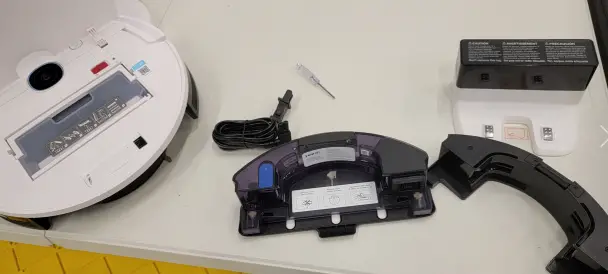 I can tell it sees the thing, and then whap. Software. Yes I've updated firmware. Yes it claims there's a full map.
Now, I know that a corporate environment is not the idea testing ground. These are designed for houses, corporate is kind of easy mode. Being that it's easy mode though I shouldn't be running across these issues. It doesn't appear to figure out that in a hallway scenario at an angle it doesn't have to go and touch the wall, pause, turn around, move, turn, tap the other wall.
When you're dealing with a 30+ foot run that takes serious time. Even with a map it doesn't seem to figure out a fast way to clean an area. Logic needs updated. Fixable.
Yeedi Vac 2 Pro overall
As a robot I can throw into a kitchen and press a button and get a mopped floor – great. For something that vacuums powerfully and get up a huge amount of dust. Great.
For a detailed map, finding the charging station in larger areas, finishing a map, software, etc, no. It's been running for several days and still has not got what I would consider a reasonable grip on where it's at. This is similar to what my last experience with the Yeedi Max in 2021 was.
I'm not going to directly compare it to brands, but as noted I'm doing this on two other floors with two competitor robot vacuums and they don't have this issue.
Once again, I'd love to make a commission on a sale here. I really do think the hardware is great on this. But like I said with the Yeedi Vac Max + station on day 67 back in the day, probably ought to pass until the software is updated. The mapping is not good.
You can find the Yeedi Vac Pro 2 on Yeedi's site, or Amazon.
[f
inal review, pretty much same as this one
]