Battery Daddy, I didn't know I needed you
Found at Costco, and I suggest you get it there because it's going to be a bit less expensive:: The Battery Daddy.
TL;DR – love letter to a plastic carrying case I found at Costco this weekend and had never heard of before.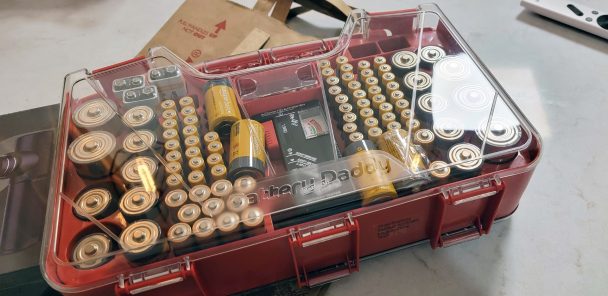 I got this because one of my drawers that exists in a child's room is a combo battery drawer, junk drawer, and Junk II Drawer (TM). The weight of the batteries plus all the junk, which nobody claims and is about to become one with a landfill, made getting to and finding anything impossible.
Hold my cells, Battery Daddy
This weekend after using what I thought were the last three AAA batteries I was at Costco and picked up a pack of Duracell baatteries that were on sale, and saw The Battery Daddy.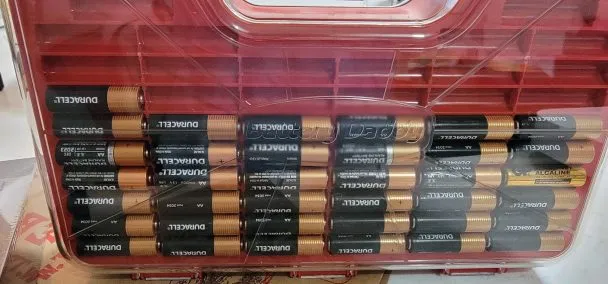 Now, I don't make impulse purchases usually but this seemed to be right in line with what I wanted in terms of storage. I can slap it in my tool chest and bam. Yeah. I didn't even know it came with a battery tester, and now I do and I know which batteries were crap.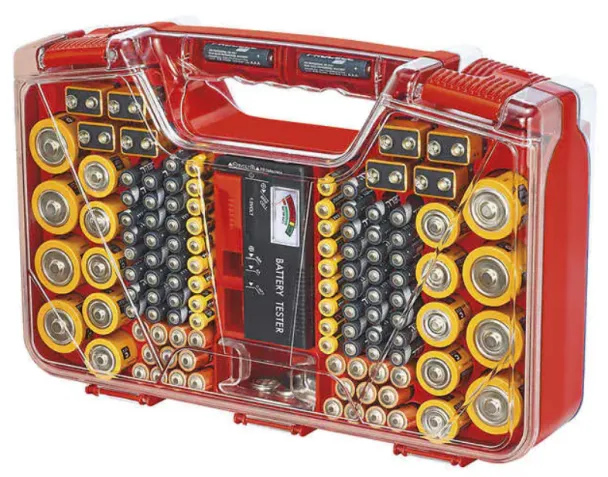 What's not evident on this photo is – look center, above the battery tester, is puck battery storage. Got a bunch of CR2032s in there as well as some watch batteries that will last until the end of time. It's doubly not evident because you cannot see the actual product on the Battery Daddy packaging (full box,) and the one they had pictured does not have the plastic space above the removable battery tester. After writing this and looking closely the one pictured has the plastic thing below, which it doesn't appear could work with mine. Issue? No.
I highly suspect the Costco marketing ninjas were like "you know what we need to do? Get that guy Paul to buy a $12 case as an impulse purchase."
Speaking of the removable battery tester. It's … OK… I'd purchased one for a whopping $5 a while back that blows the one included with the Battery Daddy out of the water, but you know what unless you're testing hundreds of batteries it's OK. Testing all the AAA and AA batteries above I had problems with about 9 of them because I had to reposition. That's not bad unless we're dealing with a whole lot more batteries than I tested.
Above photos of the Battery Daddy are all my good batteries. About 6 got chucked, one had been leaking in the drawer and had started damaging the wood. Yet another reason I wanted some sort of storage rather than junk drawer. I had four too many C cell batteries, so the first picture is me having shoved everything in there.
There's actually storage for about 9 more AA batteries in front (including up in the handle area,) but due to me jamming ALL THE THINGS in there, looks a little like that.
Anyway, go to Costco, grab one. It'll maybe not help with much but it will make you wickedly organized. The Battery Daddy I have that Costco sells appears to be the 180 count version, although should you need it they appear to go to 250 (not at Costco.) There are also plenty of brands of battery organizer, but this is what I picked up at Costco.
Alternately, pay a bit more for the Battery Daddy on Amazon (they also come in different formats should your particular battery usage be different.)
Full disclosure, Amazon link would make us $0.51 potentially. Costco link nothing. You going to the MFGs website, nothing.
Battery Daddy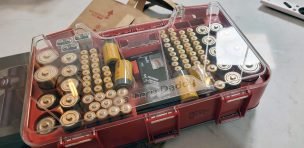 The Battery Daddy is a case that stores your batteries and allows you to see everything you've got at a glance. The included battery tester also lets you know which batteries you don't need to bother storing.
Product Brand: Battery Daddy
Product Currency: USD
Product Price: 14.99
Product In-Stock: InStock
Pros
Organizational magnificence
Sturdy construction
Battery tester included
Cons
Not what's pictured
Battery tester cheaply built