FlexiSpot Comhar All-in-One Standing Desk – 21 days in it's great
If you've ever researched running a marathon, you've probably run across that standing for three hours a day can be the energy expenditure equivalent of running 10 marathons a year. Whether this is true or not, or your experience being the same, I do not know. It's nice to stand, and not just decompose slowly into a chair. This is my mindset.
I received a Comhar All-in-One Standing desk a little over three weeks ago from FlexiSpot and it replaced what I called the Alleged Desk at my house. The Alleged Desk was cobbled together when the state was locked down for Covid, and consists of a lot of wood that I had laying around. None of it was quite suitable for anything, but when we suddenly had to have four desks in a one desk house (school was remote as well,) while the world was on COVID-19 lockdown, it worked.
This has been a major upgrade, let me tell you.
TL;DR – I have no complaints, a couple of suggestions
Setup
This was going upstairs at my house and was one of the few items I just gave up attempting to move up the stairs. I could not. I tried a strap, rubber mats, massive muscles, but no matter what I could not safely get it up a flight of carpeted stairs in the box it came in. 1-2 stairs and then slip.
I was about to call my neighbor and then realized it was probably just easier to open the box and take the pieces up. Don't have the dumbs like me, kids. I'd say nearly half the weight is the legs, and when you take them out of the mix it's quite manageable. The desktop was significantly smaller than the box, and I was able to easily walk it up the stairs unboxed.
The first thing I noticed during assembly was that the screw threads/holes were perfect. I hand tightened every single screw without resistance. That's just not something I run across often. Usually there's a little paint, some force required, etc. Nope. FlexiSpot has their screw game down, at least on this one.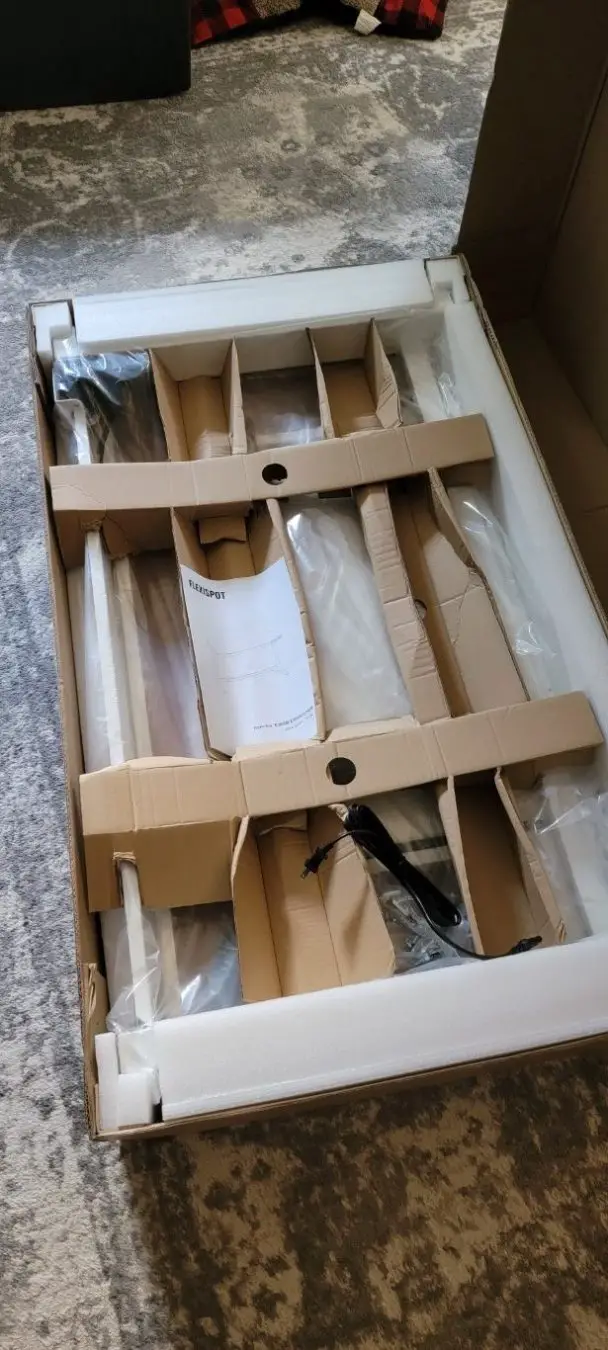 Assembly took a very short amount of time. Significantly less than I'd budgeted for.
First uses (learn from my fail)
Here's a picture of what the first hours looked like. This is before I had a chance to to basic cable management and before I learned to beware of exactly how high and how much force a standing desk can obtain.
You should take note the wall shelf and best of the 90's track lighting attached to said wall shelf at about 5 feet high that with the canisters comes in at 4″6′ off the ground. You should also be aware that the Comhar All-in-One Standing Desk can raise up to just slightly under 4 feet high and can lift up to 110 pounds with the motor. You may also want to know that after you let off the up or down button it still runs for a second.
After cleaning up the glass and blood ….
Nah, I yanked the laptop right as it touched. Almost had squished something. Just one of those things that I did not expect to happen.
Using all the features
The unit I received came with six buttons. Up, down, and four presets. Long pressing a preset programs it. Pressing it for under a second moves the desk to that position. The four presets work perfectly for you and a co-worker/spouse to set your preferred heights and have your own button.
The unit also comes with two USB-A ports and one USB-C. I checked and the USB-C seems to be pushing about 15 Watts. (according to my ScoutPro,) The USB-A appear spec-wise to support QC3, but due to the positioning of them they're not on my favorites list and I have not tested that.
Comhar All-in-One Standing Desk Specs
47.3″ x 23.7″ x 0.5″ (48x24x0.5)
2″ thick with drawer
110lbs lift capability
1″ second lift rate
<50dB motor
4 height memory presets
Digital height display
Child lock button
USB-C 5V @ 2.4A / 9V @ 2A / 12V @ 1.5A
Dual USB-A 3.6-6.5V @ 2.4A / 6.5-9V @ 2A / 12V @ 1.5A (do not know if shared load or not)
5 year motor, frame, warranty
2 year controller, switch, electronics warranty
Suggestions for improvement
While the Comhar All-in-One Standing Desk is remarkably well designed and seems like it could take out a truck without much issue, I wish they had added some cable management options into the thing. Just a couple of holes, or pre-screwed grips on the bottom, anything to prevent me from breaking out my black clashing zip-ties to try and stage a photo shoot.
As the unit goes up and down, having a power strip that's attached to the unit in such a way to not pull cables seems like it would be a no-brainer. This is the only thing I really found lacking in the thought of this that there appears to be no mounting options other than zip ties.
I also wish there were more USB ports, but placed in such a way that you could easily, with shorter cables, run them out the back of the desk. Front desk ports are cool and all, but invite accidentally yanking the cables. I could use a full time USB power source, but at the front it's not particularly useful to me.
Wrap-up
At three weeks in I have no complaints, which if you've ever read my reviews you might understand that is rare. The unit so far is solid, does what I wanted, looks like I wanted, and was easy to assemble and operate.
You can grab a Comhar All-in-One Standing Desk at FlexiSpot.
You should also check out their Soutien chair (pictured above, previously reviewed) – it's been remarkably good.
Comhar All-in-One Standing Desk
The Comhar All-in-One standing desk is one of the very few reviews I have done where I have no real complaints. Desk works, s solid and seems well built.
Product Brand: FlexiSpot
Product Currency: USD
Product Price: 399.99
Product In-Stock: InStock