Emporia Energy Smart Plugs review
The Emporia Energy Smart Plugs allow you to understand and take control of your energy usage in interesting ways that no other individual smart plug I've reviewed have.
Update: there has been a recall on some of these plugs sold between July 1, 2022 and August 1, 2023. If you own one of these they'll replace it. Issue was not enough grounding / potential for a shock.
While the plugs are your fairly standard setup and assistant-integrated control, the app and energy monitoring abilities bring some tools to your outlets that I haven't seen in one-off controllable plugs before. Will cover briefly below.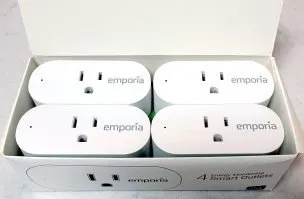 Emporia Energy Smart Plugs setup
The smart plugs appear to be your standard on/off/on/off/on setup, which probably means you can monitor these through third party apps such as Govee or Mi Home, but for purposes of this I only used the Emporia Energy app.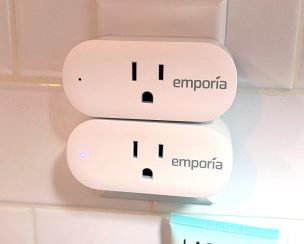 Adding a device was problematic (Update: problematic August 7, smooth as butter August 23. Software update? My phone?). Two devices I added both failed to connect initially, then worked fine. Both claimed they failed to update firmware after a forced update, both appeared to have updated firmware. I don't really have a problem with it working while claiming it's failing, but this made me feel a little like the setup process needed some work.
Upon pairing a couple of plugs I added them to Google Assistant / home, paired as you'd expect and I was able to turn them on and off by saying "ok google, turn on the ventilator" and "turn on the regular fan." Can you tell I'm working at moving cold air from one side of my house to another?
What sets the Emporia Energy Smart Plugs apart
Emporia Energy appears to have a whole smart ecosystem which includes smart EV chargers, electrical panel connected circuit monitors, and connected batteries.
The hardware I'm looking at here (the plugs,) is pretty standard, although a little wide for my tastes. The main difference, if you want it, is in the power to control your devices based on several factors (and not just on/off, timer.)
Ever wonder how much power your fan is using and how much that's costing you? You got it. I've got a heavy duty drywall ventilator running while I await a fan delivery, bam, I know what it's costing minute by minute.
Want to turn on something automatically based on how much solar power you're currently generating? There's an option for that. Do you get charged differently for different times of the day? It's got you covered. Want to prioritize devices for peak demand management? It says it does this.
Most of the items listed above could be done with IFTTT and a schedule, and some things will probably require additional investment in Emporia Energy's products however. But if you're looking to dip your toes into some smart energy monitoring, at roughly $11.50 a plug (in a two pack, $8.75 in a four pack,) these are a fairly inexpensive start to getting a handle on your energy usage.
Even if you're just wanting to know how much power a few things draw getting two of these smart app connected plugs is about half the price of a Kill A Watt outlet monitor (which probably everyone should own because who doesn't want to see how a blender responds to crushed ice vs ice cream,) and you can fit two of them in a standard US outlet.
I have some notes
I'm not going to go into nitpicking things I don't have access to. I've got roughly $35 of an ecosystem (thanks for that as a note,) and am verifying correct energy usage with other devices (such as a Kasa strip, a Kill A Watt, and to a lesser degree my Sense Home Energy Monitor.) While my fans appear to vary in draw second by second, it appears we're in the same ballpark, on the same base, and looking the same direction when it comes to 1 minute ranges so my guess is this is fairly accurate.
It does not appear to integrate with other energy controlling systems. You drink the Emporia Energy Kool Ade, looks like you're in that camp. This is an $11.50 smart plug however, so take it at that and it works as good and has better reporting features than any other individual smart plug I have. That is if you want to use their app post setup. It doesn't appear to present itself to home assistants (Google,) as anything other than a smart plug, and it doesn't hand over information to an evident competitor (Sense.) You can turn it on and off but there doesn't appear to be any way to pull power usage via third party controls.
At 10 amp sustained usage (15 amp peak,) some of the options I would consider for this are out. Window AC units can pull more than that. Some battery chargers as well. Eh, it's an $11.50 smart plug. I'm really overthinking it here. I know this.
---
Wrap up
Price is right.
They work as smart plugs.
App needs some work in the setup department.
Would be nice to see third party integration with other energy monitors although I know that's not a profitable idea.
10 amp load is probably more than enough.
You'll have to want to use their app to make some of the magic happen.
The Emporia Energy Smart Plugs are available on the Emporia Energy site, and Amazon.
As of this writing only the two pack was available, but pricing on Emporia's site suggests these can be had in a four pack for about $35 so you can mentally transpose my $11.50 comment to $8.75 should you want. Wrote at the price that was available.
Emporia Energy Smart Plugs
Emporia Energy Smart Plugs are your standard assistant-enabled smart plugs with some neat app-based features such as peak usage limits, excess solar triggers, and usage hour targets. As your standard smart plug, they work just as expected. The app brings several additional features that make them worth a look.
Product Brand: Emporia Energy
Product Currency: USD
Product Price: 8.50
Product In-Stock: InStock
Pros
Assistant integrated
Inexpensive
Power draw monitoring
App configurability
Cons
No integration with other energy monitors
App needs some work with setup
In-app advertising for their ecosystem