Updated: Google Fiber ordered after bashing on Google all day (and has gone as expected)
You might recall my very bad Google day of .. 48 minutes ago at this point. What you might not recall was in 2020 Google Fiber finally said they could deliver to our office and we all did the happy dance.
At the time it was going to cost roughly half of what we were paying. It was Google. It was 2020 and yeah buddy we were all set for Google Fiber to show by Christmas 2020 although our deadline was January 31, 2021.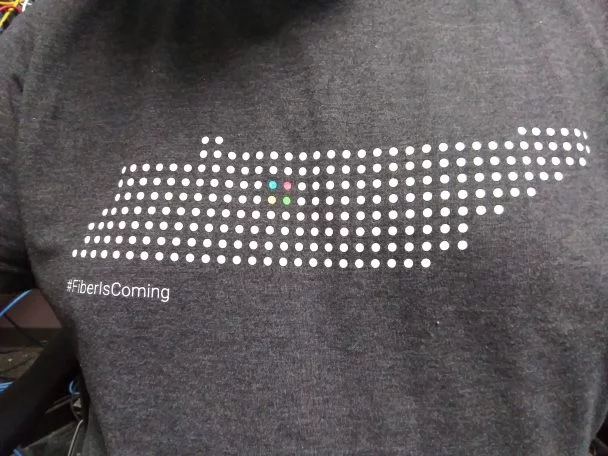 That it's 2022 and we don't have Google Fiber may tell you something
Here's the nine month fiasco in which they missed the deadline by 7 months after damaging our property/trees. I think this is when I stopped idolizing Google for their AOSP and inventions to date.
Google Business had been running at $250 a month for a gig, and AT&T was less than half that, so after the 7 month swing and a miss, property damage, and nobody taking any sort of lead or offering anything in terms of a service level agreement, we walked. We got called a year to the day from our initial contract signing and they wanted to meet but mostly about how they could sell to tenants in our space. We were never contacted about the damage their subcontractors left.
At 2.5x the price of our AT&T fiber plan, and with a lot of bad blood we walked. Tenants have asked and heard the horror stories.
The price dropped to $100 a month for business however, and as a business that lives based on being able to push data out of the building and being up all the time, it seemed like a no brainer to have feet in two distinct networks. Even if it is with a company that offers no SLAs.
Tomorrow they show, and I start testing their service to see whether it's going to be stable enough to put on the network, or used exclusively as a fail over in the rare event our AT&T fiber goes down. The theory here is multiple networks will hopefully grant greater stability, and if I can bond the upload bandwidth this will be quite cool.
Google Fiber has a 2.5 gig option, but it appears that's only down and a 1 gig up which… who needs that?
We'll see… at this point I worry very much like this is going to be yet another fiasco. But we'll see.
---
So yeah, seconds after posting this article I noticed I got an email from Google Fiber. The message was next to unreadable because they included a PCMag readers choice icon that is 3335×3703 pixels and not scaled down to anything.
What it looks like on a 1200×1920 monitor
The resolution of the file is slightly less wide and a 4K monitor, but due to the height it's 67% more pixels than a 4K monitor coming in at 12,349,505 vs a 4K standard of 8,294,400. It's comedic.
I checked in Gmail it displays like this:
Image in question can be grabbed here – 317K
Updates 8/24
What I might not have mentioned was I ordered this a little before midnight and had an appointment about 15 hours out. It was set for 1pm. With the entire wall of Google Shame having been verified in 2021 as live and active, I expected … well, I expected nothing really… I got it.
Tech showed thirty minutes early – for me this was great. 22 minutes before the scheduled arrival time we learn that there's no light to the building (fiber optic cut, dead node, something in the last year has gone out,) and as such we now start the install and repair tango.
Got a note that the repair team was contacted, no ETA.
Got an email shortly after saying my appointment was cancelled.
August 31, 2022
I get an email asking if I still want to get Google Fiber service and asks if I'm still interested in being connected to the service. If so they can get some people scheduled to fix it.
I ask nicely if they were not planning to fix it if I didn't say yes, a week after the problem was still identified. I am told that is correct, the office building would not be slated for a fix, and whoever signed up for Google Fiber service in the future would get to deal with it.
September 1, 2022
Random subcontractor shows up unannounced. I'm not at the office, actually lunch time for me, I walk them through where we're at and they're not the people who are fixing the issue it appears. They're there to inspect the install which has not been installed because the service isn't working. Or maybe there're there to verify the broken install. I have no idea.
September 12, 2022
I'm dealing with a POE switch failure and attempting to get half the office back up. Google Fiber shows up unannounced needing access again. Two guys come up, I tell them the quick story of how it was tested and light was dead. Person 1 opens jack 108 and it's got light. That's not the one I needed. They test the suite I'm in. Dead.
Quick testing shows that of the 50+ jacks they put on the wall half are dead. As noted from before, we asked for a total of like 5 jacks for the building's tenants. Nobody is live. Nobody cares. They keep telling me that the previous tech must not have checked, and nope… I was there, he checked multiple units and the light was not there or his equipment was bad.
They move my jack over to the side that has light. Now the numbers are out of order but who cares? They're going to attempt to figure out why the right side is dead. I mentioned that I had witnessed the testing of several of the things and it was live when they left last year. He didn't see how. Whatever.
Next up I guess they'll come back at some point to put a modem in. He seemed rather irked that there were no power supplies for anything on site but no idea on that.
September 19/20, 2022
As there's light and as I was once again asked "what's the deal with Google Fiber is this another fiasco?" I shot my contact an email informing them that there was light and I was wondering what was up. I'm told they have not heard from their people yet.
October 3, 2022
A week or two ago I got notice that the account was being cancelled in 72 hours unless it was installed. It's been two weeks at this point since I last heard from anyone. Shot an email asking if there's anything going on or if I should just assume we're done.
My contact says they're not in charge and is a door to door rep – so yeah…
October 12, 2022
They show, three people, fiber's dead no lights to the building. No go.
October 13, 2022
I'm out for wife's birthday. They show, unannounced as usual, have to get them let into the area, and determine that the damage is… 5,335 feet from the inside jacks.
If this seems excessive to you, welcome to the club. That's over a mile/1.62km. This seems a bit odd because the cable from our building runs to a network piece of equipment that's at our sidewalk. That's 800 feet as the cable is laid – jacks, box, 6 feet to tube, 12 feet down a tube, 90 degree left, 50 feet over, 90 degree turn down, 24 feet down, 90 degree out, 15 feet, 90 up, 2-3 feet, 180 degrees down, around the building, yadda yadda yadda until you're at the sidewalk and plugged into the equipment.
This is day 50 since this year's initial failed install.
October 27, 2022
Had an email 10 days ago indicating there was movement. Got an automated phone call indicating I needed to schedule an install. Same as last time. Account's going to be discontinued in a few days. Shot my contact an email asking if this was fixed as, like last time, I have heard absolutely nothing and scheduling people to come out and stand there and not have a connection just wastes my time.
October 31, 2022
Got an email on Friday the 28th I guess indicating that there are multiple meetings with various people this week on what's going on.
This is day 68 since this year's failed initial install. I still have no ETA.
November 5, 2022 (Saturday)
I got a voicemail at 4:53PM from a Google Fiber representative. I called back about 5:02 as I just missed it. They have a person standing in front of the building and are unable to access it. Today is Saturday. I've had no contact or anything from them or any reason to expect that a rep was going to need access to the closed office building near 5pm. I am not driving to work at 5PM for an unexpected drop in to access the closet.
Lordy…
Today is day 73 of this install. That was unexpected visit number 6 if I am keeping track right. They're coming back Monday.
I asked if they didn't have it listed as an office building, nope… listed as a multi-tenant dwelling for this particular set of people.
I am assured they will be here between 9 & 10 am Monday.
November 7, 2022 (Monday)
11:04am they have not shown, called, emailed, or been here.
November 9. 2022 (Wednesday)
I had written my only contact at Google on Monday about that nobody showed up. Got another robocall from Google Fiber telling me it was vitally important that I schedule an install. Nobody's called, showed, emailed.
November 10,2022 (Thursday)
Account will be cancelled in three days automatically at this point because once again they can't get it repaired. No responses from anyone at Google. No unexpected showups.
November 11, 2022 (Friday)
Got an email they're still working on a fix and no ETA yet and everyone's on top of it and my install has been scheduled for as far out as they could (which I believe is the end of December) – is this day 79 of this debacle?
November 29th, 2022 (Tuesday)
A day or two ago got a notice that my appointment had been rescheduled to 8am on a Saturday in the middle of December. Checked back and got a note from the person on top of it that still no ETA on repair and no expectation that it'll be repaired or ready by then
Today is day 97 of an install on an already run business install.
Feb 14, 2023 (Tuesday)
No ETAs, nothing but that it's on a calendar to automatically reschedule, went ahead and cancelled at 175 days after the missed install date.