I evidently want to hear a creepy woman hushing me instead of white noise. Google holds up the flaming hoop for me to jump through.
I've got a few bedtime routines I send to Google Assistant on a regular basis. These include setting a temperature, a timer, turning on a switch so a fan moves air around in a specific area, and playing white noise on a bedroom speaker to drown out the neighborhood sounds of racing cars, gunfire mufflers, and murder.
TL;DR – Google's screwing it up again, once again first go-to is to not read the problem, second is to factory reset something.
I like my neighborhood, but I like not hearing my neighborhood when I'm trying to sleep. An original Google Home unit and the command "play white noise on master bedroom home" has been all that I've needed for decent sleep.
And it's worked for a while (since the last fiasco [Pocketables] in January[Engaget].) Last night, Google's AI decided something interesting, and that is "play white noise on [device]" and "play white noise" (without the device) play two different things. This is typed, not spoken. It's not mishearing me. I mean, it's spoken as well, but it's not mishearing me.
"play white noise" plays white noise on my phone, like I like it, but there's no ability to cast and a one hour time limit when triggered on the phone. "Play white noise on master bedroom home" plays nightmare fuel of a woman hushing a baby on the Home speaker.
I contacted Google support just for s***s and giggles because I knew exactly what performative "try this" bullshit they were going to throw at me, and the very first action requested was that I factory reset one of the speakers and use a different gmail account. So yeah, how many of you have a second gmail account handy? I mean I do but this is garbage.
The speaker isn't doing this, Assistant's AI in the heart of someone else's (Google) server cluster is doing this.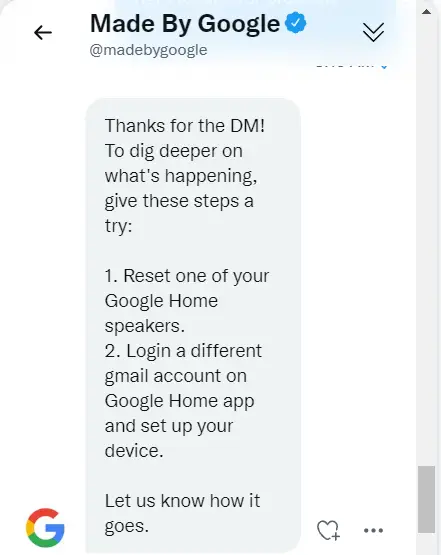 I cannot express from having done IT for most of my life how stupid a request this is. It's like telling someone if their car isn't running to open and close the trunk, sign a new lease but do it in block characters, and completely put busywork onto the end user, and it's the first thing they throw at you every time. "Oh, something on our end changed? I'm going to need you to spend the next 17 minutes doing something that has no chance of fixing it."
Yes, I will tell you to turn it off and back on again, but that's because it works.
If I verbally ask Master Bedroom Home to play white noise, it's fine. I ask assistant on my phone to play white noise, it does. I ask assistant on my phone to play white noise on a device, it's creepy hissing woman. Notice in the screenshot above this was at 1:06am. There are reasons I type it at night and that's to not wake someone. Guess what loud creepy hissing woman did?
The choice for what to stream and how to stream it is done on Google's side. While these devices look smart and all, take away the internet connectivity and you discover most of your Google universe is just a walkie talkie to someone else's computer.
Asked them to close the case, not going to deal with it, they're asking me to supply firmware versions now…