ONFORU LED Smart Ambient Light bar(s) review
The ONFORU LED Smart Ambient Light Bar (FW04 is the model I'm testing,) is a set of two rectangular LED panels that have your standard 16.something million color array and can be controlled by Google Assistant, Alexa, or via the Smart Life app (or similar.)
Other than their shape, they function as pretty much any smart bulbs do these days. Flick them on and off three or so times and you enter WiFi setup and can pair in Smart Life (as listed in the manual,) or probably Mi Home or any of the big name home manager apps. Give them a name, synchronize devices with your home assistant, and you've got a mood generating little slab of color.
The ONFORU LED Smart Ambient Light bar comes with a few mounting options. You can stand them, lay them flat, or use my least favorite method of all time and 3M glue them to something (probably best for under table lighting). I'm not going to ever advise gluing something however.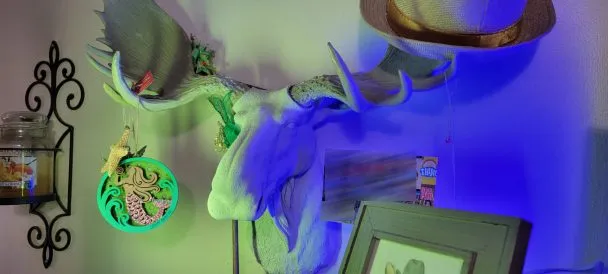 I dig the light these cast, but as usual with LED RGB lighting and my camera abilities, it photographs like a sick duck.
The lights come with a power adapter and a splitter. The wires on the individual runs are about 50 inches (someone stole my measuring tape,) so you can put these about 9 feet apart. While checking for specs I found a review that says these only are 24 inch runs, but the ones I received are from a little under my chin to my feet and I'm about 6 feet tall so… changed product?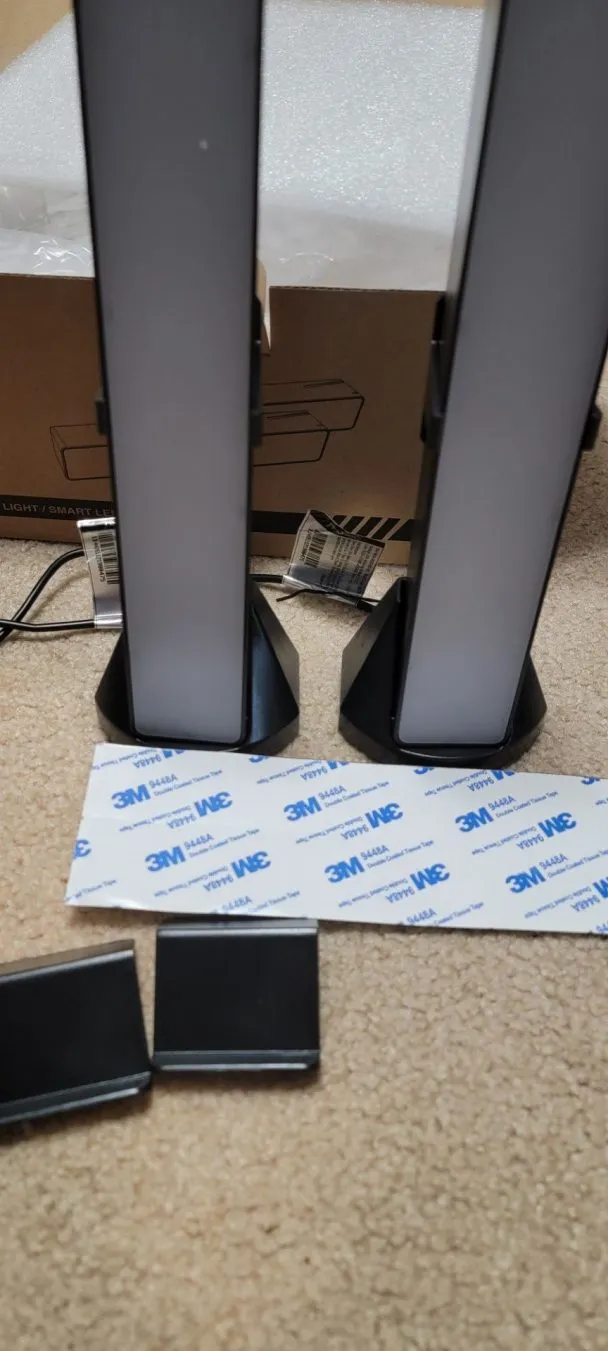 The units have a memory and will reset to previous colors. Each bar is controllable on its own or you can pair them as a group in the Smart Life app and set scenes and such. It would be pretty cool if there was a way to power them off of USB or something as this seems an idea setup and would enhance the use cases you have, but as it stands these are going to have to be located within about 10 feet of each other.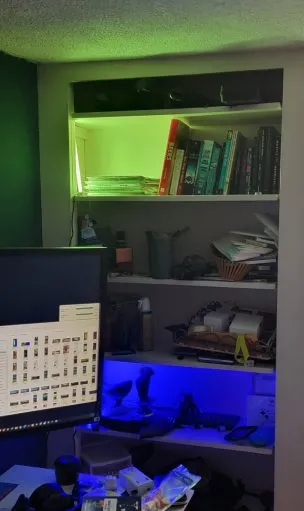 Overall, I like them, the photos I take of them look terrible, the price is … about right if you get it on Amazon with the $10 discount currently. Not quite right at base price. I feel like (in my cheapskate soul,) that these are some great $29 units that are priced $20 too high, but with a $10 coupon on Amazon so…
Going to note that the music feature listed on the Amazon description (but not ONFORU's website,) is pretty useless for me, but might be your thing. You can change colors based on music playing on your phone if you're in the Smart Life app and have the group or light selected. It's interesting, but not a feature I can come up with any particular use for. Just seems a bit too spastic. Might be the music I'm playing though.
One note – you will need a screwdriver to assemble the base I'm using.
Are the ONFORU LED Smart Ambient Light Bars worth it?
Entirely going to depend on your use case. These are interior only, maximum distance between of about 5-6 feet each from the power plug, and extremely plastic feeling. The light tops out at – someone moved my lumen meter … rassafrassa… it's ambient light, it will not light up a room, but it'll add a very noticeable splash of color.
I don't feel that these are particularly exceptional in build quality, however for most use cases I don't think you're going to have any issues. Did I mention I despise 3M gluing solutions for mounting? Because I do.
You can find the ONFORU LED Smart Ambient Light bar on Amazon, and at the ONFORU store.
ONFORU LED Smart Ambient Light bar
The ONFORU LED Smart Ambient Light bar (FW04) is two LED light bars that work with the Smart Life app and can be used with Google Home/Assistant, Amazon, or in-app.
Product Brand: ONFORU
Product Currency: USD
Product Price: 39.99
Product In-Stock: InStock