Roborock S7 MaxV Ultra, corporate test day 6, 30+ hours cleaning, issues encountered, pics
As noted in the previous running reviews this is not your standard cleaning routine unless you have 200+ people a day walking through your house and about 5000 square feet of cleaning surface to deal with daily. I'm testing the Roborock S7 MaxV Ultra in a corporate environment that involves a lot of mopping and a whole lot of cleaning.
The average clean time is over 5 hours of active robot cleaning with at least two full recharge breaks after at about 90-120 minutes into each cleaning sub-session. There are at least three mop cleaning and refills per session due to the large laminate surface area and cleaning the mop every 20 minutes at the current setting. The cleaning starts at 9pm on a schedule and runs until roughly 7am on average, although it has varied I am not sure why yet.
I have an area that appears to be a perfect Roborock trap. It lures the S7 MaxV Ultra in and then I get notification a few minutes later that the robot is trapped. It's not. In every case I've been able to remote control the unit and drive it out. Happened three times and my choices were to move a pot a couple of inches to the north, or block the area off. As it's under a staircase and not traveled and the unit is running short on time generally, I have opted to block it off in the software. It avoids the robot trapping chairs automatically so there has been no issue there except in the initial fast mapping using the old firmware.
I had my first mapping/run fail hit last night about the same time I got the 30 hour notification to clean the sensors. The unit had completed all the mopping and had moved on to the hallway next to the storage room. I jumped into the camera because, that's my life at the moment, watching the Roborock S7 MaxV Ultra clean my office building from the comfort of my own home, and I noticed what I was seeing was not where it was on the map.
The unit kept bumping into the fridge, claiming it was returning to the dock, took several minutes where it wandered around and on video I knew exactly where it was but it was convinced it was in another room, or had discovered a room that doesn't exist. With very little battery life left I remote controlled it and placed it right next to the dock. Exited remote control, got a request for whether I wanted it to return to the dock, yup. It did and started charging.
It claimed on the map that the dock was now in another room. You can see from pic #2 above and #3 that a new room was discovered. I was driving, it wasn't discovered, you'd need the Kool-Aid Man to bust through that wall. The unit was roughly 12 feet off of where it should be and didn't seem to want to run repositioning.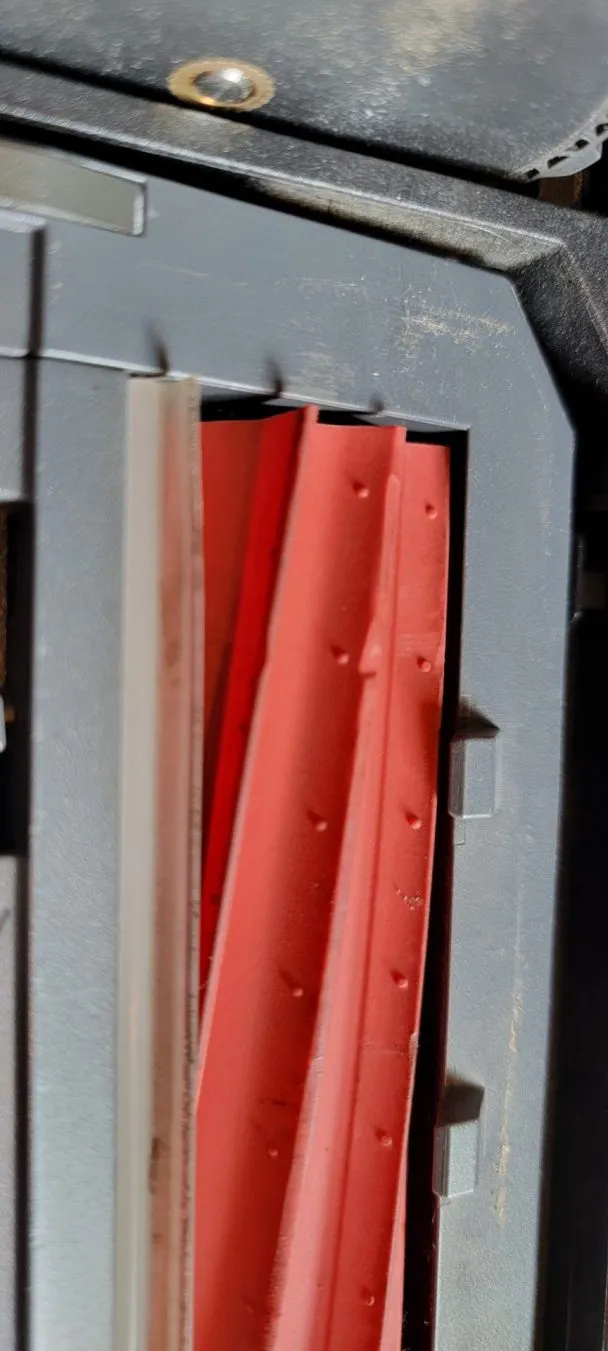 I got in this morning, cleaned the sensors, which were a bit dirty after 30+ hours of cleaning but not terribly. I'm really impressed the mop is in the condition it's in because what it's been picking up nightly based on the water I'm dumping is absurd.
Overall, last night's fail appears to stem entirely from the Roborock S7 MaxV Ultra thinking it was about 9-12 feet further north/west than it actually was. This is the first location mapping error I have seen and as such I'm putting it down to "hrmm, that was interesting."
After taking the above photos and then cleaning the unit it found the dock and shows that it's in the correct room. I suspect that the fake mapped areas will fall off but we'll see.
Things that might need improving
Here are the things I would like improved – the ability to add to the mapping and designate an area to look in manually. I have several thousand more square feet I want the unit to discover and map but I need to do that while I'm here and selecting to clean an area negates the unit wandering into an area. So unless I herd the robot back a few hundred feet and shove it into the new room with a hockey stick I have no way to force discovery. Are you going to have this at home? Maybe if you've got a large house and need a room closed at certain times (for doggos or such,) but probably a minor issue.
Detail a procedure in the Roborock app to change Wi-Fi APs. This is not detailed anywhere that I could find and I ended up finding that the method is press the two buttons that are *not* the power button. You'll hear that it's in Wi-Fi setup. Go in to the Roborock app, add a new device (don't delete your old one,) you'll find the Roborock S7 MaxV Ultra sitting there, add it, give it about two minutes and you'll see your map appear and it will be the only version of that unit shown. Seems like this could be done in-app more gracefully.
Multiple AP support. I mean look, I know this corporate test is absurd but long houses with multiple access points are not uncommon. At my father's house he's got an access point on the south side, and an access point on the north. Both with different names just because. Multiple APs for units that can take multiple maps (such as this one,) seem to be something that should be supported. Might be a little too niche, but that's what I'm running into. Nichity.
Does Paul hate the Roborock S7 MaxV Ultra?
God no, so far best vacuum I've ever run across hands down.
Related to this series coverage
Day 1- The Roborock S7 MaxV Ultra I'm initially impressed
Day 3 – I'm more impressed
Day 6 – find some issues and wants
End of week 1 – some strange oddness
Roborock S7 MaxV Ultra ends week 2 like a lion
The end of week 3 / start of week 4
Week 4 – end of most testing
Product links: Roborock site. Amazon.