The Nest Wifi + Mesh review week 7 (I've got to admit it's getting better) – yeah scratch that
Locked up about 15 hours after posting this so yeah, still remarkably unreliable…. 10 days is the longest this can run without issues it appears. I've decided to replace it and put the Nest Wifi + Mesh system in a home that doesn't need the levels of stability and absurd performance I do.
I'm probably shooting myself in the foot here, but after some insanely bad tech support advice from Google, Pocketables reader darksparda4 suggested I disable the two Preferred Activities Options (which were set to Streaming and Gaming,) and since then there have been no lockups for the past nine days. Knocking on wood hoping this is resolved as I don't feel like changing Wi-Fi routers again.
I have thrown everything I can at the Nest Wifi + Mesh system in the past nine days and other than one device which has historically been a Wi-Fi jerk, there have been no oddities for a week. I will also note that as far as I can tell the remote Mesh / Assistant unit has never had an issue.
Current custom settings are
DNS is 1.1.1.1 and 8.8.8.8 and 2 IPv6 DNS servers that came from somewhere
Family Safe Wi-Fi is turned on for two laptops
Thus ends the customization of the unit. When preferred activities were turned on (they are not by default,) the longest it appears that unit ran was 7 days. Today is day 9. Woot… Here's hope. If I mention there's no hope on the line below, there's no hope.
As a network technician lemme tell you I've got one of the most plain networks you could imagine, and Google's tech support kept trying to get me to change random things in DNS or the local network because my network might be complicated… nope… I've got a complicated network at work… I've got the most normal one at home you can imagine.
Anyway, with this unit working for over a week at this point I'm getting the idea it might be a pretty great unit.
Previous/Future Nest Wifi + Mesh coverage
The Home test
Day 1 – initial impressions
Week 1 – the first lockup
Week 3 – the thing operated ok
Week 5 – Yikes, it's so unreliable I'm going to replace it
Week 6 – Playing with Family Safety / restricted while trying to fix the thing
Week 6+ – all the lockups I've had with the unit
Week 7 – after a suggestion from a reader lockups appear to have resolved – yeah, no, they didn't 15 hours later
Week 7 – have removed the unit from my network and purchased a different brand router because it just wasn't stable

After giving up, the corporate test
Day 1 – initial impressions in commercial world (day 55)
Day 7 – locks up with next to no usage, no devices connected (day 62) – this one contains a possible retraction
Sometime after day 7 – soapbox, I am on it.
Day 21 – Mesh unit disappears, two reboots later it's back (day 83)
Day 30 or so, giving up
Related to the product line
The Nest Wifi Pro having issues – how utterly shocking

Product links: Amazon, Google Nest Store
Nest Wifi + Mesh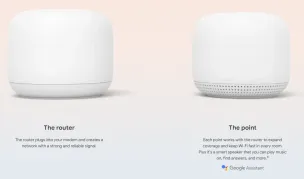 The Nest Wifi + Mesh are two (or three) units that can provide blazing fast Wi-Fi throughout a home leaving few dead spots. It has its issues with lockups if you actually use it.
Product Brand: Nest
Product Currency: USD
Product Price: 162.99
Product In-Stock: InStock
Pros
Easy install and setup
Seamless coverage extension
Google ecosystem
Cons
Preferred activities options cause lockups
Family Wi-Fi not configurable
Support