This ad will have you contemplating ditching Google One
Does it spark joy? That "it" being paying for storage and a few features with the Google One service? Maybe, maybe not. The new faces of Google One's Advertising are Marie Kondo, and Keegan-Michael Key and they're here presenting some of the benefits of getting over the 15 gigs of free storage in a three minute long commercial that could have been edited to a 1 minute commercial and popped.
TL;DR – nothing to see here except the commercial which has a couple of funny moments and is too long.
Marie Kondo is most famously known for encouraging people on her show to get rid of that which does not bring them joy to reduce clutter and improve their lives, and Keegan-Michael Key is just one of the funniest people on the planet who I could not find a good way to integrate into a snippy Google related headline. Can you tell it's one of those "I'm annoyed by Google again" days?
Something interesting in the commercial when viewed on YouTube is they've got subtitles on, and there's hard coded subtitles because of course there are.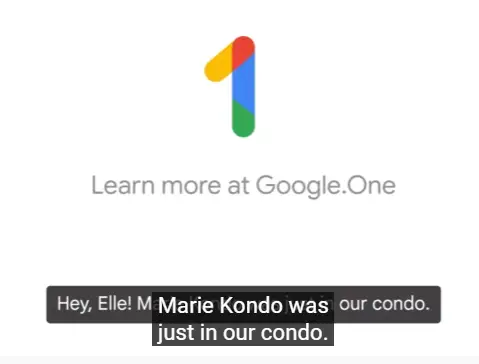 The subtitling's a bit of a mess, highly recommend turning it off.
I've been a subscriber of the Google One service for a while now. As a storage location I've got no complaints. I have not found anything particularly advantageous about it, but have not looked in a while. Price for the storage was right as I wanted my photos and such backed up all the time, but if you're a Prime subscriber that service is now included so might wander off this particular avenue.