VEIKK VK1200 11.6″ drawing monitor review
The VEIKK VK1200 is a small tablet that at its core works like a monitor via HDMI and a mouse via USB that only responds to its pen and not your hand or accidental touches. The screen can handle several thousand levels of pressure, although with my writing and drawing styles there are only about three or four needed for me. It has a few programmable buttons that you can assign for apps, or use universally.
Updated September 29, 2022 below
I'm going to preface the following with that I really do like this hardware, and it's now a staple in my photo editing. Some of the issues below need to be addressed, and hopefully will be in a software update. I can give you a rah rah review or I can tell you what might be a problem, you know the style I do. I will point out here due to being colorblind I cannot reliably tell you if color reproduction is right, but I did read a lot of other reviews in an attempt to research this to make sure I wasn't promoting something with a problem and did not run into that.
I should note, that while I have no artistic skill any more due to the nature of my employment (IT at a film production studio,) and life, I have worked with several video-enabled drawing tablets/monitors. This one's pretty nice, especially in the price range. Or it's terrible, your use case is going to define that but luckily most places have no questions asked return these days right?
What's in the VK1200 box
Two pens
28 pen nibs
Pen holder
One artist glove
One drawing tablet
The complaints
As a piece of hardware, I have no serious complaints. It's responsive, does what it should. Design wise I feel there's an oversight in cable positioning or management.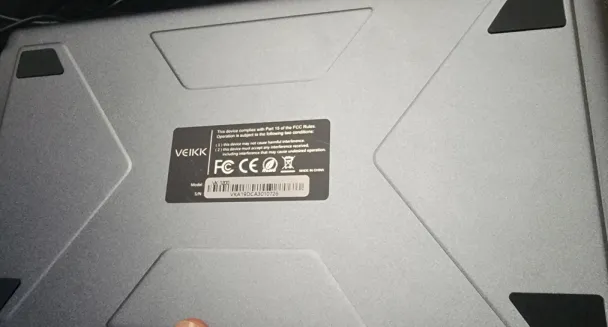 Cables
Due to the nature of this tablet, you have two inputs. HDMI and a USB. The HDMI is your display, the USB is your mouse emulation and power supply. I personally plop this tablet in my lap and draw. One cable would be ok, two becomes annoying. This could be solved fairly easily by an adapter that just ties two cables together and runs them as one until a split. Simple extension cable tech.
If I'm having cables, let it be only one I have to shove away.
Software
I'm working with the software on Windows 11. I've got a 4K display for display 1, a 1200xsomething for display 2, and 1920×1080 for the IPS VEIKK VK1200 display.
The configuration app wants to take up about half the screen. Does this affect you? Probably not, but it looks extremely amateurish. Letters the size of hamsters, an X to close that's about a US quarter sized. Something that could exist in a 200×150 box is taking up over 1900×1000. The VEIKK logo is so stretched that it looks like this:

That's not an artistic choice, that's the font failing from being scaled up to two inches high.
Luckily you do not need to have the config program open other than to set up your buttons and calibrate the touch points on the display. You can also configure pressure curves, but as noted above this is not something I needed to do.
The VEIKK software allows you to configure hotkeys via application and reminded me quite a bit of the WACOM tablet config. Then again, there's not a whole lot different between drawing devices I would guess.
I noticed one day only a third of the screen working. Unplugged, plugged back in, went through a few jumps before realizing the driver software thought I was on a different monitor all of the sudden. Went from the tablet monitor to a secondary monitor and was not recognizing input entirely. Needs a little work for systems like mine where a monitor might be turned off and on.
Power light bleed through
<Batman voice> I work in the night </Batman voice> here's something I noticed because I actually do work in lower light environments when photo editing. The case bleeds the power light through. Power light is on the side. This was driving me nuts because it's only visible from a very direct angle. It's getting black tape from me. I don't know if this is a one off or what but it is distracting, only in the dark, and only from one particular angle.
The VEIKK VK1200 in use
I have to say, I really like it. Other than the cables flopping around. I initially thought that I might have a problem with only 1920×1080 because I'm a pixel snob, but nope, I just zoom into areas which would be needed anyway. On that small of a tablet I'm really not noticing anything. One of the very few instances I am going to say you're probably not going to ever notice it.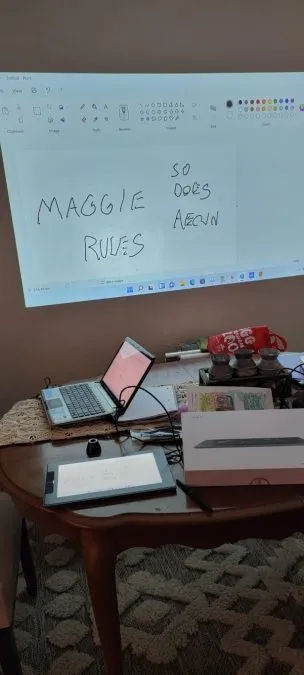 For me, the VEIKK VK1200 is a tertiary display (meaning it's my 3rd monitor,) and I just drag my photo editing software over to that and can work right off that monitor/tablet without seeing anything on the other two displays. Your experience will vary based on how you've got your HDMI set up (mirroring, extending, not working, etc.)
Wrap-up
It's good. If your options are HDMI and USB controls it's probably what you're wanting to use. Make sure your HDMI out is going to work like you want, or grab yourself a DisplayPort to HDMI adapter, because most of the potentials for failure are your computer, not this tablet.
You can grab a VEIKK VK1200 on Amazon or VEIKK's site.
Updates
After another month of use they've updated the driver software and it looks less comical. Something that I've had happen twice now is the screen stop responding to input and having to unplug and plug the USB cable back in in order to get it to work again. It did not with a reboot of the computer, so this appears to be an issue with the VEIKK tablet that requires power cycling every few weeks.
The driver software now identifies it as monitor 3, although it's monitor 2 in Windows. Not sure what's up with that. Just something I had to pay attention to.
The VEIKK VK1200 now lives in a drawer that I open when I need to sketch. It's remarkably useful there.
VEIKK VK1200 drawing tablet and monitor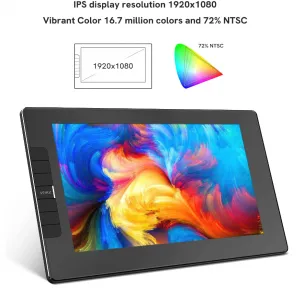 The VEIKK VK1200 drawing tablet and monitor is an HDMI/USB pen-based drawing display that responds to 8000+ levels of pressure.
Product Brand: VEIKK
Product Currency: USD
Product Price: 169.99
Product In-Stock: InStock
Pros
Better than expected
Price
Performance
Cons
Cables management is a problem
Power light bleed through
Occasional lockups