VEVOR / Mophorn Sewer Camera / Wall inspection camera no poo, initial review
I was approached by Mophorn to do another tool review of the Mophorn Sewer Camera. This particular one for a waterproof IP 68 camera on a 150 stiff pushable cable that lists itself as a borescope / industrial endoscope with LED lights, a display, and local recording abilities.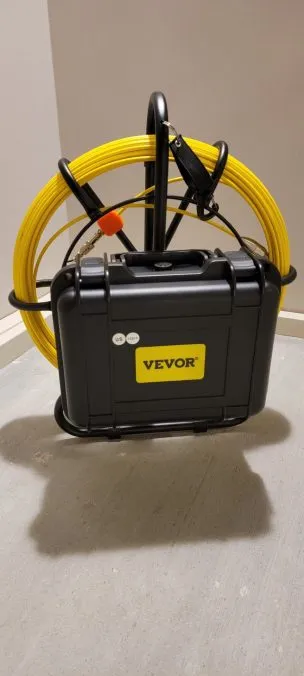 It's primarily targeted as a sewer camera, and I'll use it as such later. At the moment I don't particularly want to post videos of poop and sludge in pipes on Pocketables, instead focusing on the wildly interesting video of slightly tracing fiber optic connections through a large PVC pipe. I did a whole wall wire tracing video and forgot to press record so just imagine that in your Pocketables fan fiction.
What's in the box
The unit we reviewed comes with a rotating spool of 150 feet of cable, a camera, a 9″ display screen, 8GB SD card, a 4500mAh battery, charger, some screw on wheels, a mini screwdriver, and contains most of what you need to navigate a PVC jungle.
Initial uses of the VEVOR Mophorn Sewer Camera
As a landlord I've become excruciatingly aware of the uses of sewer cameras and having to instruct people that if they don't want rent to be raised so I can blow $11K on a main sewer line replacement, to please not flush wipes. Usually just to break out the sewer cameras when a plumber is out is a $300 added fee, so yeah… got to love it.
I've probably spent the cost of this unit in the past 5 years on plumbers and their cameras, which generally all return the same result 'sorry dude, tree grew into that pipe, it's old, you need to give us a lot of money."
You'll want to spend a few minutes seeing how the spool unrolls and rolls back correctly. There's a little art to the placement rolling out of the thing and you will pick it up quickly, unless you're rushing. Figure it out before you attempt to clean sewage off of the unit while you're rolling it back up. Trust me.
The videos are produced in avi format. When I took the SD card to a computer it refused to play in the default Windows AVI player, but worked ok in VLC. VLC complained there was no index and asked if I wanted to build it. Either way the video worked. You can play it back on the display as well.
That video appears to be about 360p. Old TV quality, but for what it is and the limited field of view, do you really need to be a pixel snob and see poo in 8K? Maybe. For in-wall inspections this has been fine and I'm a pixel snob. For going down a pipe it's been fine. I'll see when I do more plumbing, but I'd assume it's fine as well.
Paul finds something to complain about
I feel like the mounting of the box is entirely wrong. The spool has a feet side, and when it's on the feet the screen, when opened, causes the stuff contained in the padded boxes to fall out onto the screen. Rotating it 180% would fix that and I thought I might have one that was just assembled incorrectly, but that doesn't seem to be the case.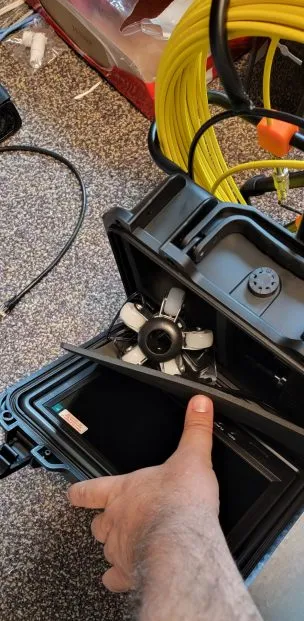 This isn't an issue when it's laid on its side, but this lowers the usable positions you can be in. If the parts were any heavier I worry I'd have broken the screen.
The SD card appeared corrupt when I got it. Maybe I did press record. 120 megs of data on it, a bunch of 0 length files, and claiming it had 500 megabytes free when only 150 megs were used out of 8000. Formatting seemed to take care of that. Maybe that was why the AVI was having issue above.
Lack of measurement indicators on the cable seem like an obvious oversight. I mean you can make your own but how hard would it have been to indicate how many feet you're in on the cable? This can be surmounted easily, but shouldn't have to be.
---
Overall after the first few uses it's a camera, it works, it has some design issues. I've used it for wall inspection (finding where a cable was,) and the video above which is just a demo. This is just round one and I'll post the in sewer pipe video when I get to that.
You can find the VEVOR Mophorn sewer camera on Amazon. Check the lengths as currently the 200 feet option is a better deal than the 150 foot. I'll be back with a follow up linked here at the next use of this, which hopefully will be tomorrow.
VEVOR Mophorn Sewer Camera
The VEVOR / Mophorn sewer camera is a 100-300 foot long pipe and wall inspection camera / borescope that has local recording ability and provides a quick view of what's just out of sight.
Product Currency: USD
Product Price: 866.81
Product In-Stock: InStock
Pros
Waterproof
Solid construction
Local recording
Cons
Box orientation
Price inconsistency
Size