Google's new Chromecast with Google TV appears to accept there is no 4K streaming
It's been nine years since the Chromecast came out. In these nine years there have been, according to Google, over 10,000 streaming services and apps released that are available in the streaming world. Google's new Chromecast with Google TV (HD) supports them, comes with a lower price, a remote so you don't have to have a phone handy all the time, and most notably for pixel snobs like myself, a significantly lower maximum display resolution.
Chromecast with Google TV's lower resolution doesn't matter though
You've potentially read my complaints about major streaming provider's supposed 4K options. Really, grab a Blu-ray, a couple of 4K TVs, and look and tell me that's 4K. I've realized that even 720p discs generally look better than what I was paying extra for with Netflix. A decent 1080P disc looks better than most major 4K streaming, unless things have changed in the past few months. It appears Google's taken the gamble that most people aren't pixel snobs like me or at least will understand that a streaming dongle/service most likely is not going to push what they want/real 4K.
They may have also taken the approach that with smart TVs being what they are these days, if your TV can do 4K you probably don't need a Chromecast.
In case it's not evident, I'm not bashing Google. They've surveyed the landscape and 1080P/HD is good if your streaming provider can even push that.
The new Chromecast comes with a voice-capable remote, a somewhat familiar Chromecast dongle, and probably love. The Chromecast was one product that I've been surprised by the thought and support that went into it. Yup, I bet there's love right on the packing list right below product information cards and AAA batteries.
It does seem odd that nine years in the Chromecast is still a thing however. Most smart TV manufacturers have a marketplace of apps and things that handle the same basic tasks. The only recent tech I've noticed that benefits from these are projectors, which universally seem to lack Netflix certification but work with every other streaming provider with no issues. Then again, maybe this just isn't for recent tech.
I'm not the target audience for the Chromecast with Google TV, but I'm glad it exists. It looks pretty nifty, and coming in about $20 less than the no-remote 4K options I think it'll be a benefit for some. I do wonder how much more it would have cost to slap a several-year-old 4K chip in the unit though. Just to appease pixel snobs like myself who just might be casting from a computer capable of pushing 4K out.
Looks like in the US the Chromecast with Google TV will be coming in at $29.99 in the US and comes with 6 months of Peacock Premium streaming.
[
Google Blog
]
Google Chromecast with Google TV (HD)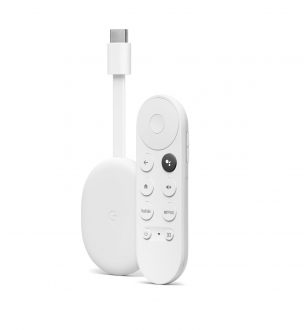 The Chromecast with Google TV has been introduced by Google. While it's got a lower maximum resolution, streaming providers barely 720P as is.
Product Currency: USD
Product Price: 29.99
Product In-Stock: InStock