IOGEAR HDMI Wireless 4K HD TV Connection Kit review
The IOGEAR HDMI Wireless 4K HD TV Connection Kit can deliver a 4K audio and video signal at 30Hz about 100 feet wirelessly with no noticeable degradation on the receiving end.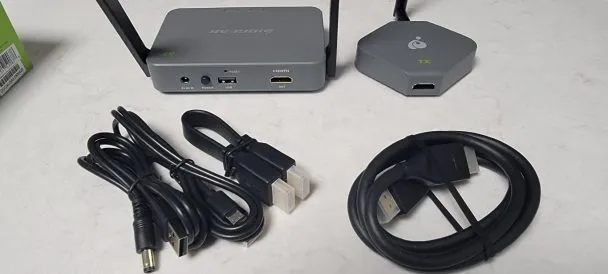 One thing to note here however is that 30Hz spec. If you're thinking of stashing your XBOX Series X and Playstation 4+ in a closet somewhere and playing video games remotely without a sea of wires near your display, you're in for disappointment. The Series X will not negotiate less than 60Hz above 1080P. Oh you'll get a great 1080P picture and audio, but yeah, welcome to my few failed attempts at 4K over the IOGEAR HDMI Wireless 4K HD TV Connection Kit. As a note, you do not want to play a lot of games at 30Hz refresh rates, trust me on this.
Testing the IOGEAR HDMI Wireless 4K HD TV Connection Kit
I'll skip to the impressive test as the others were leading to this. 54 feet direct/line of site – two standard drywall walls, one plaster wall, and part of a sturdy wood tv console to the back of the XBOX. Now, I'm having trouble testing gaming at this distance because the controller is cutting in and out, but that's not the IOGEAR 4K HD TV Connection Kit's fault.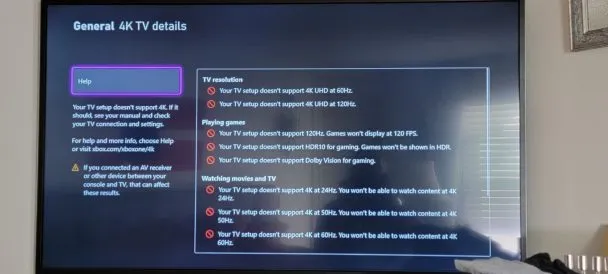 I slapped YouTube on the XBOX and started streaming some 4K video and… yeah, it's at 1080P because the XBOX doesn't negotiate for 4K if it's at 30Hz. Neither does my 8 year old NVIDIA SHIELD which sees 30Hz and says no, you're doing 1080P. Just no. I'll state here that for 4K and gaming, this is probably not your device. It does 1080P perfectly however and it does it better than I would have expected with my 1940's plaster walls, being mounted behind a TV, and all that.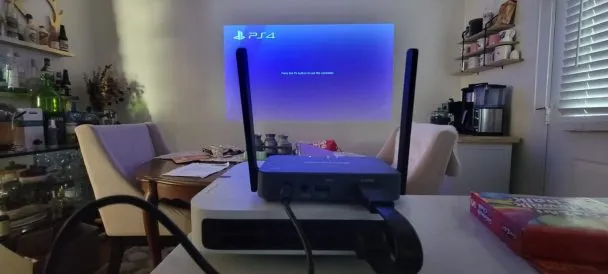 There's a Wi-Fi mode that allows you to connect and Miracast to the unit if you don't want to bridge a connection.
Paul finds something to complain about
Power: You need power via USB, and you need HDMI. This means each unit has two cables that go into it. I'm OK with this. HDMI doesn't carry power, someone long ago made the spec, whatever. However, the transmitting unit uses a USB-A to MicroUSB connector, and the receiving unit uses a USB-A to 5Vdc round plug similar to an Alexa plug. Either plug type is 5v DC. There is no reason to introduce the round plug into the equation. Just give two of the same cables and make them USB standard on both ends.
Cables: The transmitter is a square and on one side is the power, and 90 degrees from it is the HDMI in. In between these is the antenna. I don't know how to explain how difficult this makes cable management as if you tie your two cables together they're on the antenna or running the other direction around two turns.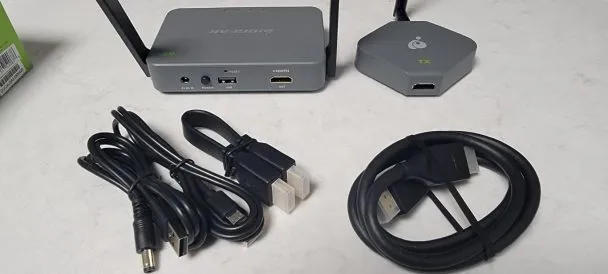 Lack of passthrough: This is more of a request than a complaint, but it seems like a great deal of usefulness could be added if the transmitter side had the ability to pass through HDMI. There's real estate on the body, and use cases are there for things like splitting a TV signal off of a cable box, or just basic mirroring.
The online manual: can be found here. They list it as a switch on the first page and it's not until page 4 that it's listed as a wireless transmitter/receiver.
Who is the IOGEAR HDMI Wireless 4K HD TV Connection Kit for?
With the rise of casting like Miracast, Google's Chromecast/cast standard, screen mirroring, fire sticks, etc… you might be wondering who this is aimed at. There appears to be a strong use case for businesses with larger conference rooms (I can't tell you how many people I've had to walk through how to cast a tab to a TV, or show them where the 50 foot HDMI cable is) or for educational purposes.
It's also great if you've got an HDMI-sending receiver and want to stick it out of the way. Things such as an old school Dish DVR or something you can slap in a closet as long as the remote can see it and free up some valuable TV-area real estate.
Overall
Does what it says it will, has a pretty specific use case where it shines (4K, 30Hz, distance,) software is not something I'm particularly enthused by, but works.
If you need to bridge a gap wirelessly, or just want to get all those cables, gaming systems, devices and shove them somewhere else, the IOGEAR HDMI Wireless 4K HD TV Connection Kit might be for you.
You can grab an IOGEAR HDMI Wireless 4K HD TV Connection Kit at Amazon.
IOGEAR HDMI Wireless 4K HD TV Connection Kit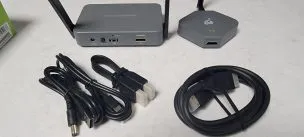 The IOGEAR HDMI Wireless 4K HD TV Connection Kit can bridge HDMI over a 100 foot air gap enabling you to place equipment such as a game system or DVR in another room and free up valuable TV real estate. It seems best suited for businesses and educators, but there are plenty of wiring cleanup use cases.
Product Brand: IOGEAR
Product Currency: USD
Product Price: 149.95
Product In-Stock: InStock
Pros
Wall penetration
Clear signal
Plug and play setup
Cons
Multiple power cables
Documentation
30Hz 4K limits gaming options