Jabra Elite 5 true wireless earbuds get dunked
The new Jabra Elite 5 are the latest in a series of headphones I struggle with reviewing due to simply not having complaints that are worth mentioning. Jabra has gotten so good that anything I think of writing about them I've probably written about their previous products and other than listing off my feelings on how music sounded, how the fit felt, how the true wireless worked on my large head earbud to earbud, etc, there's really nothing new to report other than yet another great audio product from Jabra with some new and improved features.
TL;DR – sounds good, feels good, fast charging, long life with case, better, priced right.
Jabra Elite 5 specs
Hybrid Active Noise Cancellation (ANC) blocks more background noise, powered by the Qualcomm QCC3050
6-microphone (MEMS) call technology with wind noise suppression
Powerful 6mm speakers
Customizable EQ and Spotify Tap Playback
Qualcomm® aptX™ Audio
Up to 7 hours play time with ANC on (up to 28 hours with wireless charging case) 10 minutes charging = 1 hour playtime.
Google Assistant and Alexa Built In for hands-free assistance on-the-go
Easy pairing with Google Fast Pair and Microsoft Swift Pair
Bluetooth Multipoint keeps users connected to two devices at once
IP55-rated protection against dust and water
Qi certified or USB-C charging capable case
Weight (individual earbud): 5g / 0.176oz
Weight (charging case) 40g / 1.1411oz
Music 20Hz-20000Hz, Phone 100Hz-8000Hz
Google Fast Pair, Microsoft Swift Pair, Spotify Tap
Testing is subjective and I had no complaints
Let me tell you, they're great and I was faced with absolutely nothing negative, and nothing new to report from Jabra's last offering, other than specs and that the ANC seems to work slightly better.
So the review being a copy job of the Elite 4 Active (they're absolutely great, I love them, etc,) I decided to actively work at making them fail and finding annoyances other than my inherent dislike of the Jabra app. I still don't like the app, but I'm learning to not actively dislike it.
I decided to take a bath with them and see how they handled being fully submerged. Something I've always wondered about but never tested. I took a shower as well but really didn't notice anything other than the occasional active noise cancellation error, or some hear-through weirdness caused by water being on one of the six microphones, and I could break a connection with enough shampoo.
The Jabra Elite 5 takes a bath
I've got headshot video, I think I'm skipping posting it for the moment unless there're calls for proof that I bathe. I set up a tablet to stream music to the Jabra Elite 5 headphones and determined that submerged the ear to ear connectivity drops out, but one earbud would still keep playing even underwater. This was with a tablet 4 feet to the right of my position in a tub.
Active noise cancellation suddenly went wonky and it sounded like a helicopter was outside my window. I sat up and turned off ANC which switched it to hear-through mode and went back under water. The right earbud, the one closest to the tablet, went out almost immediately but the left kept playing. It's my guess that the left is the primary and broadcasts over to the secondary, and that it's just not set up for handling both a head and water in its quest to bounce a signal around to the other side.
I stayed under for a bit, nose above water, listening to half of the audio which seemed unaffected in my left ear. I couldn't really change positions more than a few inches, so no distance testing. Once I sat up the right earbud kicked back in within a couple of seconds.
Nothing I did with the water phased the Jabra Elite 5 earbuds for more than I'd say two seconds. The only thing that seemed to stick was the ANC was wonky until I took the earbuds out and shook them once.
Showering I could also get the right earbud to drop out. This took some doing but shampoo seems to function as a good foil to perfect audio connections. The 5 failed when shampooed, but came right back when rinsed.
The normal review
As noted, earbud happiness is subjective and at 49 years old at this point I would not particularly trust that Paul's hearing is picking up the highs and lows properly any more. I'm going to go take an audio test just for giggles at Costco as I suspect my absurdly loud children or age may have finally damaged my once ninja-level hearing.
Let's say that phone calls and audio sound perfect to someone who used to be able to pick up crappy bitrates and tell you audio codec failures and whether they were in the source or between the units. I don't know that I have that ability these days. Sounds good in a consumer grade headphone and is approaching some of the quality I'd expect in studio.
Google Fast Pair and Microsoft Swift Pair are supported. I'd already paired to a couple of devices by the time I realized I should probably test this out. I have never had a reason to need to pair earbuds faster than normal, but you can!
Distance from source (tablet or phone,) was extremely high. I was two floors away at one point listening. I did not make a phone call or anything that required higher two way data transfer at extreme distance, but on the receiving end they worked surprisingly well.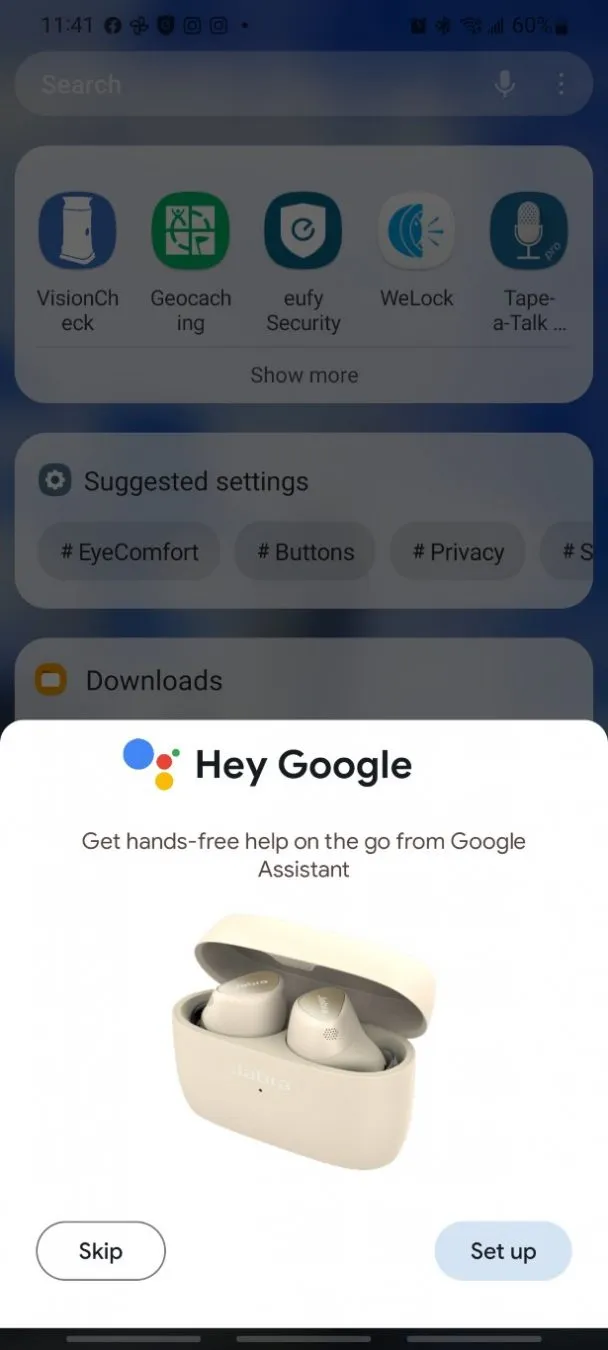 While my head was wet I could occasionally get the audio to cut out between the left and right ear for a half second or so. When it dried we were back to no dropouts notices.
Overall the Jabra Elite 5 rules
It's… there's just nothing that I could locate wrong with it. It's a fine product, sounds good, performs well, the earbuds are going to be comfortable for you or they're not. You can configure the sound in the app to how you want it and they will hit the highs and lows mostly like you want. As with most earbuds, you're not going to reach painful volume levels, but with the hybrid ANC you probably won't need to.
Literally the only thing I can think of other than the Jabra app that I'm not particularly fond of are the on-earbud controls and I don't know what would be required to make them any better.
The Jabra Elite 5 are available in Gold Beige and Titanium Black at Amazon, Jabra's site (which offers free engraving,)
Jabra Elite 5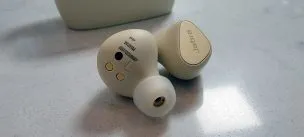 Jabra Elite 5 are remarkable earbuds I struggled to find anything wrong with and failed, so I decided to fully submerge them to see what happened
Product Brand: Jabra
Product Currency: USD
Product Price: 149.99
Product In-Stock: InStock
Pros
Lightweight
Waterproof
Connectivity
Fast charging
Microsoft Swift Pair
Google Fast Pair
Hybrid Active Noise cancelling