Phone sanity: how to not ring / silence unknown calls on Android (2022)
The absolute stupidest thing that Android by default has fallen into is not having robust phone ringing controls. These things are phones at the heart, and that's been overlooked for a while. Yes, there are some phone manufacturers that have the ability to do things like send unknown calls to voicemail, or not ring, but then there's my phone.
TL;DR – one old app, completely free, one change to a setting, also free. Worked as of Sept 1, 2022.
I don't want my phone to ring for people I don't know
This was written September 2022 and my experience on a Samsung Galaxy S21 Ultra 5G (on T-Mobile.) There is no way listed I've run across to simply ring for people I know, and not ring for the 95% spam calls I still receive via T-Mobile even with their Scam Shield in place. It's literally a never ending parade of "are you the owner of xxx whatever street?."
No way? What about this article from 2011 about a phone that doesn't exist any more and I'll point you to this article about your phone and so you don't have that menu option and this article here that was written by an AI and…. no… nothing out there has worked. Quite willing to be corrected here if you can point me to something that works, on my phone, on my carrier.
Nonstop spam calls. I've had one call in the past two years that was not in my contacts that was important, and they left a voicemail and I called them right back.
If I'm sick and trying to sleep and on call? I'm getting woken up about an unpaid student loan (never had 'em,) or extended car warranty, or something is suddenly wrong with a credit card I don't have.
Two easy ways to do it (we could talk about Tasker but no)
Built in to every Android phone I have access to, you can go and just set do-not-disturb, set up exceptions for ringing for your contacts. You'll have a few options about letting apps notify you and there's no real scheduling. I don't like this because I like to from 10pm-6am not be bothered by butt dials, but have people still able to reach me in an emergency.
The do-not disturb route is doable, schedulable, but ham-fisted with no options by time other than on or off.
Upon the horizon – a seven year old app
OK, this app just celebrated its 7th anniversary since being updated on August 10th 2022. It's called Group Ringtone Lite and when you open it up it's going to mention it's ancient and ask you to check for an updated version. There isn't one. There probably are seven hundred different apps that do the same thing, however trying to track down what works and what doesn't was taking longer than actually fixing the problem. Feel free to suggest your own. This worked exactly as I needed it to.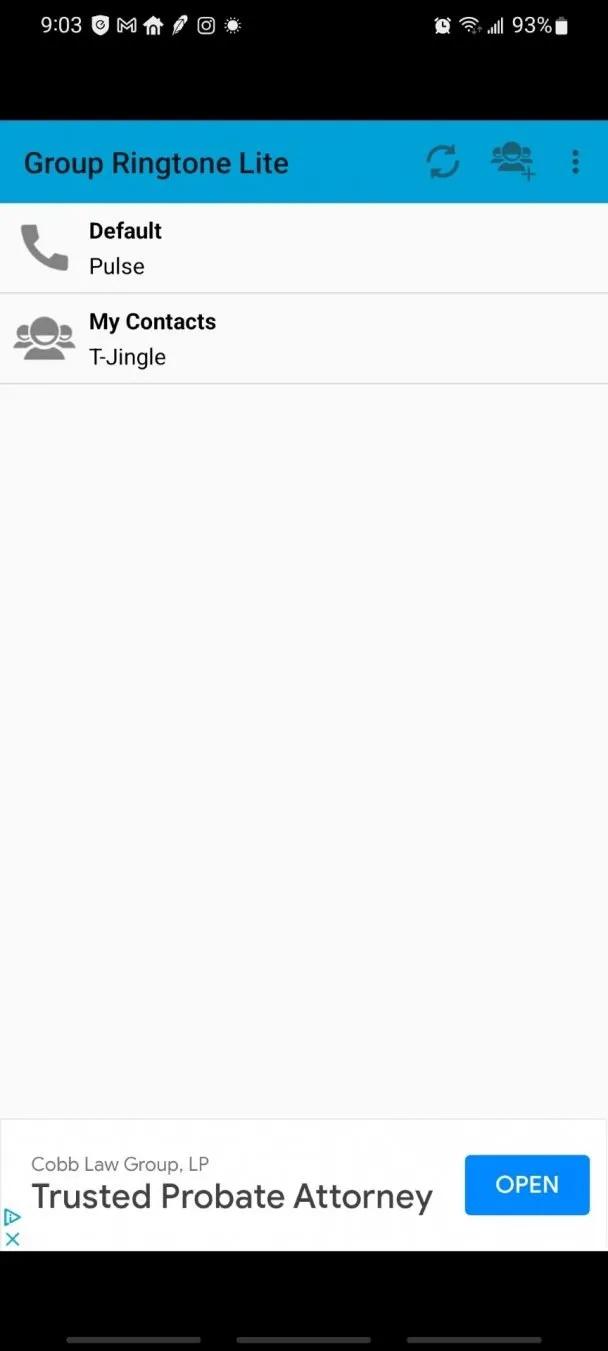 Here's what you do.
Download and install that app, find My Contacts or whatever group you want to actually ring and make noise for, and set the default ringtone for them. Having 400+ contacts, doing this individually was not something I was going to do. After you set the ringtone I believe you have to press the circle to get it to apply. (Left picture)
Next, and I couldn't find this as an option in this amazing program, exit the program, go to wherever you set your ringtone (for me system, sounds and vibration, ringtone) (right picture)
Set that to silent.
There was no "silent" option that I could find in Group Ringtones Lite.
Ta-da no more spammers and unknown contacts making your phone ring
I tested from multiple phones around the office. Anyone I had in contacts rang, anyone not, well my phone lit up to display there was a call incoming but nothing more than that.
The drawback
Because this is an old app that does this one time, if you add new contacts you will need to run the app again if you want it to ring for the new contacts… hey, you might not… who knows? Alternately when creating a new contact go in and set their ringtone.
---
There an easier way? I've run across nothing but absolute garbage when attempting to find information that works in 2022. From assumptions that every carrier deployed what one in 2014 did, or that this one distro of Android on Verizon circa 2016 was representative of everyone. This, I think will work for everyone at the moment, but if your particular use case doesn't, let me know.
I'd love it and support it if there was an app that simply did not ring for unknown contacts and did ring for known callers / people you've dialed and spoken with. My Google-Fu indicates there's not this app, but it may be weak.