Shell 20000mAh/74wH Power Bank review
The Shell 20000mAh/74wH Power Bank exists in a time where it feels like every power bank should do something more than just be a power bank. Coming from the Shell consumer product line (gas station in the United States,) one should expect power delivery, and you get it in a no-frills brick of a unit.
The charger does what it claims, is built to withstand some dropping punishment as I learned on a recent trip with the kids. It can survive a 4 foot fall onto pavement and bounce. Had not had that on my testing list. One drop, no issues.
The unit survived a 7 hour road trip powering my youngest's phone with the bad battery. She wasn't on it 7 hours, but she evidently left Roblox running and the screen on while we had stopped and did some other things, such as visit attractions. Unit had 52% remaining when we pulled into our accommodations. This is a little less wow than I'd expect, but her old phone, screen on, bad/weak battery, Roblox… it's not far off.
Oh yeah, side note on toughness – the package I got looked like FedEX had run over it with a truck. I knew they tossed the unit on my doorstep, but this was pressure crushing, tire marks, and the unit was fine.
The unit can recharge itself via Micro-USB (18W) or USB-C (30W). This makes charging times in the 2.5-4 hour range all things considered. Not a high speed recharging unit, but it's also not claiming to be a laptop power bank.
The Shell 20000mAh power bank design is strange
The Micro-USB charging port feels extremely dated these days, and is completely redundant with the USB-C port. The connection is a one way port in, sitting right above a two way port in and out. It's good I guess for legacy charging cables but overshadowed by the charging port right below it that is faster, and can't be put in upside down damaging the connector.
The USB-A ports are also a bit strange. One is capable of 12 Watts, 2.4amps. The other can reach 18 Watts and 3amps. On other chargers you'd normally see each of them supporting the same thing with a shared capacity of maybe 30 watts. Not here.
The type C is a 30W PD, and no frills.
Should I get it?
It delivers power. It drops and bounces. It's a little oddly engineered. Price per Watt Hour for units in this range puts this more expensive than you can find on Amazon, however having not reviewed any of the units I'm seeing that are less expensive, and this being 30 watt out (most I'm seeing there top out at 25 for a 20000mAh unit,) it's not exactly apples to apples.
It does what it says – delivers power. It's a bit more expensive than other bricks in its category. It doesn't particularly like one of my wall chargers but I'm thinking that's becoming more of a common thing (that devices don't like this one charger.) As a note I'm mentioning that there's one charger I ran across it doesn't like, but that other things don't like it as well.
I would be on the fence on this one personally. Good no-frills for keeping phones charged, but it's not going to jump start your car, be a flashlight, charge itself from a wall outlet, wireless charge, etc.
You can find the Shell 20000mAh/74Watt portable power bank on Amazon.
Shell 20000mAh portable power bank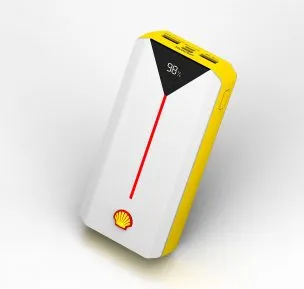 The Shell 20000mAh power bank packs 74 watt hours charge which it can deliver at up to 30w across 2 USB A / 1 USB C output. TL;DR solid ok.
Product Brand: Shell
Product Currency: USD
Product Price: 49.99
Product In-Stock: InStock