Shell RIDE Foldable Electric Scooter, 24 miles in I've got some notes
The Shell Ride SR-5S Electric Foldable Scooter was sent to me to play with as part of a Shell consumer electronics equipment campaign. We reviewed one of Shell's portable chargers recently. I wasn't exactly sure what angle I'd take with Pocketables and a review on this, but scooters are flippin' fun and I wanted to see what a $550 scooter branded by a major gas company could produce.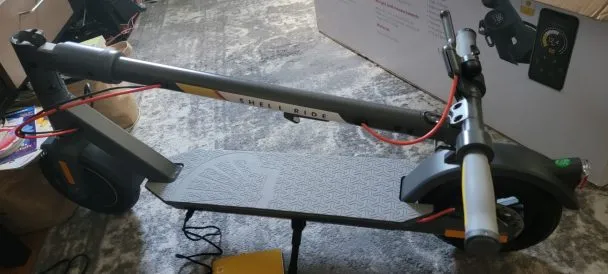 I'm going to preface this with it's fun, it works, but there are issues.
TL;DR – functions exactly as one would expect. App bad, but not needed. Higher price than similar performing units. Shell name behind it.
Shell RIDE: the assembly
Assembly consists of screwing four screws that don't want to cooperate in, then discovering you were supposed to attach a control cable on the inside of the unit before you screwed in the four screws, unscrewing them, then screwing them back in. The quick set-up completely skips that you have to connect the unit via a coiled up cable that is not attached. At least it was not attached on mine and was coiled up inside the tube.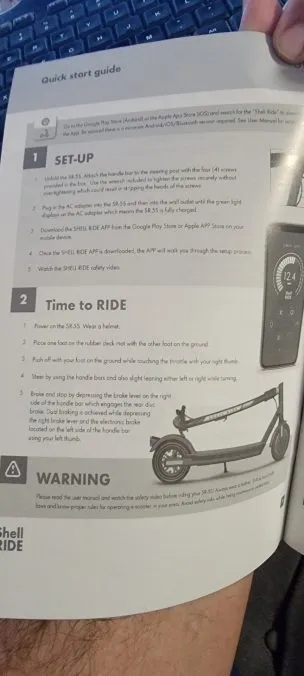 I felt I was in danger of bending the little round plug's 4 pins when plugging it in. This did not seem like something that I should be required to do and maybe it's a manufacturing issue, but yeah.
The unit arrived with the wiring stripped as well. I electrical taped it up just to make sure there were no issues, and contacted my PR person to ask about the issues. This was the last I heard from PR.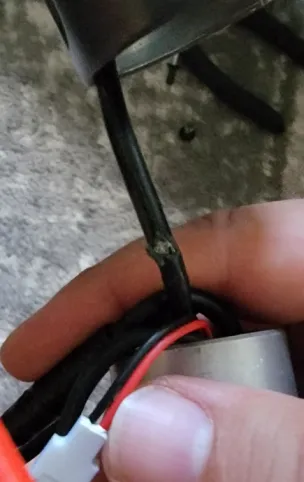 I threw it on a charger and installed the app, connected to the unit, powered it on, realized the app had a total of something like 4 options and closed it. The app is not required here other than if you want a better percentage view on the battery or want to see the trip milage, odometer, or a couple of things you actually should be stopped to look at.
Really, other than odometer the app holds nothing useful for me.
Once assembled and charged it was time to do some testing.
Shell RIDE SR-5S Specs
I'm going to preface this with the claims on Amazon and the specs in the manual are different. This happens sometimes in early production, and I don't think it's duplicitous (maybe speed,) but here's what they are (actual means I measured it, probable means I did some math and could have done it wrong).
Speed (Amazon) 15-20, Manual (15.5,) Actual 17.2-17.4
Max range (Amazon) 17-20, (Manual 18,) Probable 18.2
Weight (Amazon) 29.8lbs, (Manual) 30.4, Actual one of those
Battery: 7.8Ah 36v l/ion ~5 hour charge / (280 Wh?)
Engine: up to 350 Watts / 500 Watts of torque
Maximum weight (Amazon) 220, (Manual) 220, Tested to about 300lbs for 3 rides / slightly less than 22 miles (7.9, 7.8, 6.1)
And Paul's off
I should note that I am over the weight limit personally, I am 49, white hair, wearing a multiple cat T-Shirt, shorts, and dog gone it if I could have had a mullet and glasses the size of my face on I would have set off to glory. With a total of somewhere between 288 and 300 pounds between me and gear and a dead weight I started testing everything I could with this.
You have 3 modes for the shell ride scooter. I chose battery wasting/fun/sport mode every time. I put fun/sport mode on pitted it vs real environments with excessive weight. The unit struggled going up hill hauling 80 pounds over the manufacturer's limit but it worked. My average rolling about and having fun with the thing for the first 22 miles. Let me stress, it performed about where I expected it to in every regards to a 350 watt motor and close to 300 pounds of testing as I could reach.
In these scooters there's so much force for so much power, and barring anything this worked as close to my expectations as you could. I am not set up to metric much more than "yeah, that 3 cents of electricity got me 8 miles." But it's right at watt per mile one expects.
Expected power, expected speed, and expected range. Nothing about the performance surprised me. It worked, went from A to B, seemed to use the amount of power that should be required.
That app though…
I wanted the odometer, battery percentage. I didn't need it in normal use, but writing up something about this I sort of wanted to verify some power draws.
Most of my interactions with the app are force closing it, then turning off Bluetooth. It seems to only really want to connect when it turns on Bluetooth and then connects. It doesn't stay connected if the screen goes off. It doesn't reconnect gracefully. It doesn't connect if you're looking at the unit sideways. It's bad.
Worse than just being bad, every time you start the app it plays a little tune at the splash screen. I have no idea how to express the levels of annoying that is. Especially if you're checking the battery every little bit because you're writing a review of the Shell RIDE SR-5S.
There's really nothing useful in the app. I'm not putting it down, there's just no reason to have an app at the moment that I can see.
Folding the Shell RIDE SR-5S e-scooter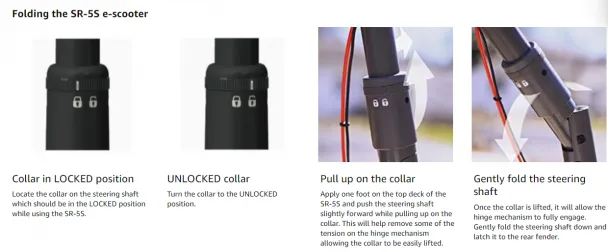 So, the above image should be what the MFG lists as the way to fold this thing. Until you've pressed your collar bone or shoulder blade into the thing it's not moving. It's such a task I did a video on how to do it.
It's not easy, then again an easy to collapse steering column is probably not wanted at speed.
If you don't want to watch that video: right foot on the unit, twist to unlocked position, shove shoulder forward into steering column pressing forward, now you can lift the locking collar.
The Shell RIDE SR-5S doesn't quite…
Let me preface with this functions exactly as I would expect until we hit here. I had three operating note annoyances and these are they:
When the battery gets low, the performance declines. I've got a unit claiming it has 13% battery left and it's in performance mode and doing 3mph. That's not expected. Just shut off at that point.
Battery measurement seems way off – I can burn 40% in two miles, then the next 40% might take 5 miles. This was consistent across the last three rides. Very quick 40%. Gauge, measurement, kernel setting isn't right. Firmware fixable, but no firmware updates currently it appears.
The unit rattles. I can't figure out what is rattling but it's something at the rear. I suspect it's the bumper but I can't make it rattle when I'm not on it. Not always but man it's noticeable.
I had some notes on expectations in a scooter at this price range
There appears to exist no way to turn off cruise control. This is extremely annoying in some situations.
No way to lock power?
Unit will run with the kickstand down, that's a falling hazard
Relatively low "fun" battery life means it would be extremely nice to be able to change batteries / fast charge
No bike lock ability?
No spare chargers to purchase? Seems like you'd want one at work and at home in quite a few scenarios.
I don't have *exact* efficiency stats, but almost fully drained 280 watt battery yesterday took 500 watts to charge. That's a 0.56 efficiency. I mean, we're talking pennies a year here, but I nitpick when it's below 80. Charger is pulling 99.3-100 watts at the moment and runs 4+ hours.
The summary
As I write many words, the short list is that it rattles a little bit, performs exactly as expected until the battery is extremely low, app is bad, some quality checks need to be done, instructions are wrong (or they sent me a unit with a wire unintentionally disconnected,) and need fixed, there's no list of being able to service or repair anything on the unit so I would expect that once the battery is dead the unit is expected to be disposed of. The body is significantly more robust than other scooters that have similar innards, but that's the only thing that is a big step forward on this vs other scooters that I can tell.
I do not think you'll find a sturdier scooter, and for us larger folks this might be a concern. Issues I encountered above tend to make me a bit concerned that there's not a whole lot of difference between this scooter and others, other than that Shell has put their logo on this one and is supporting it.
You can get a similarly performing scooter for about 30% less. Build quality is a concern, but I'm not casting aspersions on other manufacturers as I have not run across anyone who's been injured due to build quality of a scooter. Just from their own driving. Your experience may vary however.
You can grab a Shell RIDE SR-5S at Amazon
Shell RIDE SR-5S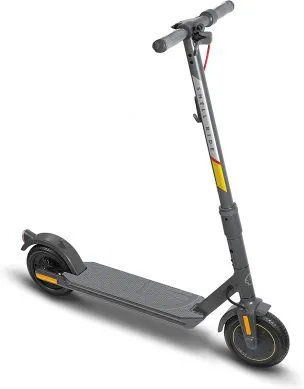 The Shell RIDE SR-5S is an electric scooter capable of propelling you at 17 MPH for several miles. It performs as expected other than the app which appears to be lacking in quite a few regards.
Product Brand: Shell
Product Currency: USD
Product Price: 548.00
Product In-Stock: InStock
Cons
App
Battery calculation
Rattles