Week 3 of the Nest Wifi + Mesh corporate test
Two weeks ago we had a lockup, disconnect, or something occur that I am not 100% certain was the Nest Wifi + Mesh's fault. As such let's consider the corporate test to be about two weeks in at this point with no main Wi-Fi lockups, however also very little use.
Notice I said main Wi-Fi… the mesh unit dropped out – realized that as I was writing this that I'd gotten several paragraphs into the thing before realizing that half the functionality was just not working.
What I have had during this time is multiple notices in the app that the internet was no longer working, but all of them were from the same date, which was back around August 23, 2022. They came a few days, and weeks later telling me the internet was down. It was, if I recall, the same notice and the same time.
Due to the Labor Day holiday there has not been a lot of testing going on on this. For the first time in the history of me being in possession of the unit, it has survived more than nine days and thrown at least three false disconnect messages, all from the same time.
I don't know what the false repeated disconnect messages are about.
I've gotten on the poke and look at this notice list from a few people who have been fighting the Nest Wifi, Google support, etc for the past year or so, and wow, let me tell you the support given to this product has been abysmal.
That said, it's quite clear that most people do not have this issue. I know when you've got a small contingent of people (looking like a thousand or so,) being fairly vocal it seems odd… and my guess here is there's a commonality we're not seeing because support keeps working people up the jump through this little flaming hoop tree as opposed to getting technicians and logging tools to look at their consumer gear.
Seriously, unless I'm mistaken this is one of two routers I've played with in 20 years that didn't keep a basic viewable log for tracking down problems. That in every case it's been change one thing and wait for a week and a half for lockup, oh wait, we closed that case? Is absurd.
At my house to correct the issues introduced by Google's Nest Wifi, I simply replaced the router. As with literally every other router that I have ever had it worked properly. I was not required to place my AT&T Fiber connection into a faux bridge mode like they're suggesting as an attempt to correct it (double NAT is pretty standard guys.)
The mesh, it went down
I noticed that the signal wasn't reaching to my office. A quick bit of investigation found the mesh unit with an orange light on it.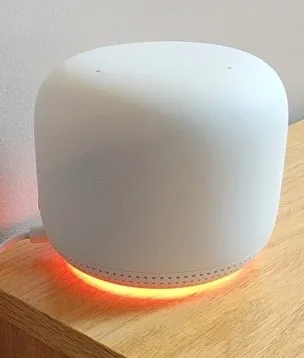 As this was more than 14-20 feet from the main, I did a speed test and got abysmal speeds. We're talking 5-6mbit. I was looking at the main Nest Wifi router unencumbered by anything but a small metal rod and some distance. Rebooted the Nest Mesh unit, it connected, seemed fine, and then it disconnected.
I went to the Nest Wifi base unit, did a little investigation without unplugging anything, disconnected, reconnected, still pretty bad speeds. Rebooted the mesh unit for a second time, it connected, said great/good connection, and suddenly we went from 6mbit to 519mbit at 60+ feet away.

I will note, the signal strength is great. The speed is great. There was no reason for the Mesh to drop out although should corporate/support want to complain, 60 feet with nothing in between is indeed further than advertised range.
So at the end of week three
Repeated error message from August 23
Mesh unit claiming great connection dropped and required two reboots to reconnect
Next to no usage
Update: August 8, close to midnight, Mesh goes down. I check for a bit, did not come up. Was up and working and claimed perfect signal the next morning.
Previous / future Nest Wifi + Mesh coverage:
The Home test
Day 1 – initial impressions
Week 1 – the first lockup
Week 3 – the thing operated ok
Week 5 – Yikes, it's so unreliable I'm going to replace it
Week 6 – Playing with Family Safety / restricted while trying to fix the thing
Week 6+ – all the lockups I've had with the unit
Week 7 – after a suggestion from a reader lockups appear to have resolved – yeah, no, they didn't 15 hours later
Week 7 – have removed the unit from my network and purchased a different brand router because it just wasn't stable

After giving up, the corporate test
Day 1 – initial impressions in commercial world (day 55)
Day 7 – locks up with next to no usage, no devices connected (day 62) – this one contains a possible retraction
Sometime after day 7 – soapbox, I am on it.
Day 21 – Mesh unit disappears, two reboots later it's back (day 83)
Day 30 or so, giving up
Related to the product line
The Nest Wifi Pro having issues – how utterly shocking

Product links: Amazon, Google Nest Store