Summer with the XGIMI Horizon Pro 4K projector brought it
The XGIMI Horizon Pro is a 2200 Lumen 4K projector running Android TV that is running on a professional grade software distribution. Let me preface this with it's gorgeous, I struggled for a month to find things to nitpick about it, and it also involved the most rain/wind delayed photoshoot I've ever done which lead me to believe I might secretly be a weather god with how many times the rain came on nights I had free.
September 21, 2023: Hey a quick update to articles referencing the XGIMI Horizon Pro, or XGIMI Elfin. Brightness claims were listed based on information provided by the manufacturer at the time. XGIMI has reached a settlement with Epson to switch from ANSI to ISO standards and additionally change the brightness claims of a few of their projectors that overstated them. As I wrote a lot of XGIMI articles I am copying this block and saying if you see it say the Horizon Pro is 2200 ANSI lumens, it's actually 1500 ISO lumens. The 800 ANSI Lumen claim of the Elfin is now 600 ISO lumens. These still appear to respectively overstate brightness by about 17% & 6% when accounting for conversion.
Update: since this piece was published we've done a series with the Horizon Pro vs the Anker Nebula Cosmos you might want to check out.
I was given a loaner for the summer, and even though Tennessee is in Summer #2 this week (where it will be topping out at 98f/36.5c,) it's time to get equipment I'm financially responsible for back to the loving arms of the manufacturer and PR firm. I will miss you, Horizon Pro.
Some XGIMI Horizon Pro uses I had over summer
Brownies and Daisies and dancing, oh my…
I am going to preface this with there's no association between Pocketables, XGIMI, and the Girl Scouts (that I know of.) I was asked by a parent to help with a movie night for a Nashville troop that my kiddos are in and it was "awesome Horizon Pro projector" or "school 480p 55 inch TV on a cart." Seemed like a good test.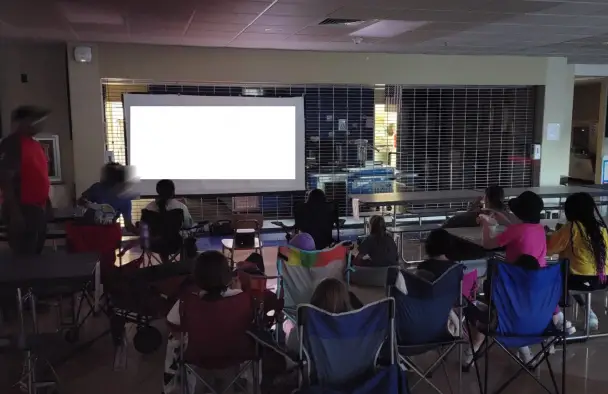 I previously wrote about the Girl Scout Movie Night. The Horizon Pro survived without a scratch which amazed me. I will never take borrowed equipment near a room full of 7-9 year old girls again, but it performed admirably. My notes there were only that the base really needed adjustment capabilities and it would have been nice to have an optical zoom so I could have placed the unit further away.
In the future I would have 1) shown up 30 minutes earlier to set up the projector screen properly, 2) reversed the image and placed the XGIMI Horizon Pro's projector behind the screen to keep pre-teens away from the equipment and their ability to mess up focus by suddenly dancing in front of the thing.
The wall
For a while this replaced my XGIMI Elfin projector. The 4K and 2200 Lumens vs the Elfin's 1080p and 800 were put to the test and when counting pixels and brights, the Horizon Pro won. We'll talk about how much later in the article.
White wall, projector at 10ish feet away, big screen that looked good (if a tad textured sometimes due to paint.)
The Backyard Drive-In
The idea was simple: pop up a 120″ screen, show a movie in the back yard, determine how great/not great the Horizon Pro was for outdoor/portable use. This was where I was surprised.
Used this tripod, and this screen.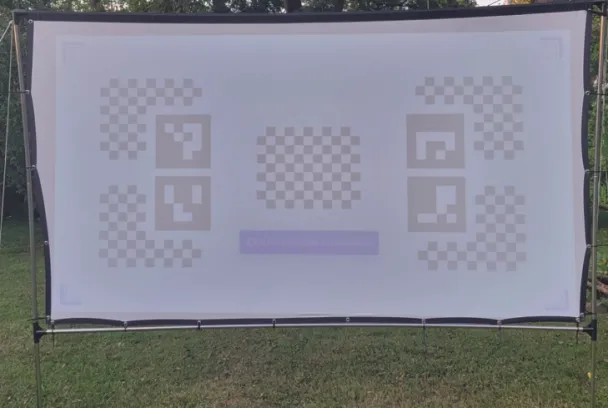 While the projector was incapable of beating a room full of loud 9 year old girls in a movie scenario, it was more than capable of delivering audio about 20 feet outdoors that was not bad. We're not talking cinema level volume, but it was a lot better than I'd expected at volume. I'd still bring a Bluetooth speaker set just in case, but it does get loud, and it does do well.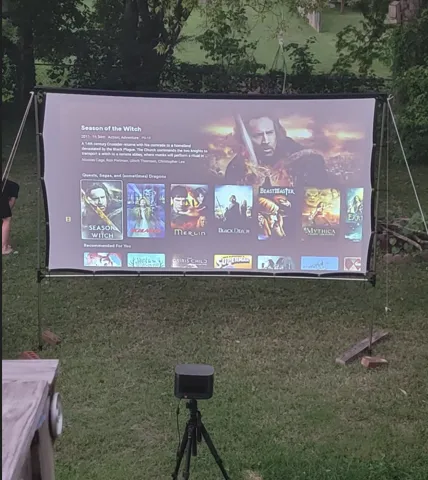 For the testing outdoors I set up my screen, got it next to completely assembled before the top ends, which I'd forgotten to secure, popped off and turned the 120 inch screen into more like a 116 inch screen. I struggled to get the thing back to a full 120, but abandoned that. Nothing to do with the projector, just Paul forgetting secure the top before you secure the bottom.
The image projected was 108.5″ based on where I had to put the projector and a tape measure I had sitting around. This may be more or less but it was most of the projection surface.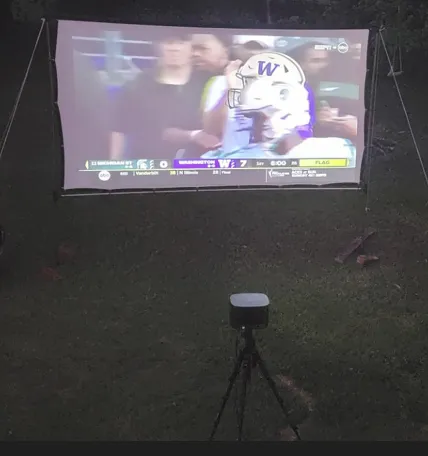 I started attempting to project content at 6:04pm and no. 2200 Lumen v the sun and attempting to project to nearly 110 inches was not a thing. Very unscientifically I determined I could see and operate it at about the size of a 30″ tv at this point, but that sun was really too bright. I suspect I'd need somewhere in the neighborhood of a lot more lumens to handle the late summer sun.
An hour later the screen was visible. Not great, but the above picture is, as I recall, about right.
At this point we enter the level of taking photos of a screen at night and my camera's inability to reproduce what we were actually seeing. I attempted many photos, I used insanely high quality source, it looked beautiful. I also even managed to get the screen mostly corrected. You know what it looks like in photos? Fuzzy hot garbage.
Visually the unit was superb. Audio the unit was acceptable. More than capable of what I wanted to do out back.
Paul gets nitpicky
After several months with the auto focus and keystoning between this and the Elfin, I think the firmware needs some work on the focus side. This is most notable when children throw a dance party in front of a projector. You can throw the focus off based on how long a troop of Girl Scouts dances in front of the projector. I mean, yes, this is not intended use case but I was twice unable to force focus back.
Lack of Netflix certification, yeah that's on Netflix, but it feels like it needs to be mentioned that next to no projectors appear to have certification. There's no date it will happen. You can attach a Chromecast, Amazon Fire, Etc to the back and project it fine. You can install a Kodi Netflix client and it's fine. I only mention this because some of the advertising mentions I've seen involves Netflix. Yeah sure you can play it, but it's not the official Netflix client. I mean, this is on Netflix, not the projector companies.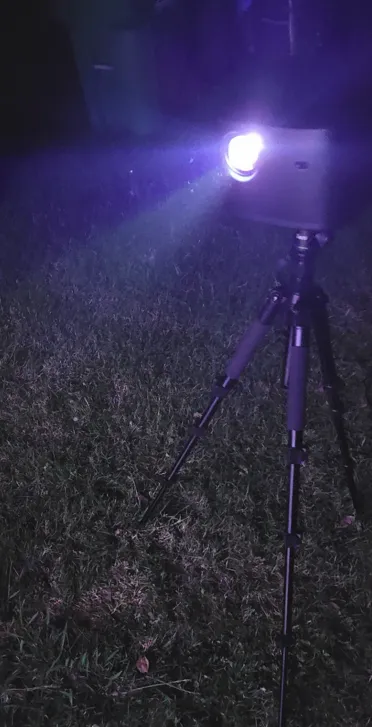 I adore a hardware company that pushes firmware updates. I do. I want more detail in their logs however as they're basic bugfix and maybe a sentence here or there…
Lack of AAA batteries needs to be a little more front and center. They're not being cheap as far as I can tell, it's a relatively new (or newly enforced,) shipping restriction. Seems to be across the companies.
Projector controls on top of XGIMI Horizon Pro seem lacking. If they'd added a d-pad you'd have everything you needed if you didn't want to bring a remote with you.
The power adapter is 3/4ths the size of a real brick. It's huge. The unit does not appear to pull the power that I'd expect from a brick that large.
Should you get the XGIMI Horizon Pro?
Obviously I have a financial reason to say yes.
However I'm going to mention that for outdoor use my suggestion is no. After the much-delayed photo shoot with the Horizon Pro and our movie night was over, we brought out the much more portable and compact Elfin to test against.
I can tell you the exact pixel differences. I can spot the motion smoothing differences. I can tell you that the Elfin would have taken 12 more minutes before it became visible in the daylight. But even my pixel snob ways, with most source, as a summer backyard projector even at about 110 inches I had no issues between the 2200 lumen 4K Horizon Pro, and the 800 lumen 1080p XGIMI Elfin.
I felt the Elfin was more portable, less of a risk on a tripod. It had less in the way of sound, but with most of the planet believing that Netflix and Amazon push 4K content when they say it's 4K, I don't think most people are going to notice the difference.
For indoor use – yes/maybe? This is all you. I enjoy 4K gaming. I can count the pixels, tell you what I see with frame rates, drops, etc. I would prefer to play games and watch Blu-ray 4K The Martian for the hundredth time on the XGIMI Horizon Pro. For me, I do notice the difference even with my now kind of crap eyes. The images are great. I'm not sure the price increase and Lumen boost make it worth it. All your use case.
Wrap up
XGIMI has the most professional software I've worked with so far. It doesn't feel like it's an afterthought to sell a product. It appears as though it's a commitment to keep a product running perfectly and to be at the front of the game. There have been a lot of updates since I started reviewing XGIMI products, and I'm not entirely sure what they are because the bugs they squashed I haven't run into in operation. That's rare. Or they're fixing spelling mistakes and I'm wanting to believe they're awesome. I still think they're awesome.
I think you'll enjoy the product. I will miss it in my kitchen, although I'm still pretty happy with the Elfin. It would have been nice to get the sound quality of the Horizon Pro as I've got a BT speaker sitting around to do sound with the Elf.
You can grab an XGIMI Horizon Pro at Amazon or at XGIMI. Amazon links would earn us commission, XGIMI nope. You can also just go to Amazon and search if you don't want us to get commission.
XGIMI Horizon Pro 4K 2200 lumen projector
The XGIMI Horizon Pro 4K 2200 Lumen projector is one of the more professionally done consumer projectors on the market running Android TV 10, and providing non-rigged access to Google's library of apps.
Product Brand: XGIMI
Product Currency: USD
Product Price: 1699.00
Product In-Stock: InStock
Pros
Android TV certification
Google Integration
Picture
Sound