iLive Dual Bluetooth Bookshelf Speakers review
Surprising sound from a budget friendly speaker? Check. The iLive Dual Desktop Bluetooth Speakers (ISB1400B) deliver. You don't want to hear what's right with them however, that's why you're reading Pocketables.
It took me a bit to come up with some complaints on these based on the current quite acceptable price. Yeah, Mr. cheapskate here thinks a product is priced correctly. That in itself threw me.
OK, nitpicking on this. They're a good set of speakers and probably has a permanent home on my shelf because I like the sound.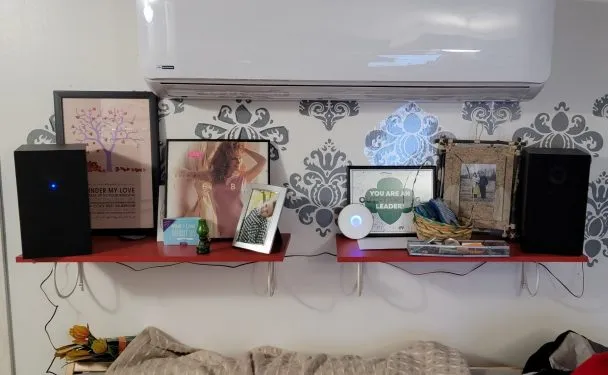 The iLive Dual Bluetooth Bookshelf Speakers are not quite wireless
They don't claim to be wireless, but you read Bluetooth and, well… I think wireless. To get two powered speakers you have one speaker, the right, that has a power adapter going to it from the wall. From the right speaker is a 7-8 foot speaker wire that connects and provides sound to a standard dumb shelf speaker. If you're really into stereo right/left you might get that this could be a problem as your right speaker is going to be closest to the power source.
Your stereo separation is also going to be about a max of seven feet on some fairly loud speakers that could use more space if you wanted. I mean, you can get longer speaker wire. As noted above I'm nitpicking to find whatever I could that was wrong with them.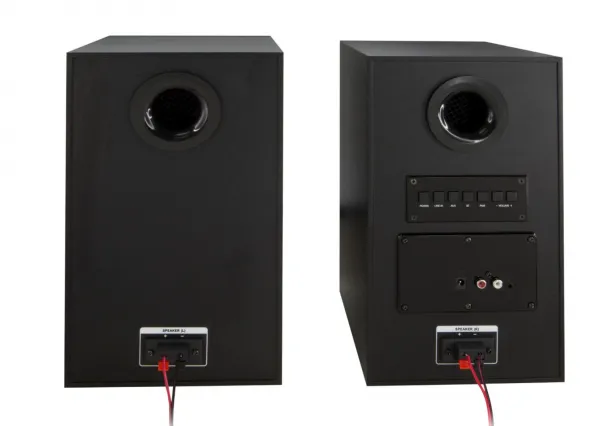 Basically my complaint is that there's no good way evident to position the right speaker on the left, and wires man… could we not? I'd actually rather see two powered speakers rather than one and a wire between L & R. But that's not this product.
All about that lack of bass
You want bass, thunder, explosions? Not the iLive Dual Bluetooth Bookshelf Speakers. I don't know a good way to say this but in terms of bass I believe this reaches late 80's decent home stereo level. Acceptable. Nothing to write home about. Nothing wrong, just not a lot of loud air moving bass. It makes the case for fake bass but whatever. Everything else sounds crisp and where I'd expect based on the specs.
They get obnoxiously loud – but I don't have the dB on the specs.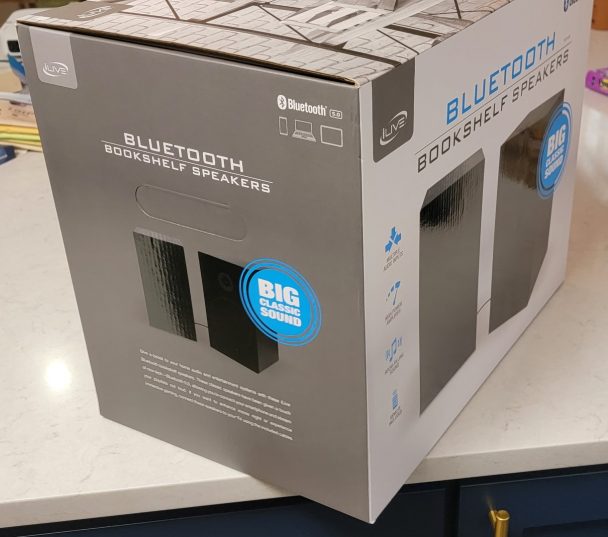 Specs
Bluetooth v5.0
Wired stereo speakers
Aux in (RCA audio inputs)
Line in (3.5mm audio input)
Voice prompts
Remote control
RMS output: 20W+20W (10%THD)
Peak power audio output: 80W x 2
Frequency response: 60Hz – 18kHz
Dimensions: 6.7 x 8.8 x 11.9 (single speaker)
That Bluetooth
The only thing that didn't function to expectations was the Bluetooth connection. I've got a Bluetooth 4.0 dongle that I've never put to the test on my computer and discovered the range is exceptionally short with these speakers. Can also be interfered with pretty easily. I'm not sure whether this is the dongle, BT 4, or what the exact issue is.
My phone has no problem with range or interference with the speakers so my guess is it's either 4.0 or I got the cheapest BT adapter.
The feels
They're quite acceptable. Priced at under $80 at the moment they're a nice sounding somewhat wireless addition to my computer, which has been lacking in sound quality as I've been using headsets or the TCL TV speakers for the past couple of years (wife working from home = shared office space for computer.) I think for basic audio and nice one-room level listening you won't hate 'em. And if you do, return them and let me know I was wrong.
The iLive Dual Bluetooth Bookshelf Speakers are available on Amazon currently for less than $80
iLive Dual Bluetooth Bookshelf Speakers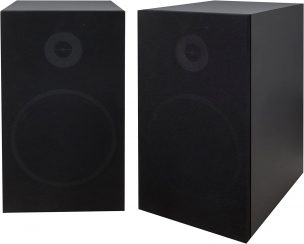 The iLive Dual Bluetooth Bookshelf Speakers are a good sounding, budget friendly, addition to your soundscape.
Product Brand: iLive
Product Currency: USD
Product Price: 79.99
Product In-Stock: InStock