Kevin Can F**k Himself series ended and wow
As I'm stuck at my house today, something that's interested me greatly was the series Kevin Can F**k Himself. This series has had me thinking about it for the better part of a day with how it ended. There are some obnoxious spoilers below based on what jumped out at me so beware. Kevin Can F**k Himself is an AMC production.
If you haven't watched Kevin Can F**k Himself, it's got an interesting premise and way of shooting. The series when focusing on Kevin, a larger than life big goofball similar to Peter Griffin from Family Guy, is shot in what I would call 90's Thursday Night Comedy. It's got a wisecracking fat guy, a laugh track, and nothing about Kevin feels like it's more than played for laughs. The rooms he's in are sets, the outfits are perfect, and the delivery of the lines is very timed for the laugh track.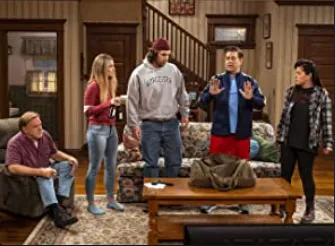 When Kevin's not in the picture we're in the real locations, the people are dealing with what Kevin's caused, and it's a drama that for the first season I kept wondering why it was so overboard in what the protagonist and friend/helper were attempting to do.
Spoiler here, from episode one up until late in the second season Allison attempts to take the lead in her own life and escape Kevin, but the only way she believes she can is for him to die. This planned action backfires spectacularly and fuels most of season one and leads Allison and Patty through another half season just trying to clean up the mess that culminated in a murder for hire plot gone awry leaving the assassin dying in a hospital at the hands of now-local-hero Kevin.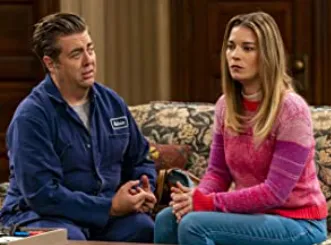 What's so interesting to me about this was that the entire time I spent wanting to see what was causing this… Kevin doesn't come across as someone you'd want to kill… and that's what really sucked me into this because Allison didn't come across as someone who would kill someone to solve a problem. Neither of them were the smartest on the block but Kevin was steadfastly Comic Evil, and Allison was … took forever to figure this out (probably because I'm dense,) seriously mentally abused behind the scenes and responding in the only way she knew how to escape.
And you didn't see that abuse perpetrated for 15 episodes although there were some mentions. Kevin existed in his sitcom world spewing one liners and other things the public could see, and everyone around him suffered out of his immediate orbit. Interactions with Kevin had universally negative consequences, but damn they looked funny.
In episode 16, which is the series finale, we get to see Real Kevin for a minute. It's a very short time in which he interacts with Allison and it's one of the creepier performances I've seen. There's very little different between what large goofball Kevin in 90's sitcom, and Kevin in real life says and does, it's timing, lighting, intonation, physical positioning, and it's masterfully played.
I could imagine that scene being Kevin'd up for laughs and I was genuinely creeped out by how easy that would have been to hide intimidation and mental abuse into a couple of jokes played for an audience.
Immediately after I was telling my wife that that was the Kevin I wanted to see for the past two seasons… I wanted to see why she wanted to kill him and how she'd managed to get anyone helping her and then I realized something. In situations of abuse quite often nobody other than the victim is ever going to see the abuse. That's what the series was. Outside looking in at the existence of two people in their own stories and how they presented themselves to the world, at least in the case of Kevin.
Or maybe I'm remarkably unobservant of Kevin's actions in the series. Snowed by the big goofball act. Did make me realize the couple of domestic abuse victims I know I did have to be told and I did have to believe. Nobody ever jumped out and said "Hey Paul, I'll be your friend's abuser today." Nope.
Interesting watch. Series should have ended a few episodes back. I believe 12-14 would have been perfect, but 16 wasn't pulling teeth.
I now have the desire to go back and just watch the Kevin parts.