On October 7, 2022 a website I follow reaches a resolution of 20×8 and this isn't good for the future of Android sites
You may remember a few years back a deluge of phone coverage about the OnePlus 8. Maybe not.
In April of 2020 Android Police had 17 articles on the main page about the OnePlus. They weren't the only ones as Android Central, Android Authority, and pretty much anyone you could shake a stick at had wall to wall coverage of everything OnePlus 8 to the exclusion of all others.
Last week Google Pixel 7 was released and it was jumped on so hard I gave up counting the words "Pixel" and just let Chrome do it for me.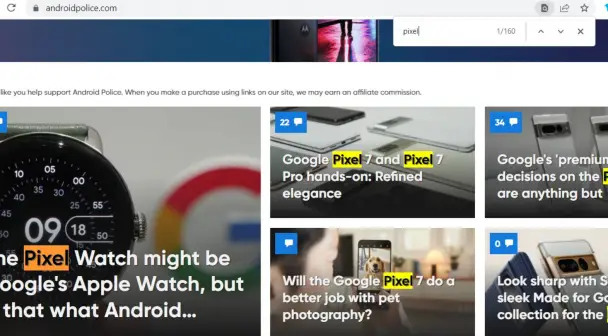 Wall to wall Pixel 7 coverage not just on AP, but everywhere. I just happened to grab a screenshot of it. Sites pulling out old articles about the Pixel 6 failures as though they're new and current with the 7 series. Questions about whether a Pixel might be better than something else. I'd guess there was probably a fitness series for dogs somewhere that threw in the Pixel 7 or watch. As long as it has the words "Pixel" in it it was up, crap or not. This was across almost every site I follow.
Can the Pixel 7 floss your wisdom teeth more effectively than dental floss? The answer might surprise you!
Maybe I'm just anti-hype and more hands-on, but throwing 20 articles up in a row about something that nobody has in their hands and is based on reblogged information just … ok, I'll get off my own lawn now. Feels too much like sites are trying to capture an Apple moment from years ago and that's probably not going to happen again because anything now is just slightly better, slightly faster, slightly more secure…
There's nothing new. There's just something better. That's a different sell and not done with wall to wall OMFG LOOGIT! coverage.
Pixel users have experience both the bleeding edge, and being cut in the past. It's still Google. Maybe temper this a bit with not attempting to sell everything new via Viglink tagged links and maybe add some value to what's being written about. I mean every site has to have an income stream somehow, but dang. How much is too much?
OK, I'm getting off my own lawn now…