How to quickly share contact information with someone
A short guide on how to quickly share contact information in Android (in the year 2022.) As with all things phone, by the time you read this the methods described may have changed slightly. I'm going to discuss a few ways to share your contact information from your phone to someone else.
There's the possibility that the way I'm sharing is specific to a Samsung Galaxy S21, and if so let me know because I'd like to not be disinformation.
Share contact information via vCard
Go into the Phone app, choose contacts, you should have yourself as an option. On mine I'm the first contact listed.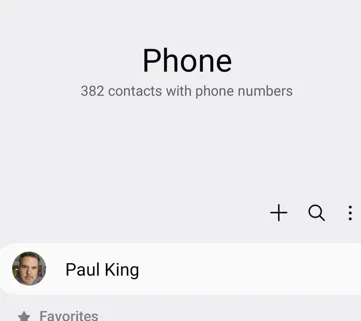 Open yourself as a contact, choose share, and you can share either a vCard or text information via SMS, Quick share, email, or pretty much most options in the Android Share menu.
Be aware you might be sharing more than you want if you send a vCard – make sure the info such as address, phones, etc contain only what you want to send.
Share contact information via QR code
Phone, contacts, open yourself (or anyone,) as a contact, and QR code should be in the bottom left menu. Tap that and a QR code containing the vCard should be scannable on your screen. You can also go read here to create the QR code from plain text should you want to.
You can print that out, save it, all sorts of things… or just use it when you need it. I've found only one use of having a QR code printed, and that's for signs around the building that if you need someone scan this or call.
Share via NFC tag
QR seems to have won the fight, but NFC tags are still a thing. You can buy a few NFC tokens and have them as business cards. They're about 35 cents a pop at the moment, I last used them mainly for triggering events based on tapping (which they excel at,) and I think QR is more the way to go but you do you.
You can print out a page of 15 or so QR codes for six cents and don't need to hope the person has NFC turned on, so you've got to have a use case here…
Share via graphite
If you happen to be in possession of a yellow coated graphite marking device, you can apply it to crushed vegetative matter leaving markings for OCR or a human to interpret.
Works in a pinch, but relies on the receiver maintaining the integrity of the crushed vegetative matter until such time as it's downloaded into a meaningful format.
Other ways to share