The Pixel 7 pro day 3 (running)
This is a running series about what I've experienced going from a Samsung Galaxy S21 Ultra 5G to a Google Pixel 7 Pro. I'm discovering a lot of changes, some good, some terrible. I'm going to start with the terrible today.
One of the great things about the Samsung series is the resizable windowed apps if you want them. I have no idea how to convey how useful it is to have a floating calculator on screen, or sometimes a couple of browsers both up so I can cut and paste without task switching. The Google Pixel 7 Pro allows split screen, which is amateurish stacking. It also does something called Freeform windows which I have to assume is some sort of discontinued beta considering how badly it performs. Oh, I can have one resizable floating window? It only seems to stay open above the launcher? How useful.
Mayme I'm doing something wrong.
Messaging and notification delays
Three minutes ago I received a text message. I know I received a text message because messages.google.com told me I did. It popped up on my computer. About 20 seconds ago as of this writing I got notification on the lock screen (and a little chime,) that I had received a message, and it was dated three minutes ago. For all that Google keeps pounding Apple about their messaging platform you would think that delivering a message notification within a minute of receiving it.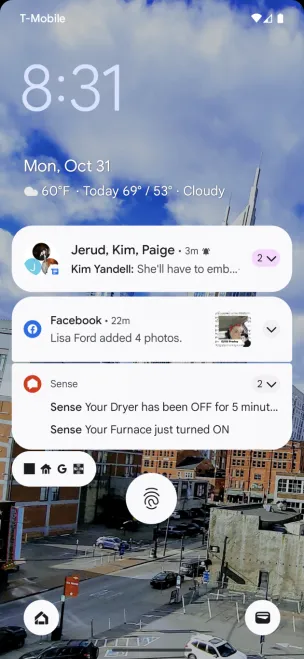 Now, this is not an all the time issue… sometimes the notification is within a couple of seconds… usually it's within a minute… but yeah, wasting 3+ minutes to get notified makes it looks like I'm not particularly paying attention. I use my texting to coordinate with work and as part of being a remote employee responding in a timely fashion is kinda useful.
As I was writing that I got a notification on the computer I had received a text and within one or two seconds the phone had dinged.
That photo editing though
I edit photos on a computer. I've often scoffed at editing them on a phone because it's so clunky. They released a very good photo editing suite with the Pixel 7 Pro. Magic eraser is very good.
It's not as fast as I'm seeing in commercials… feels almost as if it were being done on a server in the back end… but yeah it appears great. Slightly seamed.
Photos in general
I'm colorblind, my vision is not perfect any more, but something seems off. I'm thinking it's the compression and will start messing with that later. I'm just looking at people's clothes and they look like they're paint by numbers almost. Color flattening.
Photo sphere actually seems problematic. Took one and it's stitched badly. I'd done those in the past with better results. Eh…
Game mode
As I understand it game mode / management ./ something is a new thing that just rolled out with Android 13. It allows direct streaming of games, FPS settings, and a couple of other things.
This is one of the things I really enjoyed with the Samsung Galaxy S21 Ultra, a game specific app… but this is not it. Samsung had the ability to group games into a folder, and selectively mute them (and their advertising.)
Selective volume controls needed.
All day battery? Not for me.
It's not bad, but there are no improvements over the S21 that I'm seeing. Seems about the same in terms of drain, and charges slower.
I was wrong and right about voice to text
In a reasonable volume area voice to text is amazing on the Pixel 7 Pro. It can keep up, does not appear to mishear, makes smart choices when confronted with similar words. It's actually great. This is in Gboard typing.
For Google Assistant, not so much. I'm not sure still whether this is because when I'm using assistant it's usually further away from my face or what but it's quite a bit faster at being dumb. I'm going to try this out a little more closely later today.
Dropbox still being Dropbox
This is something I noticed on the S21 and thought it was Samsung related – screenshot and photos will not be detected until it gets around to them at some point. I've written this entire piece and the screenshot I took of the 3 minute delayed email still is not available or synced.
Once I took a picture Dropbox synced the screenshot. Going into Gallery, which worked on the S21, didn't ever pul it up.
Call features are quite a bit more robust
OK, the call features here include screening unknown callers and not bugging you about them. Just watched it screen and ask someone for why they're calling me. Whoo hoo… I'll write about that later but dang…
Running log of the day
9:22am cst
not really much to report. Listened to some news with "play the news." Did a speedtest on the world's worst Wi-Fi router. Speedtest at work which is only showing 236 down and 33 up. I mean that's good but I've gotten better. Think it's weather conditions today and not the phone so not putting much against it.
Here's a link to all the things Pixel 7 Pro we've tagged… just more thoughts, findings, etc as the days go on.