To get Google Fiber, dial (000) 000-0000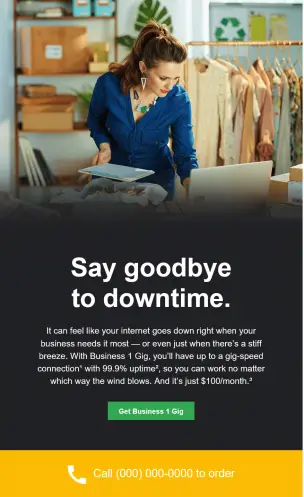 I start to feel like Google is just trying to send out mistake-laden mailers these days so I'll pay attention… last time it was a Your/You're mistake on Google Business. Today I'm directed to call (000) 000-0000 to get it.
TL;DR – Paul nitpicks a bad advertisement…
Also kids, 99.9% uptime means .1% downtime. There are 86,400 minutes in a month. 0.1% of that is 86.4 minutes. That's average downtime excluding commercial power outage and planned maintenance, not guaranteed. No SLAs. 17 hours of downtime a year on average. Not particularly good in comparison to most business fiber providers with an SLA. Actually not particularly great in general.
Now, they probably mean 99.99%… that's what you advertise… not 99.9% If it is 99.9% on average you're going to notice it going down on a fairly regular basis.
My AT&T non-business Fiber has been down maybe 9 minutes in the past three years (except for the bombing) which if I did the math right is 99.999942922% uptime. That's pretty standard for fiber these days.
Note I'm not saying they're bad, I'm saying I think their marketing department doesn't understand 99.9% vs 99.99%