Call Screening disappeared on Pixel 7 Pro (and what fixed it)
Call Screening is perhaps the coolest and least promoted feature I've seen on the Pixel 7 Pro… basically your phone can answer unknown callers and ask them what they want and you can watch a voice to text live viewing of what they're saying.
From screening calls to dropping and blocking them, Call Screening has made the last three weeks with the P7P really enjoyable… I even screened and picked up a call once…. it was insane. Someone from an unknown number I actually wanted to talk to calling… literally happens twice a year.
So imagine my surprise when today that option was just gone. I'll give the breakdown – Carrier needed to make a slight change on how my phone worked / didn't work on Wi-Fi for calling. Made it, Call Screening disappeared.
What followed was me uninstalling phone updates, reinstalling them, clearing app data and cache (don't worry, your call history is not affected by either option,) force closing the app, rebooting the phone, turning Bluetooth off and doing all of that, disconnecting from Wi-Fi, every single thing I could find on the internet to get Call Screening back did not work.
What did work was just waiting for about an hour. Yup. Waited. Then the option for call screening re-appeared and everything worked again. Why an hour? No clue. Feature might be checking to see if it's in the US, or maybe it's waiting for a call or two, but the option re-appeared under phone settings as Spam and Call Screen, and Direct My Call.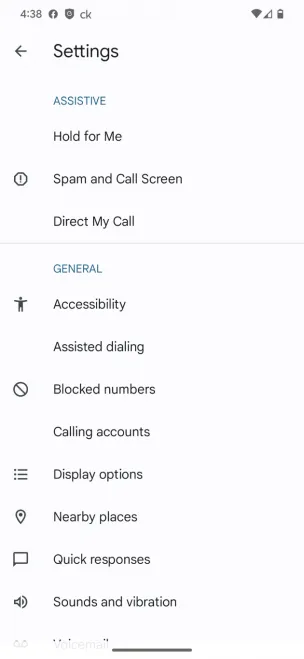 I don't know what would have happened if I just didn't touch it. Did it go out from the Wi-Fi calling change? Had it gone out the day before with the Bluetooth issues (there was an issue last month with it and BT I found on XDA.) May never know because the user-side logging on the Phone app is pretty much non-existent.
Just in case waiting for an hour or so doesn't work for you, go to apps, force stop the phone, clear app data/cache, reboot the phone, you'll probably see there is no option for Spam and Call Screen… check back in an hour and see if it isn't there. You might need to receive a call from an unknown caller first, don't know.
Once again, back to enjoying the phone and letting spammers talk to Google.