How to find out the ETA of someone with Google Location Sharing
I've been playing with Google Location Sharing a lot lately as I started a fairly long piece about how it broke down on my wife's phone when we needed to track it (phone left in an Uber.) That's not up yet but it got me thinking a lot about location sharing.
One of the things I always wanted was an ETA to home function so I'd know when to finish up my projects so I can be ready to assist with the chaos that is usually accompanied by two children coming home from school and an adult unloading in pitch black conditions. It's 6pm. It looks like midnight here. There are lights, streetlights, but the abyss consumes us in November.
TL;DR – takes two taps to get approx. ETA if you know their location, see image below.
Lemme tell you, it's far easier to meet them in the yard and assist than it is to find Band-Aids, rubbing alcohol, and then searching the yard for what managed to drop. It's dark, whatever.
Anyway, with Google Location Sharing you can get where it thinks they are and directions from your location to their location pretty easily, but not what their ETA is… and with us it's generally a 12 minute drive for me to go from here to there, but a 34 minute drive coming back. Traffic man. Anyway in just two taps you can figure out an ETA without bothering someone.
I feel like for two taps I've written something like a recipe blog here… lemme tell you about how my grandma fought in the war and… nevermind… below is a picture showing what you do.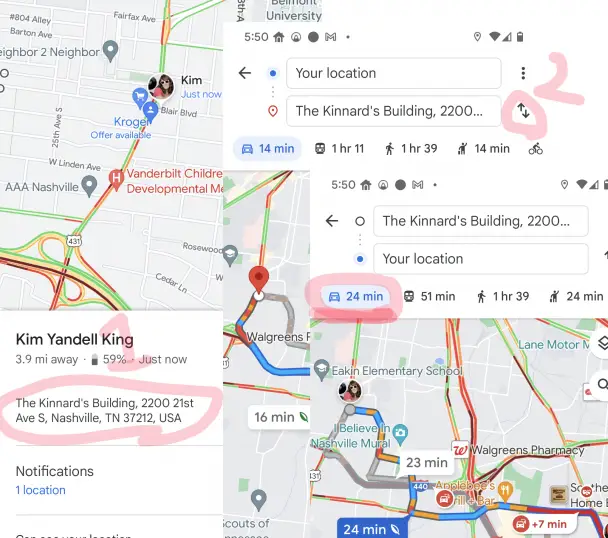 Find their location in Google Location Sharing… you'll get an approximate location… in this case it looks like Kim is on 21st Ave in front of a building I think I've heard of before. Tapping that building/address gets you the directions from where you are to them. But to the right of the destination you've got the little up down arrows and tapping that will get you the estimated time with current traffic conditions from them to you.
And that's it… thank you for coming to my T.E.D. Talk.