The Pixel 7 Pro is really shining as a… telephone
I documented a lot of my dislike of T-Mobile's scam shield and how utterly absurd it was that Samsung didn't just have a ringtone for people who are not in your contacts (or a don't bother ringing option.) It was absurd the lack of thought that seemed to go into both Samsung's telephone app, and T-Mobile's scam shield. Lack of basic options.
Basically both companies felt like the phone part, and the nonstop telescammers calling, were just something you had to put up with.
TL;DR – Googel Pixel 7 Pro appears to mostly get the voice calling part right…. like really right. There's no snark in this whole thing toward a Google product.
The Pixel 7 Pro has some pretty sweet options in the phone call department. One of these options is call screening option which, if I am reading right picks the phone up and starts talking to the caller. It's listed as on-device screening, so I don't think this is a carrier or google-side option like I used to have with the Sprint/Google Voice integration. My guess is this will work on any carrier unless they disable it for some reason.
In some instances you can watch a live transcript as the screened caller is saying what they're calling about (their voice to text,) I only caught that one time but watched as someone on the other end talked about wanting to make a business introduction and lost me there. They're calling on my private cell phone, they've already proven they don't know my business number, or believe the words "if it's an emergency contact me on my cell phone at …" indicates I consider this business introduction an emergency.
I've got it set so unknown and first time callers are auto screened and have realized that 10+ days into this Pixel 7 Pro experience I am not constantly annoyed by my phone … as a phone. Oh, there's a trail of spammers hitting both my phone and it appears Scam Shield, but yeah, nothing annoying.
That my S21 Ultra didn't have a simple setting to only ring for contacts, or separate ringtone for unknown callers, just made it a source of nonstop telespam misery that I had to work to overcome.
There are things with the Pixel's phone options I'd like to see, such as a ringtone choice for callers who have never called, people who have called in the past, and contacts. Fortunately with call screening I don't really need that, but it would be nice especially to know non-saved numbers I've talked to for one reason or another.
There's also some call transcription options that look interesting that I'm going to have to test out… which means I have to talk to someone…
Uh yeah, pretty impressed at something I had years ago with carrier integration of my Google voice and real numbers…. now my phone can do it.
Also it's late as I'm posting this, I don't have a good main image… picture of a guinea pig getting a bath is all you're getting.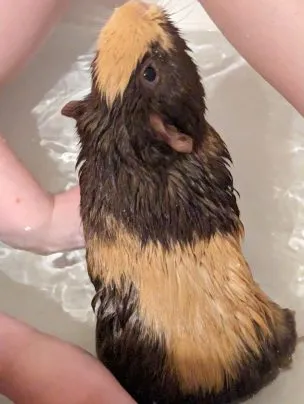 Here's a link to all the things Pixel 7 Pro we've tagged… just more thoughts, findings, etc as the days go on.