Want to show us what you know? Two projects I'm working on.
Hey all – as much as I'd like to say I know it all, I don't. I've got two projects I'm working on that probably will only benefit me. One involves replacing something in my car, and one involves attempting to use Google One / Drive like Dropbox.
We'll start with the car – I'm not a modern car guy and the last thing I did was chip a y2k Bug with a performance chip in 2001. I do not car. I can drive, I can replace serviceable parts. Cars are not my thing because I do not have any space to work on them.
A long and delayed Odyssey
I drive a 2014 Honda Odyssey minivan. I mean seriously ladies and gents, I'm married, step back… For me, the minivan life for driving is fine, the motorcycle counteracts some of the effects and I feel overall I've got a nice balance. Plus I'm a tech guy and a landlord so minivan is sort of required.
The thing has a couple of displays in the unit that show the trip computer, occasionally switch to a rear view or side view camera, and it connects via Bluetooth and evidently has a safety feature built in to prevent you from attempting to watch movies using the car audio and drive at the same time. This feature is a 2.5-3 second delay in audio. It's a well documented decade-old issue. The workarounds for a car two years newer do not work for mine.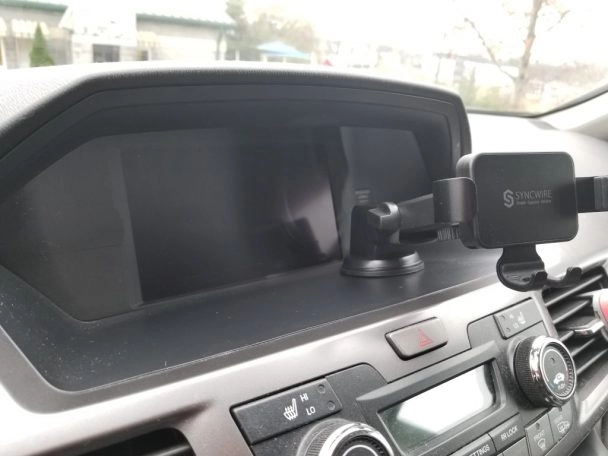 What I get is quite often navigation instructions that come too late. I also have issues using voice to send commands because I say "OK Google" and 3 seconds later, if it heard me, I get the beep. I generally have no idea and just start talking because I'm not looking and driving when I need to issue a command. It would also be freaking nice if I could do things such as see the title of what's playing as opposed to the first 15 or so letters, maybe a map? I don't know… it's an extremely basic interface that I would live with if the 3-second delay weren't screwing with me.
Plugging into the AUX-IN using a Bluetooth thingie works, but I lose the car interface, which means I have to switch to Bluetooth if I'm listening to the radio and on a flat panel screen this means I have to look for what I'm pressing.
Basically it's not great. The workarounds are not good. I'm interested in whatever needs to happen to make these two screens work with my phone and the car. I suspect this means I'll have to replace them with something that can work with the trip computer and the rear and side view cameras and I don't know where one starts on this. Researching 10 year old minivan upgrades to Android compatible systems I tend to get lost and not know what I'm searching for.
My searches generally end up with a phone number of some guy as the person to talk to… and Ray, if you're reading this, clear your damned voicemail. It's full and you never answer.
What does one get, where does one go, and how does one not lose functionality of a fully operational 2014 Honda Odyssey?
Drip drop dropping Dropbox
I've got Google One/Google Drive storage, I've got Backblaze for backups, I use Dropbox for one thing and that's taking a picture on my phone, and then accessing it on one of three computers.
I mean my general use case is take a picture of a product on my phone. Walk to computer. It's there. Drag into photo editing app to fix whatever lighting my colorblind eyes can't tell is there (there are reasons my product shots are the colors they are) and then resize, pop on Pocketables, bam.
With Amazon Photos, Google Photos, etc, we throw in a whole level of compression, delays, more steps. In either of these cases it's go to web page, wait for sync, download photo, drag in, etc. There doesn't appear to be a Google Drive option in the drive app to sync an Android folder to Drive, just to back up.
With Dropbox, I need storage for about 50 photos. That's it. Do I need 2tb with them? No. Is it in the Pocketables budget? Hah – no… budget… what will you think of next…
So, paid Google One / Drive storage, want Dropbox functionality for small projects but don't need yet another subscription. I want to snap a picture and within a minute it be available to drag and drop into my color fixer without a whole bunch of compression, hoops, etc. Dropbox free used to be great, small storage, lots of devices… but 3 device limit is killing me.