Woke up to a dead Pixel 7 Pro today
I have a couple of alarms set – one on my phone and one on a Beddi 2. If I miss my window of getting up kids don't make school. I've never missed that window. Every day it's the same – phone goes off, then about five seconds later the Beddi 2 alarms. Today just the Beddi 2 went off. I looked at the Pixel 7 Pro and it was dead. Not in the dead dead fashion, but it was turned off.
TL;DR – not ragging on Google, just finding more issues with their new flagship that need to be fixed.
I pulled it off the Qi charger, noted it was charging according to the generally not needed charging indicator light. When I looked at the phone it had 29% battery. This was more than it had when I put it on the charger when I went to bed.
I have an app called … looks like it's called 3C Battery Manager now… that shows my history. I placed it on the charger at 1ish, watched as the charging indicators on both the phone and the charger indicated everything was good. It had slightly less than 20% because the Pixel 7 Pro battery does not have all day battery for my uses.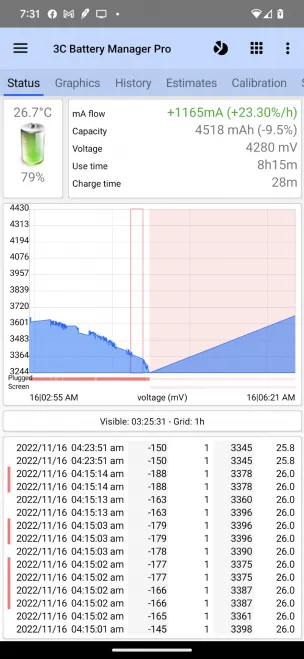 Either the Pixel 7 Pro or the charger turned the charging off shortly after I placed it on the magnetically attached Qi charger. At about 4:30am the phone shut down with 0 battery reported., Then it started charging. At 6:39am it had 29%. 5000mA battery, that means ~1450MAH in the battery, +750mA charging for two hours, 5ish watt charging speed on a 15 watt charger.
I sort of suspect it's adaptive charging to blame as I've never had a magsafe/magnetic locked Qi charging phone have an issue charging, and until the Pixel 7 Pro I've also never seen a phone deliberately turn off charging in order to maintain a magic 80% battery percentage through the night. But I don't know. Seems that verifying visually that the phone is charging isn't going to ensure that the unit charges throughout the night.
My current plans are to cable charge to 30-40% before going to bed so that even if the unit runs all night it won't be dead in the morning for the basic alarm I have to get up to. The Pixel 7 Pro is hitting 20% for me at 9ish nightly so I'll have a bit to charge.