Dreo Macro Max S air purifier review
The Dreo Macro Max S air purifier is a more intelligent take on the classic air purifier with air sensors that measure particulate matter to determine when your air needs purification, and adds smart assistant integration for Amazon's Alexa and Google's Assistant ecosystems.
There's not a whole lot one can say about a True HEPA air purifier other than that they pull air through a replaceable filter. This does that well. That's not much more than a fan and a couple of air holes so we'll skip past that this works as well at cleaning the air as any other air purifier that pulls air through an H13 HEPA filter.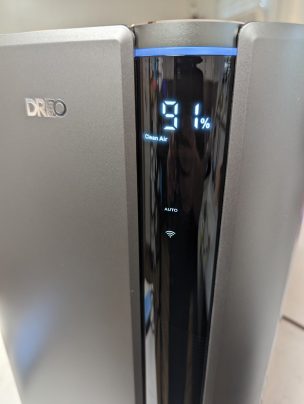 Where the smarts come in are the ability to only use much power to ramp up the fan when it's needed, and to report back the particulate matter it's detecting as well as graphing how good or bad your air quality actually is. You can also control it with your voice setting modes and turning it on and off. Kind of smart here.
At the moment there appear to be no methods to retrieve how the air quality is via Assistant, nor are there notification thresholds in the app that I have seen to alert you that the air is getting bad.
Actually testing the Dreo Macro Max S air purifier
There's very little a reviewer can do on these air purifiers to test them unless they have sophisticated air monitoring equipment…. so I put the Dreo Macro Max S air purifier next to my Airthings sophisticated air monitoring equipment and verified that the reported PPM of particulate matter were the same… they usually weren't exactly, but were close if they were in the same room.
Both the Airthings and the Dreo knew when pancakes were cooking. I don't know that two devices in the same room fairly close to each other should be exactly the same, but they were usually within 1 or 2 ppm registering on PM 2.5.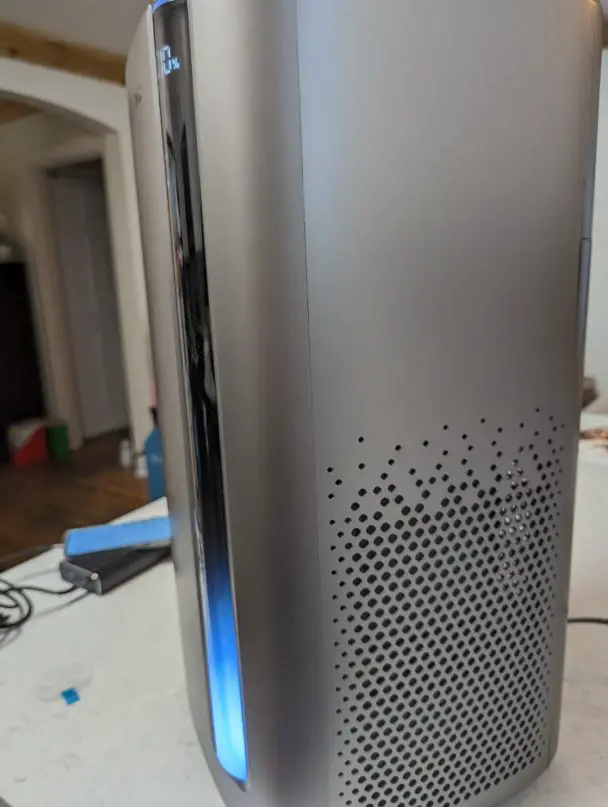 My guess is this means it's working, and a couple of PPM doesn't make a huge amount of difference on any scale I can see other than computer chip manufacturing.
It gets rid of visiting guinea pig odors exactly as well as any other H13 air filter I've tried does, which is to say it does an ok job.
Dreo Macro Max S filter life / cost to operate
Based on the percentages of a house that the average PM2.5 is 1 (spiking occasionally,) I lose 2% of filter life a week. This may be a little of an overestimation as I might have just passed a percentage threshold, but one would extrapolate a fairly clean air house requiring a replacement filter every 50 weeks. At their current pricing on Amazon if you got the Dreo suggested air filter you're looking at about a dollar a week filter charge.
Based on the product literature, in auto mode the Dreo Macro Max S takes 30 cents a week to run. That doesn't tell me the rates of local electric or how dirty the air was that was being filtered (more dirt = more power used to pull air through on auto mode.) But let's assume that 30 cents for a fairly clean air household. $15.60 electric a year.
This puts the operating costs (assuming both the above are correct) at about $65.60 a year.
You can purchase third party filter for less, and you can run the unit on your own schedule to save money, but this is on auto, and your use cases are yours.
Where it lacks
At the moment with what we have in the app and what I know can be reported I think it's missing the following that could be added with what I believe it's capable of:
Estimated power usage / cost
Ability to set notification thresholds
Ability to ask assistant of choice how's the air quality
Home / Away mode
Ability to set schedules (EG: blast on turbo 20 minutes before I get home normally)
Makeshift smoke detector?
Also the size on this thing. The filter is 9 inches tall. The Dreo Macro Max S is 20.96 inches tall according to spec sheets. It's huge in comparison. For an air filter that only moves 273 CFM that fan you would expect would be significantly smaller. Even the other tech shouldn't be more than a quarter inch thick. This thing is large and too tall in my estimation.
I mean there may be a reason for 10+ inches of fan space, but dang… how's the weather up there?
Dreo Macro Max S wrap up
At the current pricing it's a $200 smart filter that could be smarter (I hope they add those features.) They say you can't put a price on your health, but that price for the air side is about $265.50 the first year and then a little under $70 each additional year with the Dreo Macro Max S.
There is not much difference when dealing with any HEPA air filter brand in how they clean. Air goes in through filter and goes out having trapped particles. Dreo gives you a somewhat smart way to move air and see what you're breathing with this product but the app is still lacking at the moment.
It's nice, it moves air and is quiet, and it does what it does well. It may sound like I'm coming down on it, but I appreciate this filter. It's got a place in my house. I think with some modifications to the app by their developers it can actually be a very useful device but as it is it's got a bit to go (that it can go,) to be cool.
The Dreo Macro Max S is available on Amazon. We make a commission if you click that link. You can go to amazon on your own or Dreo's site or anywhere else and we don't make a dime.
Dreo Macro Max S
The Dreo Macro Max S is a smarter take on the standard H13 air purification device. It adds assistant integration and app features that make it more than the average air mover.