Anker Nebula Cosmos Laser 4K projector initial review
I've had the Anker Nebula Cosmos Laser 4K Projector in my possession for about two weeks now. It's a 4K laser projector backed by Android TV and as such the viewing experience does not vary significantly from the relatively good experiences that I've had with Android TV. It works, it has apps, it's smooth when up and running.
This was updated because 1/16/2023 after discovering why the unit kept turning on.
TL;DR – great picture, ok sound, very problematic setup, works with official Netflix app.
But first…
I'd like to address a potential conflict of interest. I received this as part of a head-to-head projector review that due to a shipping error is probably not getting started until next week when the competition arrives. I have been given free reign to say whatever I want about either of the projectors and fear no consequences, but this was purchased from Amazon for me by their (future) competition. It's going to the next reviewer after I get done with it.
You don't know me, probably don't know the site, but we find what is wrong with products and then drill into everything that might make you not want to purchase an item. You'd be surprised, but this doesn't generate a lot of sales telling people what the real experience is.
So what you're going to get here is a short review along with what reads like a bug report. The same will probably be with the competition.
Anker Nebula Cosmos Laser 4K Projector in action
This is quite difficult to express because any photos taken of the projection universally look terrible. This is on any projector I've reviewed, nothing special about the Anker Nebula Cosmos projector that makes the photos nigh-unusable. I pitted it against my old XGIMI Elfin projector and was about 20% more impressed with the 4K/2400 Lumens of the Nebula vs the 1080P/800l of the Elfin.
There was no doubt the picture was better, slightly… I was using a 2160P UHD HDR source and it looked demonstrably better on the Cosmos with standard room lighting in effect. It was brighter, crisper, and generally what I would expect from something with these specs. I'm not pitting it against the Elfin as a note, I was just using two of the projectors I had available to get an idea (also threw a Pico T1 in the mix.)
The Android TV experience is what Android TV is supposed to be, and as far as I could tell everything on it worked after setup.
Yeah everything… this is the first projector I've tested where Netflix worked with an official Netflix app. Certification is evidently there and there's no requirement to jump through hoops with a third party program that uses Firefox and your Netflix account to work. This is kind of a big deal. But not a huge one for my use cases as I have dongles sitting about.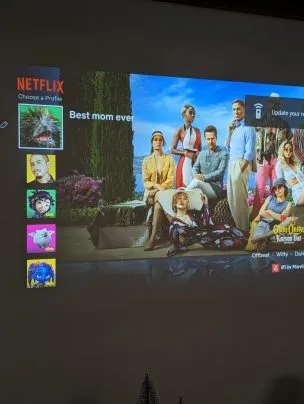 The audio from the Cosmos is pretty good, but I could never get it quite right. I'm going to experiment some more with it but it seemed to bring out the background noise too much and the main channels too little. Might have been my source, but I'm not sure. I'm not putting it down though. It's a fairly good speaker and I don't feel that any combo unit I've tested is particularly better speaker-wise.
Coming in at 5W tweeters and 10W woofers, It's not quite loud enough for me to consider using the audio outdoors as a primary.
Paul finds some things to complain about
I have video of most of this and will be editing it into the final review, but here's a summary of my first hour or so getting the unit up and running and tested.
The first thing was unboxing. This is quite possibly the only tech item I've ever had that had human hair in a sealed box. That was weird. I've seen fingerprints before, but never strands of hair. I checked and the unit did not appear to have been used and moved on. Once into the inner bag there were no fingerprints or any human evidence. OK, moving on.
Put batteries into the remote (they were included as I recall, odd a rare things in projectors,) and attempted to fire the unit up and nothing. No button combo would turn the unit on with the remote. Pressed the power button on the back of the unit and it fired right up. I thought maybe I needed to pair the remote at some point during setup.
This part may be out of order – I did a large chunk of the setup using the back of the unit's control pad. At one point it told me to go to setup in my home app. That did not work. I installed a Nebula app from the Play Store. That did not work. I reached a point where it asked me to install the dongle. I did. It didn't seem to register and there seemed to be no way to get beyond the request to install the dongle. After unplugging it, plugging it back in, and trying to get past the install the dongle screen I finally removed power.
Having unplugged it and then plugging it back in, the included remote started working, the Google Home setup started working, and the dongle screen was now bypassable.
After getting connected it told me there was a firmware update and I needed it… I agreed. Progress bar popped up, and after several minutes it seems it failed. Checked again and it worked, downloaded, and installed.
It was not a good setup experience.
Once it was working and running, it was about the same experience I've had on any other Android 10 projector with the only real complaint being I cannot find a quick video settings button on the remote. I can find it on the back of the projector. I'm not going to harp too much on this because I feel like if I do I'm going to discover I've been missing it, but yeah, I'm missing it.
The below has a reason
And then it turned on for no reason about 8pm January 5, 2023 after sitting there not doing anything for a day or two it turned on with nobody in the room. I have no idea why. And then it turned on again on January 6 at 4ish for no reason. January 7th at about 2am and 10:40am. All while I was doing other things and not in the room so really not sure what's waking it up. My assumption is something probably on the network is waking it up, but I have other Android TV devices / projectors that do not wake on their own (but can be woken from sleep) so something is afoot.
I've checked and the TV remote control I use has no effect. I thought perhaps changing volume or dealing with a TV in another room was turning the unit on and off but I see no indication IR is doing anything. Also no indication anyone is doing anything using the Home or Casting ecosystems at the same time in the house.
Update – it appears that the unit wakes up when Netflix is engaged on a Vizio TV in the other room. Why? Do not know. Working on narrowing that down a bit but it's really odd behavior. May not be Netflix but every time has involved an IR remote, a VIZIO TV in another room… said remote does nothing when in the same room with the Anker.
Random power on was solved. There's an IR remote in a different room that the "skip back" button evidently is the same as the power button on the Anker remote. It was none of the normal buttons that worked, and the reason for the randomness was we don't actually skip through a lot. I will take this as my fault, not Anker's.
Update 2: you can read about it in the Wednesday of Fail article, but some apps were denied internet while others were working shortly after an update.
Overall
Picture is gorgeous. Speakers are ok. Android TV is as always just about perfect. Setup was not smooth and needs some work. Feeling a bit uneasy about leaving it plugged in due to random turn on. Overall other than setup not disliking it. Full review to come.
The Anker NEBULA Cosmos Laser 4K Projector is on Amazon
Anker Nebula Cosmos Laser 4K projector
This is an initial review of the Anker Nebula Cosmos Laser 4K projector. TL;DR is great picture, bad setup experience, good performance once set up, ok audio.
Product Brand: Anker
Product Currency: USD
Product Price: 2199.99
Product In-Stock: InStock
Pros
Crisp sharp picture
Android TV 10
Speakers
Works with official Netflix app
Cons
Initial setup has issues
Price