Anker Nebula Cosmos Laser 4K vs XGIMI Horizon Pro 4K (round 3: purely subjective) – the feels
I have tried to be as objective as possible in the previous two reviews pitting the Anker Nebula Cosmos Laser 4K against the XGIMI Horizon Pro 4K. From gaming modes, to general operations, each projector has their highs and lows. I believe the second link contains the least unbiased review, and this one will be based on my experiences, beliefs, and annoyances encountered.
September 21, 2023: Hey a quick update to articles referencing the XGIMI Horizon Pro, or XGIMI Elfin. Brightness claims were listed based on information provided by the manufacturer at the time. XGIMI has reached a settlement with Epson to switch from ANSI to ISO standards and additionally change the brightness claims of a few of their projectors that overstated them. As I wrote a lot of XGIMI articles I am copying this block and saying if you see it say the Horizon Pro is 2200 ANSI lumens, it's actually 1500 ISO lumens. The 800 ANSI Lumen claim of the Elfin is now 600 ISO lumens. These still appear to respectively overstate brightness by about 17% & 6% when accounting for conversion.
I tried to have a fairly objective strong third and final entry into the head to head reviews with what happened at my Superb Owl party, but all projectors involved performed admirably and pretty much most objective reviewing was done in the first two reviews. This is a spare couple thousand word rehash and a bit more of the feels.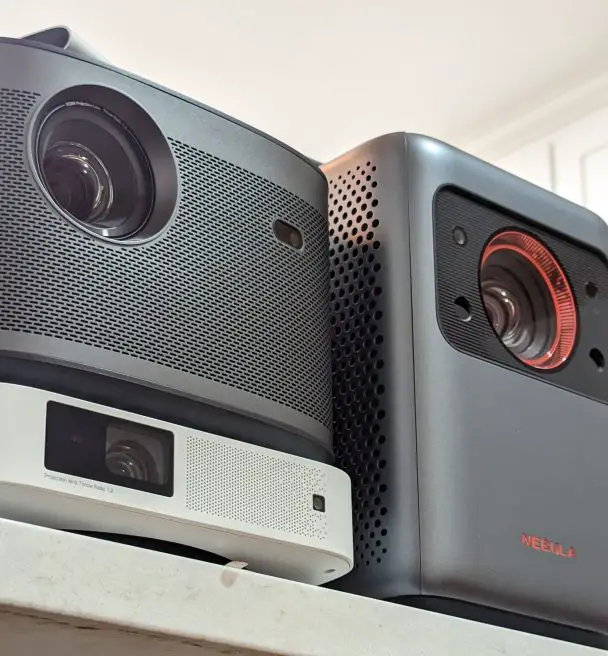 TL;DR – I hate subjective reviews, this one is subjective and mostly about "the feels." It's pretty much been covered in the last two reviews but here it is again about how I consider the XGIMI Horizon Pro the smaller but superior projector.
The disclaimer
Both units were provided by a PR firm working with XGIMI. There were no conditions on what I wrote, and no requests other than fixing an error I made during the previous reviews in which I insinuated that the XGIMI was a laser projector. My bad.
The Netflix
As noted in the previous reviews, XGIMI doesn't have certification for Netflix and running it is a pain without investing in an additional $15-$80 dongle (like a Fire Stick, or Chromecast, etc.) I'm told certification is in the pipeline, but even having worked with and trusting XGIMI as a company that's not certain. Netflix gets to choose what hoops you jump through to get their certification. You get what you get at the moment and hope.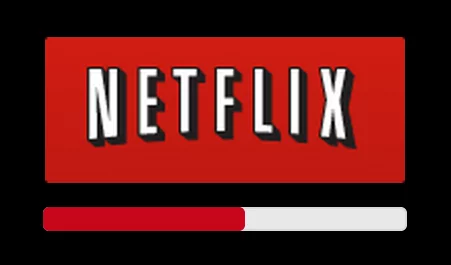 The Anker Nebula Cosmos Laser 4K comes with its own dongle that is Netflix certified that has to be installed in a compartment in the back during setup. I had issues during setup where it didn't recognize it, but I had a lot of issues during setup that were not repeated during a factory reset after the firmware had been updated.
The result is you're controlling two things with one remote on the Anker – the projector body, and the dongle inside. You're also giving up one HDMI input, which you would as well on the competitor. Slightly easier portability however. Well, until the back casing falls off while you're carrying the projector in at night in the dark… happened… I don't know how it happened as that plate is now on solidly but it did. My bad?
While one remote controls the projector body and the dongle, the thing feels a little disjointed. The cog that's on the back of the projector takes you to projector settings, the same cog icon on the remote takes you to Android TV settings… to get to projector settings from the remote you press input settings, which isn't a huge deal but it did result in a whole slew of emails back and forth to Anker support.
Not using Netflix extensively, I'd rather have the HDMI inputs, but that's me.
The setup
My setup with the XGIMI Horizon Pro was flawless. My setup with the Anker Nebula Cosmos was not. I've got a long long video of where it failed, wouldn't connect to Bluetooth or Wi-Fi, then when I did get it set up (after power cycling,) it I ended in a very long inability to download firmware updates. I mean, not horribly long but 10 minutes of fail and being unable to proceed. Anyone wants it I'll upload but yeah, long, bleh.
After the firmware updates it would boot asking what I needed to set up sound bar, tv, remote… The remote had to be paired even though it was working in order for Google to recognize my voice. Add remote, mfg is "Nebula" – ok, why wasn't the mfg. Anker?
This wasn't smooth. It wasn't terrible, but if I am contacting Anker support let me tell you I'd reached a stumbling point. I hate dealing with tech support. I *am* tech support. I don't know if I had to contact them because the unit was not connecting to Wi-Fi and BT initially and therefor I did not receive a set of very obvious instructions during the first attempt or what, but the result was I was left for several days with a remote that didn't work with voice, and for a couple of weeks trying to get to the projector settings menu because it's "input" here and "settings" there.
Maybe operator error but I did not see any information indicating I that I needed to set up a remote and do this… eh…
The experience
For watching content, installing apps, streaming, anything normal the systems were about the same. I like the ability to control motion smoothing on the Horizon, looks better on cartoons when they're blown up over 80 inches in my opinion but other than that the pixels looked the same, the images could be brought into the same color space basically (don't take this as truth from a colorblind man,) and other than that the Anker Nebula Cosmos Laser 4K was slightly brighter there was very little in terms of differences once streaming started.
Except gaming.
I fully cannot prove my God of War: Ragnarök gameplay was negatively impacted by the introduction of a 70ms delay in game mode, but I had a lot of problems with boss battles and parry timing on the Cosmos. I did decently on the Horizon Pro. I also felt in "gaming mode" on each that the XGIMI fared a little better, however that may have been because I was actually progressing in the game.
It's a 35ms difference in gaming mode between the two units. I'd generally assume this is unnoticeable but my gameplay indicates it's not. Or maybe it's subconscious. Do not know on this one. At my age and skill level it really shouldn't be a factor.
Hot sound
The Anker puts out more heat… Both put out about 105F/40.5C but the Cosmos is pushing more out with a fan. Not a huge deal, the Anker is more lumens and more power consumed, but something to note. It's also louder in base operating mode but not terrible. Just noticeable if your head is three feet away.
I still cannot express in numbers why I don't like the sound as much on the Anker – I don't know if it's processing, cone dynamics, or what but I'm not a fan. That said, neither of these would I use the included speakers for anything serious as neither gets loud enough to handle outdoors. The Anker beats the XGIMI on a spec sheet for sound and lumens, but I don't know how on the sound.
Portability
Been thinking about this a bit – I'm not a fan of either of these for portability. Both forgot some sort of rudimentary lens protection. The Anker Nebula Cosmos is just heavy and doesn't sit well on the top of a tripod (my problems, probably not yours.) The XGIMI Horizon Pro lacks a carrying option, and the power brick that it comes with is kind of absurd. You want to mount that anywhere you're going to have to factor in brick.
The Anker has the power brick built into the main system (some of the weight.) Better for moving, worse for mounting on a balance. Worse if the power adapter blows out.
Neither has any sort of outside liquid protection in case a cloud suddenly starts pouring on you. Portable indoors, yes. Lens protectors though seriously.
Neither of them wins an outdoor portability contest for me here.
Overall
I spent quite a bit of time playing God of War and Stray on these. I believe we were at about 20 hours on each projector. I watched some Blu-rays to the point it just was not fun. I engaged in a two week support volley with Anker from 1/13/2023 to 1/31/2023 that looks like about 12 messages back and forth over two issues. I've set up screens, projected on walls, ran game emulators on both of them (not great, didn't expect them to be though,) and generally reached the conclusion that both are good, the XGIMI is less expensive, lighter, sounds better (to me,) and I generally like it more.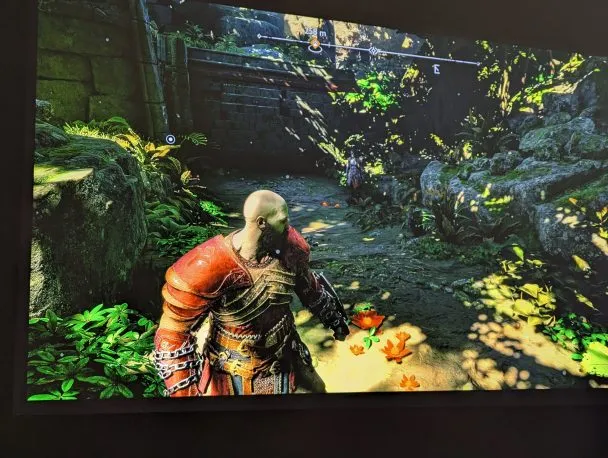 I think if you haven't had the smooth XGIMI experience, and you can avoid going down the path that lead to a two week volley of support emails with the Anker, you won't find a whole lot to complain about with the Anker. But I did. And I stank at a video game, which still may be unrelated but specs tend to indicate my stinking was ever so slightly metricable. Yes, I am yelling "lagggg".
So on the mostly subjective side, I have a few things to complain about the Anker Nebula Cosmos Laser 4K, and significantly less about the XGIMI Horizon Pro. I know this doesn't sound like a glowing endorsement, and that's because it's not. I spent so much time trying to locate what was wrong with these and what set one in front of the other I forgot to remember that they're just a medium to bring joy.
Both do a good job when working. Both produce very very nice images which cannot be photographed without looking like hot garbage. Subjectively I like the Horizon Pro better for my use cases. Objectively the Nebula is slightly brighter and can scale up to a slightly larger absurdly sized image. I tended to like the default color profile a bit more on the HP, but if you need reds popping absurdly by default the Nebula is for you.
The Nebula is a slightly brighter projector. In person I had no issues with what either was able to accomplish up to 120 inches of screen space, but if you needed to go significantly larger there's that to consider. What I generally would guess at here is it's the difference between starting watching outdoors at 7:04 and 7:12 in terms of lumens. Yes, that doesn't make much sense but the difference isn't hugely noticeable.
The XGIMI Horizon Pro 4K is currently $1,699 on Amazon.
The Anker Nebula Cosmos 4K is currently on sale for $1,999.99 on Amazon.