LeMuna Audio Glasses with modular frames review
The LeMuna Audio glasses / LeMuna Myth are, in their most basic form, two open/above-ear Bluetooth speakers built into detachable temples. If you didn't know "Temples" is the name of the long arms that sit over your ear, welcome to the club. The front of the bridge and lenses can be detached from the Temple arms and swapped out, and LeMuna has prescription lens ability as well.
They sent me a clear pair of my prescription, and due to an error in the first shipment I ended up with two sets of the glasses, although only one prescription. Just in case you're wondering why my unboxing video below has two sets.
The units charge through a custom USB cable a magnetic attachment to the left and right units at the same time. It looks quite a bit like a magnetic watch charger cable I had a long time ago, so chances are you might have spare cables although my unit shipped with a couple.
LeMuna Audio Glasses – Fashion?
The stylishness or not of these? That's your call. I think they look pretty decent as sunglasses, and look very much like what a TV hipster on an old sitcom would be wearing.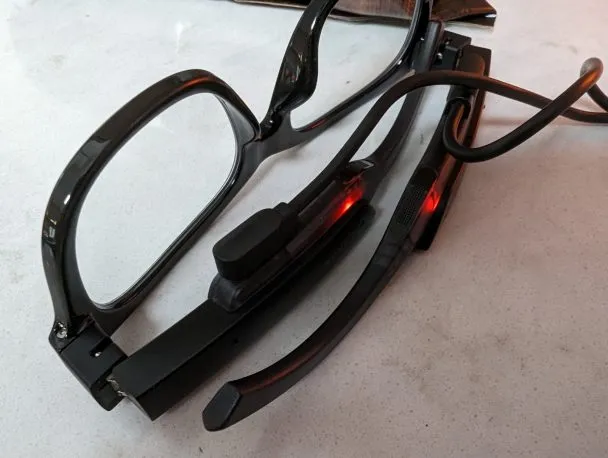 LeMuna Audio Glasses In use
Once you flip the glasses open you hear two distinct devices mention they are powered on. A second or so later you get both the left and the right ear speaker saying that they're connected in unison. From there on out these function like a standard Bluetooth headset.
I put about three hours on these one day out at a park as well as a couple of times at the gym (an hour each,) and then also in perfect testing conditions (several hours,) and what I found was the following:
I never experienced disconnects
The glasses are not made for someone with a size XXL head but didn't kill me
The audio is great when it's quiet but can not quite reach loud enough in urban environments
Lack of any "I'm listening to something here" indicator means people start talking to you
While they work perfectly at the gym, wife will call you a hipster hamster on a treadmill
You think people look at you funny talking on earbuds? Wait until they can't see any tech.
Unit ships with a carrying triangle that doesn't hold second set of bridge/lenses
If it's not clear, I found these useful, but the environment really does need to not include a lot of ambient audio interference. In perfect testing situations a couple of speakers sitting above my ear was great. That whole "the world exists" thing spoiled the greatness quite a bit.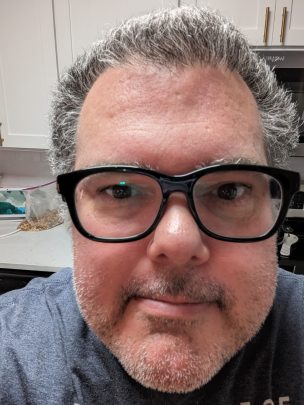 The LeMuna glasses were great for listening to podcasts and such, but due to either my head size, speaker position, or something, they were not particularly good for music. It was a bit too tinny to enjoy, which I guess I would expect from a speaker this size sitting an inch above your ear holes. Podcasts generally were fine.
I guess the upside here though is you can hear everything going on around you and will not get flattened by a car.
Final thoughts
To be clear, I like these, but not a lot. I think I'd rather see these re-made into a temple-clip on for existing glasses. I would also very much like to drop the proprietary magnetic charging cable in favor of a USB-C standard. I mean, you won't find yourself needing to charge these a lot with their 12 hour life (I only tested to 8,) but at some point down the road your charging cable is going to break or go missing, and it's not an easy to locate standard.
Also on the charging use the bridge of the glasses so there's only one USB charging location needed… EG: Standard USB-C plugs into the right, power shared to the left with a couple of wires that are in the bridge… just some thoughts.
I think I would go with open ear bone conduction headphones rather than over ear speakers as well. Think that would get the point across better.
But you know what, these are pretty cool and I have found enough enjoyment and use in them to keep them on deck.
The LeMuna Audio Glasses are available on Amazon, and LeMuna's website.
LeMuna Audio Glasses
The LeMuna Audio Glasses are above ear Bluetooth speakers with swappable lenses and bridges.
Product Brand: LeMuna
Product Currency: USD
Product Price: 129.00
Product In-Stock: InStock
Pros
Swappable lenses
Long battery life
Cons
Proprietary charging cables
Volume