One of the coolest things I still use: The JAM Levity
In 2017 I got hold of the JAM Levity and it's been a staple of my living room now for years. Basically picture a Bluetooth speaker floating in the air above a little base with a little light show on it and you've got the JAM Levity in a nutshell. Throw in a USB charging port on the back and you've got a device that doesn't excessively detract from the space.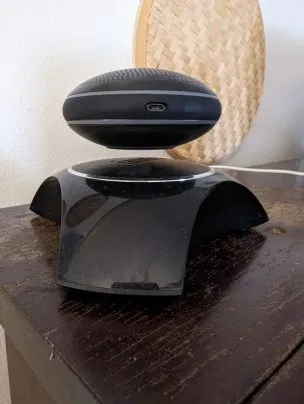 In 2019 I remember charging it. It's still charged. I mean, it hasn't been used but I generally don't expect consumer electronics to power on a year after being charged, let alone three+.
Besides looking cool we've used this to explain how magnets attract and repel, it's been the floating platform for a Mega-Man and a Star Wars mini character. It also serves as a notification that the power has been out because the instant the power flickers the base stops spinning the magnets around and the floating part very loudly lands.
JAM does not appear to still make these, but others appear to have stepped in. Now if we'd take the "yes, and…" improv model and add something additional to them we'd be where we need to be on floating speaker technology… like a charging base, lamp, PIR sensor or something.
Anyhow, that's something neat that for a while looked like it was going to be a kind of big thing. I remember several floating speakers coming out about that time, but nothing really ever happened. I mean, they're incredibly niche, but I'd actually really like a floating Wi-Fi/Bluetooth capable speakers that could shake the room, be used for a TV, and maybe would put themselves away when not in use.
Maybe that's just me…