Scam today raised the bar, if this were a limbo contest
Another day, another invoice scam. This one on a premium trial of an exercise program by LesMills. LesMills has nothing to do with this, just happens to exist and having their name taken like PayPal had theirs yesterday.
Unlike the one yesterday, today's scam involves a trial that's auto-renewing (I don't do trials that auto renew,) and came to an account that I wouldn't be using for personal things anyway. Already a couple of strikes.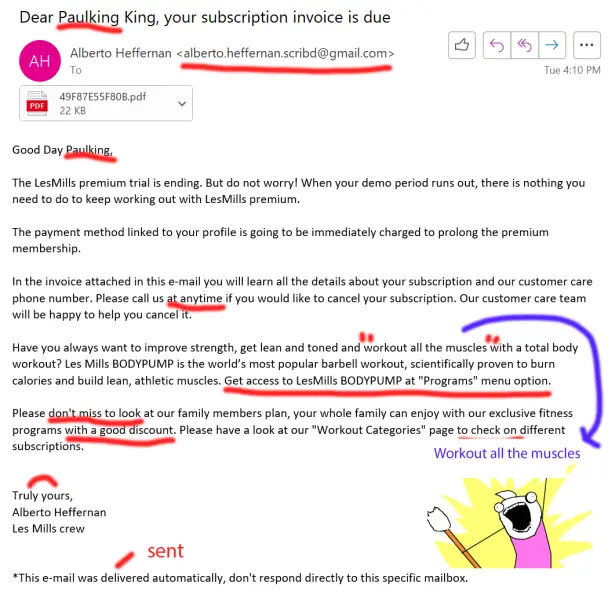 Name wrong
App / program I don't use
Wrong email address for a personal thing
Reply-to address not a LesMills domain
You call at any time, not at anytime
Workout all the muscles
Menu options access?
"Please don't miss to look at" – yes those are all words
With a good discount – with/at.
To check on different subscriptions?
Yours truly, not Truly yours.
PDF invoice attached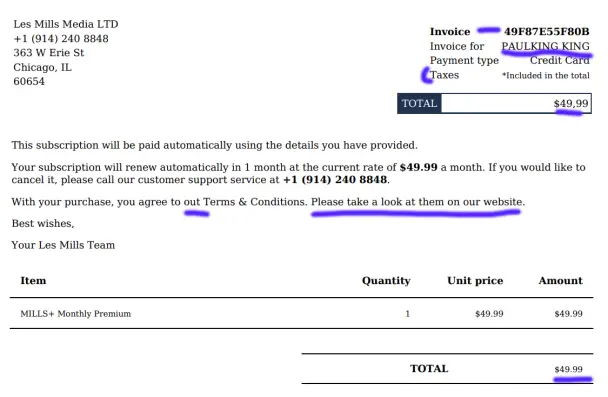 Absurd invoice number. Nobody invoices like that.
Wrong name again
Taxes are never included if the number ends in 99 – also they used a comma in the first total which is not how it's formatted here
Phone number scam sure
Out instead of Our – proofing is key scammy people!
Please take a look at them on our website… but you didn't link to even a scam page?
Total should not be .99 with taxes
Lack of branding on the PDF, lack of links to a spoof site
Sigh….
Spelling errors, basic lack of secondary scam web links, not even trying with a reply-to address change, using incorrect localization methods for cents, grammar and spelling, this scam I give it a D-. Sort of an ok first effort if you're ok with nearly every other line having something glaringly wrong in it.
Also who's the target here? Just feels like a half hearted attempt to steal my money.