Twitter to charge for security… losers, or: pay to be more hackable
If you don't pay you can get hacked easier… that's the new official stupid policy by Twitter. No more text two factor authentication for you unless you pay for Twitter Blue. Yeah yeah, you can use other second factor authentication methods.
TL;DR – tweet posted on the 17th to a blog post on the 15th tells users they have to pay to use less secure and abused authentication method.
The level of dumbs this has is too many.
So yeah… good luck with that Twitter… while you shouldn't really be using SMS for two factor authentication for seriously important things, it's significantly better than nothing for security of an account that tweets poop jokes.
Alternately, if you read the twitter blog where they say text 2fa is being used and abused the narrative is now "buy our product so you can use the buggy hacking prone authentication method." So pay to be more hackable… yeah… that's real salesmanship there.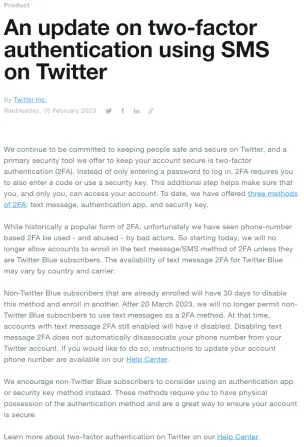 [
Twitter Blog
]