The MoGo 2 Pro Projector – colossal performance, tiny footprint
The XGIMI MoGo 2 Pro brings a series of improvements to the projector realm that make it worth a look, and as of today it's available to look at and own. I've been in possession of a pre-production version for a couple of weeks at this point and it's been, I wouldn't say surprising, but fairly satisfying what they've accomplished.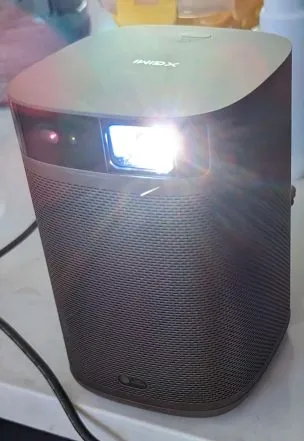 MoGo 2 Pro specs
1080P
400 ISO lumens
D65 color temperature standard
up to 90% of the DCI-P3 color gamut standard range
2x8W speakers
Android TV 11
65W USB-C power supply
Uninterruptable auto focus/keystone / Intelligent Screen Adaptation technology 2.0
2.42lbs
CPU – Amlogic T950X2
GPU – Mali-G31
2GB RAM
16GB storage
1.2:1 throw ratio
MoGo 2 Pro in action
I usually preface my projector reviews with that I was unable to get decent photos due to nothing I have being able to accurately capture what I was seeing. While I will still say that what you see here is not as good as what I actually witnessed in person, it's closer this time. The depth of color seems to not be quite captured, but don't take color commentary from a colorblind man.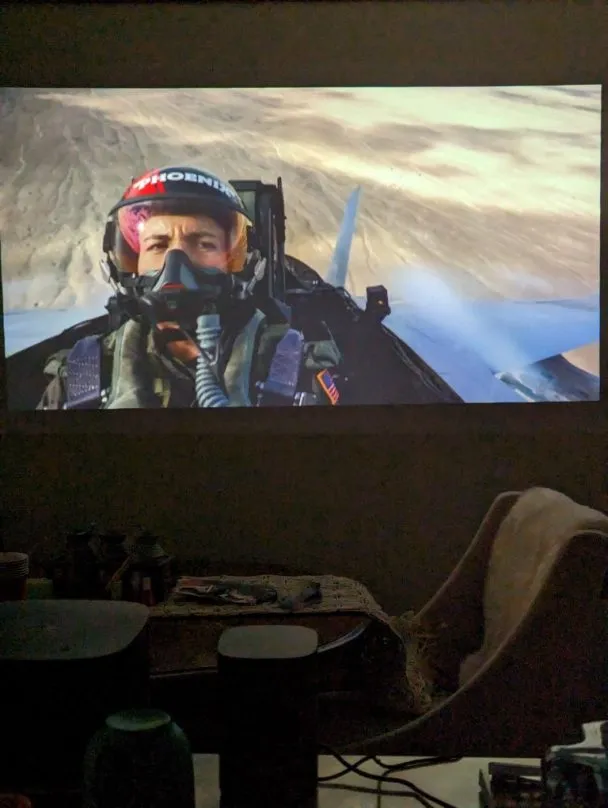 Coming in at 400 ISO lumens (500 ANSI?) this isn't going to compete with the sun, but it worked well in a dimmed room and perfectly for a night time showing of anything.
The MoGo 2 Pro features ISA 2.0, which is useful if you want to reposition the projector it will automatically adjust keystone, focus, etc. No need to pause your showing because you moved the MoGo 2 Pro four feet to the right. It works great, but it's remarkably unimpressive to watch from a user's standpoint. Seems like something that should have been a digital projector standard for years at this point. Obvious why you need it when you see it.
Loving on the little features
One of the things I've been consistently annoyed at with projectors is that they quite often tout how portable they are, and then fail to live up to that. Oh sure you've got a device the weight of a hummingbird, but it's got a power supply that's as large as the device and the only place you're porting the projector to is someplace within 6 feet of a power outlet.
While requiring at least a 65 watt power bank backing it, as the MoGo 2 pro uses USB-C for power delivery you can get cables as long as you need. You might want to say "but why not just use an extension cord?" here but I'm looking at scenarios where this exists in the house maybe mounted on the ceiling at other times and a tiny little USB-C cable is so much more useful than a thick extension cord.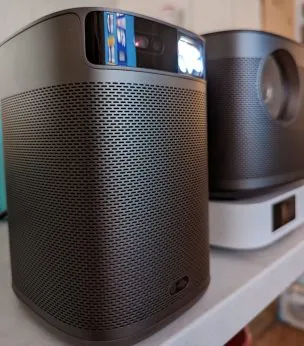 The MoGo 2 Pro dims the light if it detects a little one standing in the way. This turned into a game of "let's see if we can make this projector never work" with my 7 year old. She did manage to get it to the point I thought it was stuck (it was in low light mode for several seconds) – but she actively attempted to.
It's not perfect (nothing is)
The MoGo 2 Pro seems aimed at portability, but they missed out on including anything to facilitate that. You can toss it in a backpack sure, but there's no lens protection and you could damage it pretty easily. I would give them a bit of grief for not having a handle, but it's so light I think that would be kind of overkill. It seems like if you're going for potability here you'd either add a shutter you can put over the lens, or invest in Crown Royal bag technology.
The USB-C interface is power only. This leaves you with a USB-A you can use, but it would be nice if that USB-C were multipurpose.
Netflix is a workaround. The projector is not certified for Netflix, although it is Android TV certified. This means your options are either to use a third party Netflix client, or a dongle. Instructions were included with my unit on how to install a Netflix that (sort of) works. You can read a bit about the Netflix certification process here if you're interested in why so many devices are not certified for it. Do not buy a projector expecting certification will come. It's more than capable, but this is Netflix's ballgame and not a lot XGIMI can do short of selling enough devices to get noticed or forking wads of cash that direction.
Thoughts after a few weeks of use
I'm dealing with a pre-production unit. As such I had a device that came with an unsupported charger. Every boot up on an unsupported charger you get put into eco mode, which limits the brightness to 80% and does something to the speakers as well. The idea behind eco mode is to prevent the unit from pulling more power than the charger or battery bank you're using can supply (which results in an unsafe shutdown.) When you under power a device, strange things can happen. I'm saying that in general, not on this unit as I didn't have any charger to attempt to under-power it.
It's not a huge deal, but if you move from room to room and are on a non-XGIMI charger you're going to need to disable eco mode every time. I wish they had a "yes, I understand the issue do not ask me about it again" option. This is something they can add later, but I doubt there will be much call for it.
At one point during testing after I got fairly bored watching movies and counting pixels I decided to see if I could turn it into a "computer" easily. The answer was yes. Bluetooth keyboard and mouse, forget what web browser I was using, bam. I was writing and editing on a 57″ display. I'm pretty sure any Android TV this could be done, but it's what I was having fun with.
If it's anything like the XGIMI Elfin you can also hook up a camera to the thing and use it for conferences and presentations. I loaned my good camera out to the PTA and did not have it handy to test however. In general these little Android TV projectors are amazingly underutilized in what they can do. I'd imagine this could replace a laptop completely, but then again that depends on your use case.
If you're looking to maximize portability, you're going to need a battery bank that's over 65W, a USB-C cable, and to test it. I've got one 100W battery bank that doesn't work with it, but it's a pre-production thing as well so there's that. I have two batteries that do work fine with it.
I don't have a number yet, but I was given under 50ms as the HDMI input delay. So if you're using this to power a gaming system, it's not a huge lag. I didn't test out games this time around.
The sound was surprisingly good, however it will not overcome an outdoor urban area with cars within a few hundred feet. 8 watts per speaker is 8 watts.
Should be noted that the MoGo 2 Pro does not come with a battery unlike its predecessors. You want to take this camping you're going to need a 65+ watt power bank.
Overall
It's an enjoyable projector with my only complaint being lack of Netflix certification, and lack of a transport bag or lens covering solution.
The XGIMI MoGo Pro 2 will be available on Amazon and the XGIMI website some time after this goes live.
XGIMI MoGo 2 Pro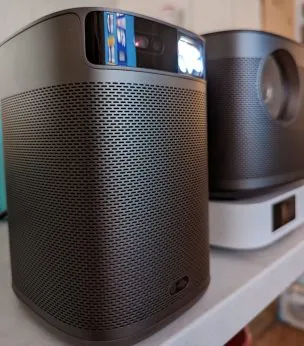 The XGIMI MoGo Pro 2 projector features Intelligent Screen Adaptation technology 2.0 allowing repositioning without stopping your entertainment
Product Brand: XGIMI
Product Currency: USD
Product Price: 599.00
Product In-Stock: InStock
Pros
Portable
USB-C PD powered
Android TV certified
Seamless keystoning, focus, etc when moving the projector
Cons
Lack of Netflix certification
No lens protector or bag to carry the portable projector in