If you've got Google TV and a kid, check their watchlist for pornographic content
I got a message from John Freml, a former Pocketables editor the other day indicating his 9yo's profile's watchlist had a very interesting Google TV suggestion. Picture below. I would also point out that a little beyond the next paragraph is a link to a description of a very, very NSFW movie you might not want on your screen at work.
TL;DR – Child's profile has pornographic (unplayable) movie in watchlist. Just description of the movie, no images, no ability to play.
…Her watchlist had two items — Christmas Chronicles on Netflix, and the second was a blank square with no picture or words. I clicked on it to see what it was, and that is what popped up. I took a picture then quickly removed it before she could come into the room and see what it was, in case she didn't already know about it.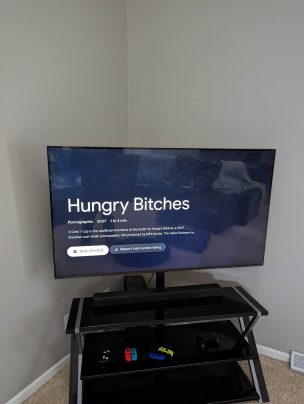 The suggestion was for an adult film most widely known because of a video entitled 2 girls, 1 cup. Evidently that was an unofficial advertisement for this movie. The things we learn.
At the moment John has no idea how that got there, how it could have gotten through a child's profile content restriction into her Google TV watchlist while it's clearly labeled as a pornographic film.
John noted that he could search for this in his adult profile, but that the child's profile doesn't even appear to have a search option. The idea yesterday was that perhaps she was entering bad words and it got there somehow but John doesn't see anything.
Should also be be noted that the film in question does not even show a location to stream it from. John sent me this picture as an example of what it normally would show.
This is why you check your kids content. Even the best of filters and intentions can be defeated by whatever this was.
As I don't have Google TV, it's not something I can investigate. It does not look like she could have streamed or accessed the content of the movie, and there were no graphics associated with it, just a description. So at the moment this just weird and something to look out for in case you don't want to have that conversation with your nine year old daughter about what 2G1C was about and how that video was the 2007 equivalent of Rickrolling for a while.