Just a note: Got an Android TV projector, Mouse & KB? You've got a computer. Sort of.
A while ago I was talking with a PR person about whether a projector I was testing could handle having a webcam hooked up to it. It did with no issues, and I was able to use the projector for a video presentation. I don't remember if this was Meet/Duo, but I think it was. Worked fine except for placement of the camera was not ideal.
I've been playing with a projector I'm under embargo talking about until the 30th. Don't worry, it's nothing revolutionary it's just a brand release date you'll see all the Android sites covering it. I needed to see if I could turn it into a workstation and execute some commands to get some processor stats (long story.)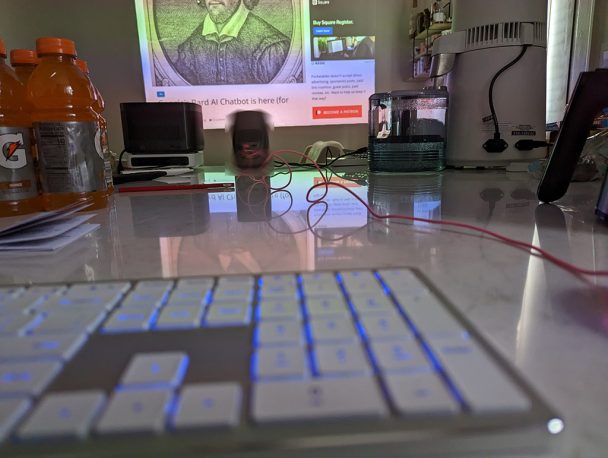 We're going to cut to the chase here – a Bluetooth keyboard, wired mouse, and an Android TV projector, and an app that I believe was called TV-Browser Internet or some variation thereof (free) and you've got a pretty functioning web browser. I was able to go into Amazon, post a couple of reviews, I was considering posting this article in it but time constraints and not having set up Dropbox or similar to get the images off my phone and to the projector wasn't in the cards today.
I used a wired mouse because I had a wired mouse available as a note. Far as I know nothing special with what mouse/keyboard you use except you're going to have to not exceed your USB capabilities.
The whole experience is not perfect, but a scrolling mouse and being able to type on a keyboard rather than trying to type out using a bluetooth remote and a popup window is astoundingly useful.
Oh yeah, I'm not saying run out and buy a projector to use as a computer replacement. If you've got a projector and find yourself using it a lot I'd suggest trying a keyboard and a mouse and see if it is a useful backup solution for your content creation needs. If you're a laptop or computer addict, might come in useful if your system blows up as a stopgap measure until your machine is repaired.
Just remember, these Android TV thingies are essentially just little phones with a different launcher.