XGIMI Horizon Pro vs production studio wall
My employers are about to do a screening of a movie my company worked on, and guess what projector they're using because it's better than the one they own? I mean, you can read the title so no points for guessing correctly.
September 21, 2023: Hey a quick update to articles referencing the XGIMI Horizon Pro, or XGIMI Elfin. Brightness claims were listed based on information provided by the manufacturer at the time. XGIMI has reached a settlement with Epson to switch from ANSI to ISO standards and additionally change the brightness claims of a few of their projectors that overstated them. As I wrote a lot of XGIMI articles I am copying this block and saying if you see it say the Horizon Pro is 2200 ANSI lumens, it's actually 1500 ISO lumens. The 800 ANSI Lumen claim of the Elfin is now 600 ISO lumens. These still appear to respectively overstate brightness by about 17% & 6% when accounting for conversion.
We've covered the XGIMI Horizon Pro before, and generally I've shied away from posting photos and videos because they simply don't reflect what I'm seeing. While the video here doesn't exactly reflect the visual quality, it does reflect that the thing can get huge, and be visible in lit conditions. Basically I was impressed, and my company was impressed and I finally got a video where it doesn't look terrible (almost all pictures and videos of projections look terrible).
I unfortunately didn't grab a video of it when we had it up to 28 feet wide, but here's a video of a cinema quality projection at about 15 feet wide (left to right, not diag.) So 205 inches standard measurement looking great (not on this video, although it was in person) in a fairly lit environment. Looked perfect when we closed the garage door.
I also put it to the size of about a 385 inch screen (28 feet wide.) In pitch black it was good, surprisingly so. Any light in the room at > 300 inches and it was a bit faded. The claims of being able to go to 300 inches are true… I mean it's light, it probably could go to 5,000 although the focus / auto keystoning I think get a bit off when you're above 300… also at 5,000 you'd really need some major darkness, and I think you're compensating for something.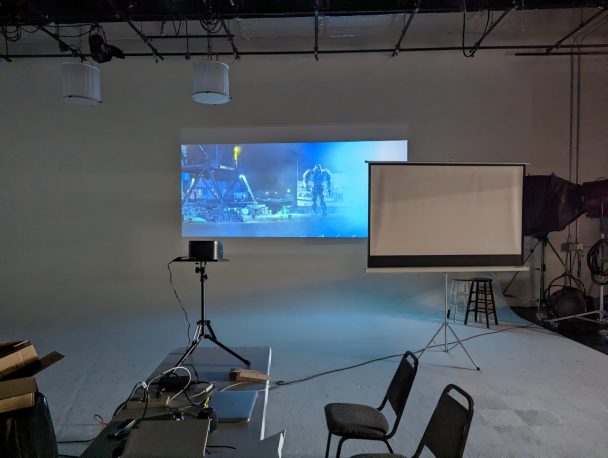 The only issue we've encountered so far is that a Mac formatted USB drive is not being recognized by the XGIMI Horizon Pro. We're attempting to load the movie onto the 32 gig partition so that there can be no internet related issues.
I will note that my Windows 11 box also doesn't recognize the drive (it makes the noise that a drive is inserted but nothing ever shows,) so I don't think it's exclusively an Horizon Pro issue. Works fine with USB drives I have formatted/used on my Windows box… who knows?
The original plan was to use a projector my work owns, a laptop+HDMI cables, a bluetooth speaker. The XGIMI's sound was good enough to fill the space shown above, and no laptop/laptop cables/hdmi cables required. Fewer things to go wrong, less stuff to haul to the presentation location.
You can read previous reviews and make me money by buying stuff through our links here