The Runhood RALLYE 600 PRO – modular, portable, glorious overkill
The Runhood RALLYE 600 PRO is the first power supply to impress me in a long time, and boy does it. At its most basic it's 1,296 Watt Hours of power, which puts it in a class of its own being just a whole lot of power, and if that were where things ended it would still be a pretty impressive feat. That's where we start.
RALLYE 600 PRO Specs
Host engine (body)
4×324 Watt Hour energy bars (batteries, swappable)
2x AC Output 110V 600W (1200W peak)
2X USB-C PD 100W (total 200W)
2X USB-A QC 3.0 28W per port (56W max)
1X 10 Amp 12 Volt car port (120W max)
2X DC 12V 5A 60W ports
Charging via solar panel, 180 Watt adapter, One of the USB-C ports at 100 Watts, or car charger. Can fast charge via adapter and one USB-C port.
AE80 (battery attachment)
UE256 (USB engine)
2X USB-C PD 100 Watt (200 Watt total)
2X USB-A QC 3.0 28 Watt (56 Watt total)
Can charge via one of the USB-C Ports
SERI 100 (100 Watt solar panel)
Max 100 Watt
18 Volt / 5.5 amp
SC200 (solar to battery adapter)
Where to start?
One of the great things about this product is the modular battery design. The host engine can be at your base site with two power bars in it powering whatever (loudspeaker, inflatable mattress, CPAP, charging phones, whatever you're wanting to power) while the other two power bars can be elsewhere doing something different.
The AE80 and UE256 allow a battery to be turned directly into its own power bank or outlet. Need just a little power for an application? Just take an energy bar with you. With these power bar adapters you've got light weight (in comparison, the power bars are 3.9lb/1.77kg) power wherever you need it.
Camping in a shady area and want to to solar charge? Take the solar panel and a couple of power bars to a not-shady space and let them charge without interrupting power at camp. Bring back the solar charged energy bars later and hot swap out at the power bank.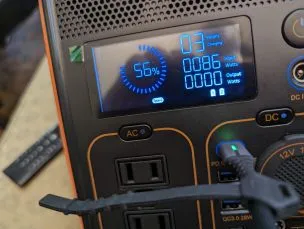 Putting on a show in a field/park in front of an audience and need power you can rely on for a while? You can charge batteries nearby and swap them out as needed. Bring the power with you as opposed to having to lug a generator out. Buy some spare power bars and come with concert-level energy. This is an exaggeration, I know what that level of energy is.
What's great about the modular design is you can slap one energy bar in the base (it can take two) and function. Charge two on the solar panel somewhere, and carry around a 300WH 5-pound electrical outlet for whatever.
Unboxing the RALLYE 600 Pro (building a cardboard wall)
Runhood RALLYE 600 PRO nitpicking
I'm not going to say price because price varies. It seems reasonably priced per watt hour, but let's move on.
The display will show you a percentage of power that's left in the two batteries you have in the unit. Unfortunately it won't tell you which battery has what. As such if you're trying to hot swap batteries there's a potential one is dead and one is still chugging along and you pull out the good one. Minor annoyance, but something to note if you're really looking for uninterruptable for a serious event.
The other is this is a whole lot of things to keep up with. You've got 4 power bars, a solar panel, a solar panel to two battery charge adapter, an energy bar to outlet adapter, an energy bar to power outlet adapter, a car adapter, two rubber backends for the unit if you want to prevent water intrusion and have no batteries in it.
While they include a carrying bag for some of this, it's… epic. There's just too much stuff and nowhere on the power station to clip it. I would much rather have had a canvas saddle on the side to store the extra couple of batteries and adapters than the loose carry bag. Just so much stuff. Not all of it will be needed on a trip, but keeping up with it becomes an event.
I would love to be able to carry the thing using two hands. But that's not happening. Solar panel and maybe an energy bar in one, power station in the other… lot of stuff left to get. Lot of little stuff to keep up with. Sure you don't have to deploy everything every time, but it would be nice to be able to store it all together.
If I read it right RMAs also require original packaging. I read that after everything was in the recycling because I had a 4 foot high wall of cardboard from this. I'm not sure they enforce that but it's something to realize.
What I found that sets the RALLYE 600 PRO at the front of the pack
You've got an event, you forgot you ran the batteries out and you have very little time to charge… here you go… plug the body and two energy bars into the charger and a 100Watt USB-C charger. Set aside. Grab one power bar and the solar panel and adapter and throw it out in the yard to charge. Grab the remaining power bar and the UE256 Adapter and plug it into another 100 watt USB-C to charge. All batteries can be independently charged.
Your use case however…
As I say with all of these things – your use case may not require this level of swappability. If you're just looking to power an inflatable mattress and a cpap on a weekend camping trip, this is overkill. If you've got a good use case for a power supply that can become three power supplies, this probably will fit the bill.
While I've been slightly less mobile these past couple months I've been using it to get power to my car to recharge some electric scooters (the fun kind, not the mobility kind) and in the event of a prolonged power outage it'll be in line to provide juice quietly before I have to fire up a generator.
You can grab a Runhood RALLYE 600 Pro at Amazon or Runhood.
More is coming to this review.
RALLYE 600 PRO
A modular power bank with hot-swappable energy bars and a variety of ways to charge in parallel
Product Brand: Runhood
Product Currency: USD
Product Price: 1199.00
Product In-Stock: InStock
Pros
Modular design
Hot swappable power
three power banks in one
Cons
Too much stuff to keep up with
Required to keep boxes for RMA