Monoprice BT-600ANC wireless over the ear headphones brings the best noise cancellation I've encountered, good sound in a sub $100 package
It's been a couple of years since I really tested any over the ear headphones, and the jump in quality for relatively inexpensive headsets is kind of astounding to me, so take this review as being from someone who's a bit out of what you can get for under $100.
I had forgotten the part where these were active noise cancelling. Yeah, yeah, I know it's on the box, manual, etc. Put them on and bam, sounds of a kitchen in a thunderstorm just sort of left. Things were quiet. I snapped my fingers to see how good the ANC actually was and it worked surprisingly well. Pulled a headphone off of my ear and heard the breathing of the world resume around me and reality resume.
I started up my general sets of test music and noticed it seemed a little bass-heavy. Changing audio modes between ANC, pass through, and off changed what I got slightly but the bass was… a little different than what I was expecting. It just seems a bit more out front, some bass too much, more geared to modern, which I guess is what it needs to be. There are no controls for bass/treble on the headphones so you'll need to change the output in whatever you're playing with.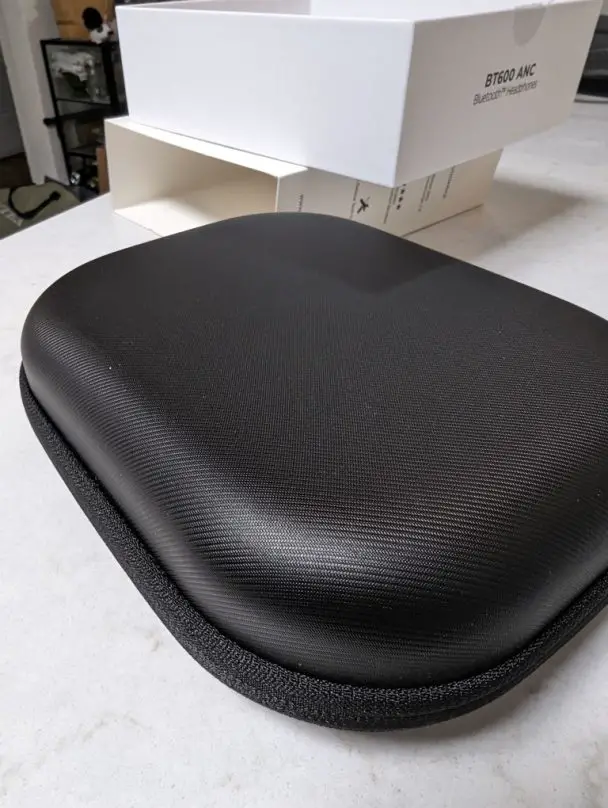 The mute mode (listed in the manual) is not what I was expecting. It just lowers the audio volume of what's playing and appears to switch the audio temporarily to ambient mode. Probably should be called muffle mode, listen in mode, or some such. It's activated by palming your right ear. On the Amazon spec sheet it's called Ambient Sound Mode, which tracks.
While the sound was good, putting aside my issues with the bass which can be fixed with an equalizer on the phone, the touch-ear to raise, lower, skip and jump back…. well, most of that worked with no issues but going back was hit or miss. As there was no haptic for where the center of the earphone is, I suspect I was positioning incorrectly.
Monoprice BT-600ANC Specs
Bluetooth 5/3.5mm audio jack
Qualcomm aptX
40hr playtime
Hybrid/Active noise cancellation
Qualcomm cVc 8.0
40mm drivers
20Hz-20kHz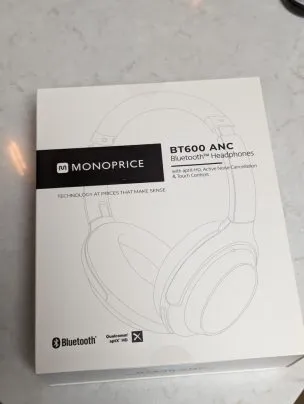 Wrap-up
You know, so much of this is going to come down to your personal preference. The default bass profile is not mine, but I can change the eq settings on my player. While I feel every set of headphones should ship to the exact eq settings I have, sadly the world has not adopted this as a standard and some work needs to be done for me to get it right. Luckily you can easily return pretty much anything these days.
But right out of the box they are impressive and will wall you off from ambient noise well, if you so desire.
The Monoprice BT-600ANC headphones are available on Amazon for $99 usd
BT-600ANC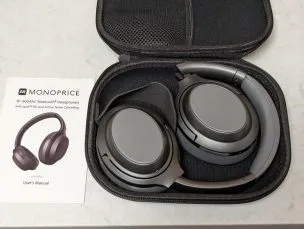 The Monoprice BT-600ANC have a great active noise cancellation, decent sound, and overpowering faux bass. They're kind of a delight, but you probably will want to work with them using an equalizer
Product Brand: Monoprice
Product Currency: USD
Product Price: 99.99
Product In-Stock: InStock
Pros
Great noise cancellation
Good audio
Price
Cons
Bass profile is strange
Person telling you what noise cancellation mode you're in as if you couldn't guess