The Hover-1 Journey 2.0 – a ride
I'm testing out the Hover-1 Journey 2.0 electric scooter for other sources, and may have a solid review of it up here later, but figured I would give a quick shout on Pocketables because there's been next to nothing to write about that interests me that isn't embargoed, or still in testing. This particular scooter and a trip I took on it interested me.
Just a quick note – this is not a review, it's some musings I had while testing a scooter out. If you're looking for a review, that may be coming soon. This is not it. You do not have to read it. This is just a journey I took on the Journey.
The TL;DR scooter review is the motor and battery perform exactly as expected, I had issues with the latch, and the brakes catch and need adjusting. Minor annoyances that you can adjust. This was my first ride to a dead battery on it. I've done three so far and as far as scooter writeups I'll probably have one at some point.
Story not about the Journey, but about the journey.
There's a trailhead for the Cumberland River Greenway right near the 65 overpass in Metrocenter. I started there with the bright yellow scooter on a test and I headed toward downtown Nashville. On the way in I sat in a cool little park for a few minutes, and then moseyed along, finally ending the distance I felt safe risking the battery dying on me. I was at Church and Gay (2.2 miles out over relatively flat terrain,) or very close when I turned around. Top end estimates I usually divide by 3 considering my weight and the terrain, and I'm usually not far off in performance mode.
I do performance mode… I can't do eco… it's too slow and there's too much to do in life.
Heading back toward my car, I ran into a Segway tour, wondered if it was fun riding those and decided I was having quite a bit of a time on the scooter I'm testing. As I was walking up a hill with the scooter I learned from the tour that the Nashville Predator's mascot was from a 1971 find of a Saber Toothed Tiger underneath what is now the UBS building. I did not know that, thought he was like a puma with an overbite… may have known at one point but was like "oh, that's something I probably have been wrong about my entire life." What happens when you're actively not paying attention to a mascot.
You know how concrete pouring trucks keep themselves clean? Well now you know. Something I ran into on the way back.
Picture of a Marathon gas plant below. Lot of different gas places on the river I discovered. Something I never wandered into.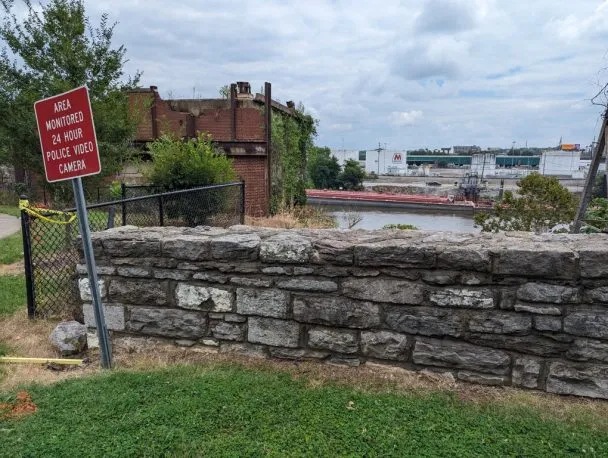 Now, if you have not ridden on an electric scooter before, something about them for a man my size (248 pounds at ride time,) is that going up a slight incline they tend to slow down. A lot of times it's better to just get off and walk. Flat they're great. Downhill they're great. Up a slight incline and it's jump off chubby.
I'm right on the railroad tracks area, on a street that can barely be called a street, they've shoved condos there and it's obvious a small group of women I am slowly approaching are part of a bachelorette party at an AirBnB and are heading to lunch while waiting for a ride. Lemme tell you, the street was eh, not somewhere I'd want to be hanging out but whatever, it was daylight. They were almost at the top of a slight incline.
My initial thought was to jump into the road and scoot full throttle, but no, there was a vehicle coming. As my scooter neared them it slowed, slowed, slowed, and I passed them at a steamroller pace as they tried to figure out if I was going to tip my glasses at them while wearing my kitten DJ shirt, riding a neon yellow scooter and perhaps say in a lusty voice … "ladies" before cracking a Joe Biden smile, finger gunning, blowing the imagined smoke off, and laying down tracks while ignoring someone screaming "Negative ghost rider the pattern is full."
In all my kitten-shirt splendor I managed to keep moving.
I passed a homeless camp, and the remnants of another camp that TDOT came in and destroyed a few weeks back. Me and my 10yo had been right there as the destruction started and tossed our councilperson a note about the unexpected clear cutting/evictions. TDOT had, I am told by the councilperson I texted with, not bothered to contact Metro's homeless outreach so our asking about it triggered someone heading out there. There's still a bunch of kid toys laying about, they clear cut the area and I don't know what's going on but TDOT has placed what appears to be low voltage wire along a few hundred feet. I'm assuming it's for streetlights.
I got back to the area my car was in. This was about 4.8 miles at this point in performance mode. The battery claimed I had over half a "tank." I knew this was a lie but I wanted to continue on my little journey a little longer because I was having fun. It's been hard with the health problems I had and the still uncertain health problems I'm waiting on a CAT scan to tell me about. I have not had fun lately. I went north from my starting point and flew with dragonflies and dodged butterflies. This happened a lot over the next five minutes, this was kind of amazing but after a few minutes it became "damnit butterflies do you just want to die?" – I do report that I managed to kill no butterflies. I don't know how.
Nashville is not normally home to this many dragonflies. They're out in insane numbers.
I stopped at the second bench area going north, on the path. I'd passed the starting point/my car. I sat down and tried to figure out how to adjust the rear brake as I'm not a fan. It just grabs, jerking you to a halt. Pulled up the manual as a speed boat sped by on the Cumberland, looked at the general area where the police training area is. You can't see it from the Greenway, but when they're going you can figure it out. The nonstop gunfire at certain times there greets the students over at Hull Jackson and John Early Middle schools. It wasn't going at that point but I remembered picking Moo up from HJ one day and it sounded like a warzone.
I powered up the scooter, failing to figure out how to adjust the brake with tools I had handy. Decided it was time to end my journey as I didn't expect it to continue and I was about half a mile from the car.
As I headed back toward the car as the scooter started dying on me… slower and slower… right as three, what I assume are teenagers these days, were coming at me…. well, I mean anyone coming that direction was coming at me, it's a two way greenway, but I hate slowing down for no reason around people because I always feel like they'll think I want an interaction… nope… just slight hill or in this case dead battery. Probably social anxiety but if I don't have to talk to humans I generally don't.
The unit shut off, with 2 bars left, and nearly sent me flying at 5ish mph but I gracefully dismounted as these giants walked by me talking about a musician I had never heard of.
I was, I'm guessing, about a tenth of a mile away from the car. The slower pace and walking made me realize there had been some graffiti on a massive scale placed above the view of Nashville as you enter from the North. Moist indeed.
It was a fun ride. It could have been accomplished by either of the two other scooter I've reviewed on Pocketables about the same. I suspect the Shell RIDE would have had a little less awkward hill slowness, and died about the same time. The Atomi Alpha would have gotten me downtown faster, and back as well. Choking somewhere slightly before I got back.
It opened up some new adventures, although I was not traveling with any way to lock the thing up so this was just a sight-seeing trip and giving me a little hint to what to write about other than "SCOOTER OMB SUCH FUN FIVE STARS" which seems to be what passes for a review these days.
But like I said, this wasn't the review. That may come some other time, this is just about getting out with something scooty.