Ugreen launches the Nexode RG 30W&65W robot chargers, and a 100W 2-in-1 magsafe GaN charger
We're going to be covering three Ugreen chargers today as it's the official launch date of all three.
If you're looking for something that stands out in the charger field, then look no further than the Nexode RG 30W, and Nexode RG 65W chargers… because they literally stand.
We are the Robots (30W & 65W)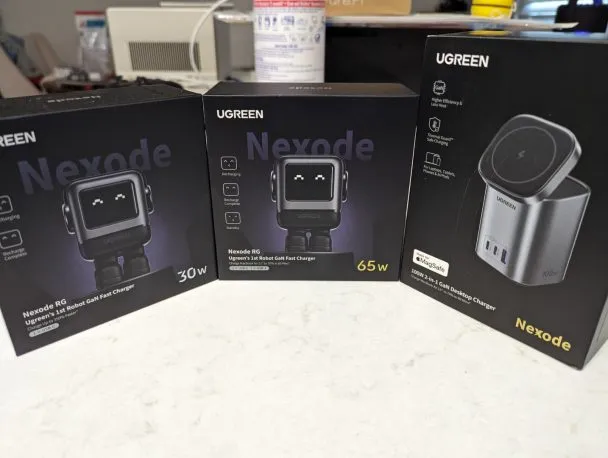 Looking like tiny little robots they deliver 30 or 65 watts respectively and look cute doing it.
The RG series, when charging or plugged in have a face that indicates what they're doing (actively charging, trickle, or off) and when not in use they can stand on their own.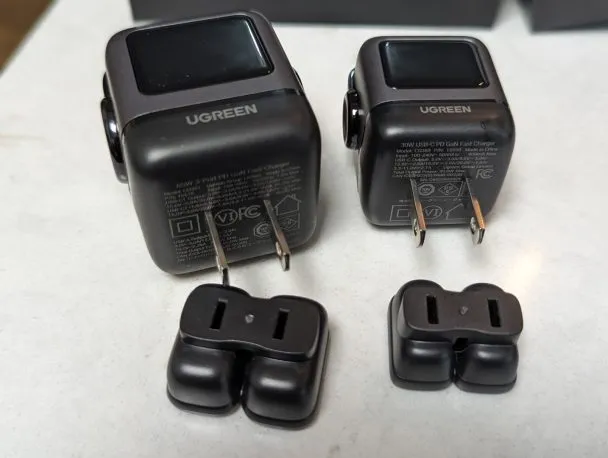 Removable feet plug into the outlet prongs, what would be the robot's … femur or tibia – not sure which, and allow it to stand on its own when not in use. The feet are magnetic so you can secure it some where such as a refrigerator. I found the 30Watt version was capable of walking up a fridge, the 65 would slide down, but it does have the same fairly magnetic base so it will hold somewhere and defend itself against the forces of cats trying to push it over the edge.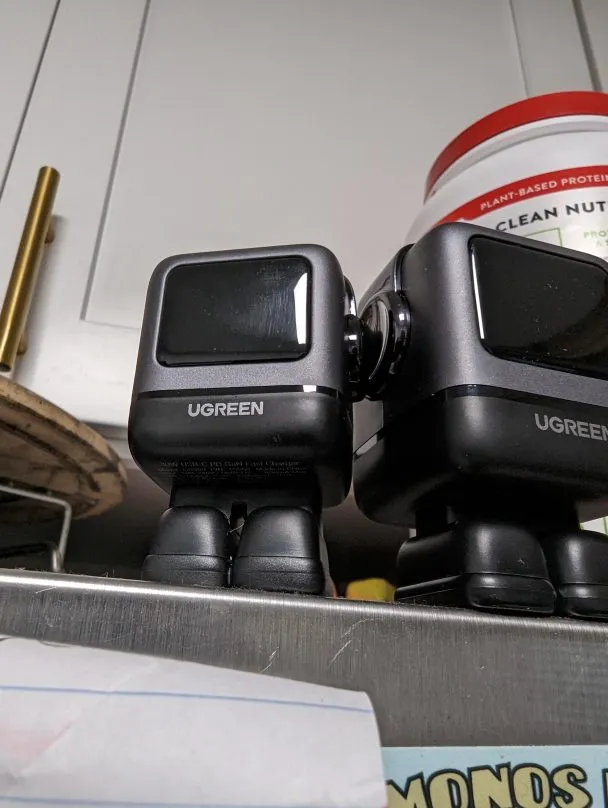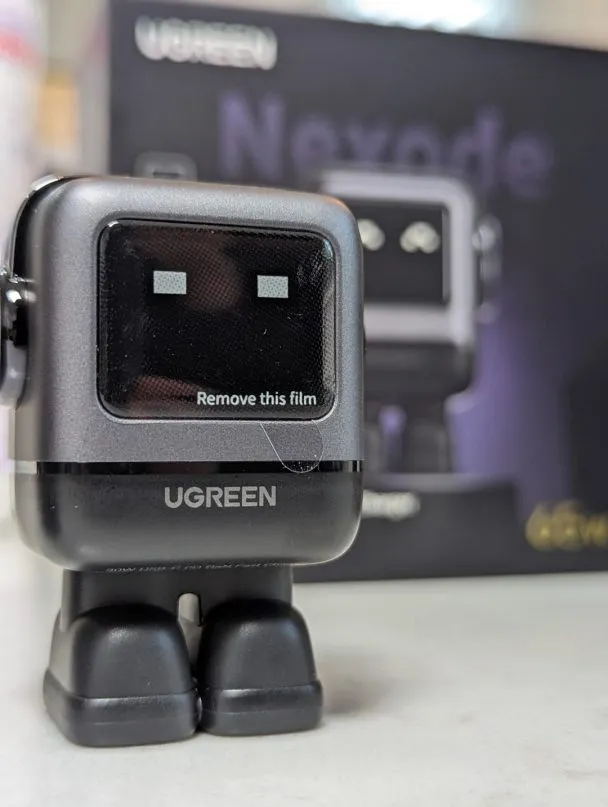 Unfortunately the cuteness tends to fade when you've pulled the feet off and stuck it into a wall outlet. The face is upside down. When it's unplugged there is no face after you've peeled the protective film off, just a black space where the cute LED display is when it's charging. The aesthetic they're going for falls apart and you've got a square, butt-deep in a wall outlet.
It would have looked really cool if instead of this design they had a fold out plug on the back, move the USB ports to the side, then you'd have a little square looking away from the wall. Sadly nobody contacted me about the obvious design issues.
That said, they're ridiculously cute and I have them sitting on my fridge in the event any guests need to charge something.
Oh yeah, they also charge full tilt without getting hot being GaN chargers, but all of UGREEN's GaN products do that… you're looking at these because they're damned cute.
You can get the Nexode RG 30W and the Nexode RG 65W at Amazon or Ugreen.
UGREEN Nexode 100W Magsafe 15W Wireless charger stand
There's not a lot to say about this – it does the job, doesn't heat up much while reaching 100 Watt output (GaN charger,) and you can tilt the top to have a slanted Magsafe / magnetic case grip while charging your phone.
With two USB-C, a USB A, and wireless this can probably satisfy most people's charging needs… you read that with a straight face? OK, it's good and you can charge a laptop or two, a phone, and a watch probably all at the same time without heating up much. The wireless charger portion is missing a fan or something for rapid heat dissipation, so may not be a great solution if you have a device that thermal throttles at 15 watts sustained, but it's good overall (that's not the charger's issue.)
It works, it works well. I've been using it to power my Switch while charging other things (got a projector project going on and needed a game system,) and it really has worked as expected. Conversion loss looks to be in the 4-6% range but I didn't test for that as I don't have the equipment to definitively say that… just it looks like it if my Kill-a-watt and my battery monitor can be trusted. UGREEN's press release claims 95% conversion efficiency – I'll believe it.
The Nexode 100W does what it should, it heavier than it appears, and the only failings I managed to find were the aesthetics because I have a trash can that looks remarkably similar.
You can grab one on Amazon. I can not find a link as of writing time for the product on UGREEN's website.