Prank calls, and how my Pixel 8 Pro handled them
While call screening is not exclusively a Pixel 8 thing (Samsung has Bixby Call I believe it's called,) it's something that you have to choose to have enabled by default. Due to the absolute bevvy of tech bros who got my personal cell phone from a list and think I'm going to make them some money by talking to my local CISCO rep, I have call screen on. CISCO – please check your appointment schedulers now and quit with whatever scheduling bounties you have.
Lemme set the stage – me, home, still dealing with the chemotherapy (yeah, my body's being a bit of a wimp on the chemo,) and about to pass the eff out when I get a private call with no identifier right while I was playing with my watch and somehow answered a call I did not want to on my Pixel Watch 2. I could hear a couple of people talking in the background and since I had negative infinity interest in talking to someone who should not have my number in the first place calling from an unlisted number, I just hung up.
Evidently Saturday night was "let's pretend our private number is actually untraceable and make prank calls." But here's the thing… I didn't notice as they called again and again and got shut down by Google Assistant… it never even rang. An hour or so into the event I checked my phone and there were multiple attempts to find their daddy, do business, etc.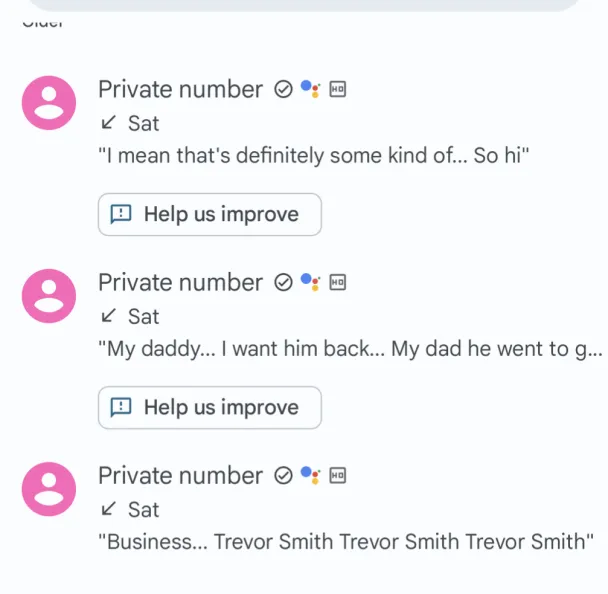 Huh, decided they were having fun so bam, nobody can call me with a private number. That simple. Doesn't even pick up for them to talk to Google Call Screener any more.
The absolutely only reason I have ever had private number notification on is my work with MNPD. Officers tend to make calls with caller ID blocked, even though nobody will pick up.
What absolutely amazes me is I have not run across people dumb enough to make prank calls in literally two decades (unlisted number is not a guarantee of untraceable as anyone who happens to be playing with TrapCall or 800 routing services can attest) .
But yeah, barely noticed them trying to annoy me due to call screen and it not ringing for unknowns, and then shut it down by just not responding in any fashion for private numbers.
It's call screen on pixels, bixby something on Samsungs, and it let me not have to deal with people who wanted to prank…
My lawn, it doesn't exist!