Review: Samsung Q1 keyboard
About two months after I sent away for it, the Samsung Q1 portable USB keyboard (model AA-SK0TKBD) finally arrived. Normally priced at just under $100 in the U.S., this one was free with the purchase of any UMPC in the Q1 series. The offer was one of the reasons I decided to buy the Q1P and organizer in December.
Some may argue that the keyboard defeats the purpose of the slate-style UMPC, but I think it's a fantastic, essential accessory, especially when paired with the organizer. Read on to find out why.
Packaging
The keyboard is packaged to match the rest of the Q1 line with its black cardboard box and purely functional packing materials.
I didn't have any reaction when I saw it, but it's actually pretty nice for something meant to be thrown away.
Contents
Accessories don't usually come with their own accessories, so this was a pleasant surprise.
In addition to the keyboard, there's a spare pointing-stick cap, manual, and neoprene slip case. The case is just a bigger version of the one that ships with the Q1, so it's not too thrilling. I like that it's included and the fit is good, but the quality could be better.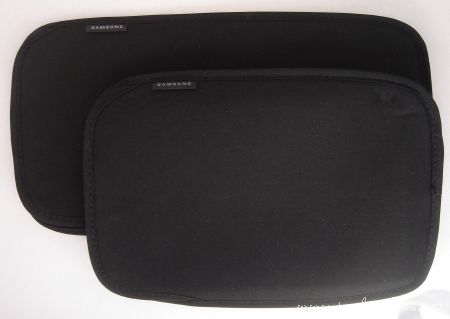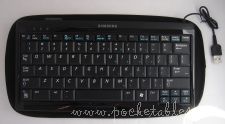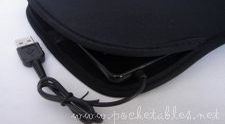 Size
Measuring 10.76 x 5.43 x 0.39 inches, the 9-ounce keyboard is definitely on the outskirts of the "portable keyboard" category.
Still, it sure is thin. Here it is with a dime and a second-gen iPod nano.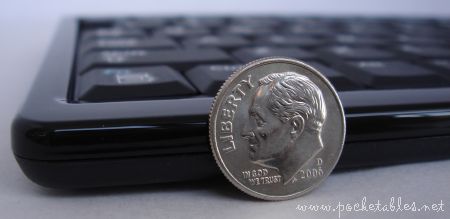 Closer look
Even though this is basically a plug-and-play USB keyboard, compatible with just about anything, it's been designed specifically for use with the Q1. Because of that, certain shortcut keys (screen brightness, external display/LCD switching, WLAN on/off, etc.) won't work with any other computer.
As far as keyboards go, this one is really quite lovely.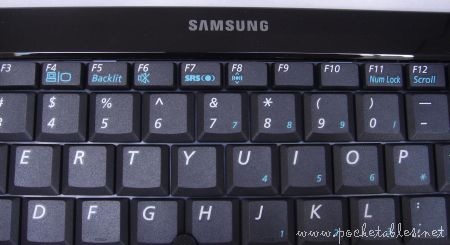 The border is glossy black and a magnet for fingerprints and smudges; it complements the Q1 nicely.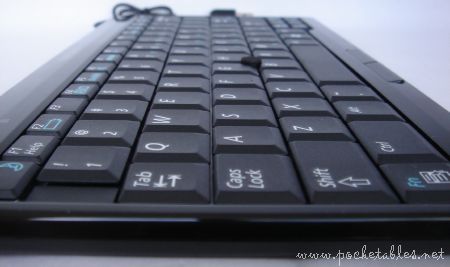 In the center of the keyboard is the pointing stick (looks like Razzles candy/gum, doesn't it?), which is comfortable to use but not as responsive as I would like. It's a tad slow for my taste and using it is too tedious. If there's an option to set the speed of the pointer, I can't find it.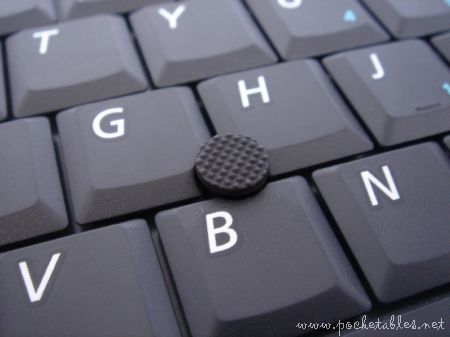 Uncommon on portable keyboards are the right and left mouse buttons that are below the spacebar. The buttons are a nice, easy-to-press size.
The USB cable is a mere 11.8 inches long and therefore not without problems.
For devices with right-side USB ports, the cable is a nice length. The excess isn't a mess to deal with and doesn't need to be tied to be manageable. There's also enough leeway to allow you to adjust the distance between the keyboard and UMPC.
The same is not true for devices with left-side ports. Look at the resulting ridiculousness when paired with the UX180P! The keyboard isn't plugged into the Pepper Pad 3 because the cable isn't long enough to maintain the optimal typing position (i.e., centered) you see below.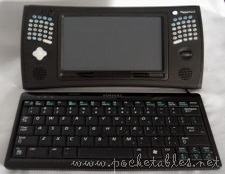 Typing
Standard full-sized QWERTY keyboards have a pitch (distance between keys) of 19mm and travel (distance a key moves when pressed) of about 3mm. This one has an 18.5mm pitch and 2mm travel, which is why the typing experience is just plain exceptional.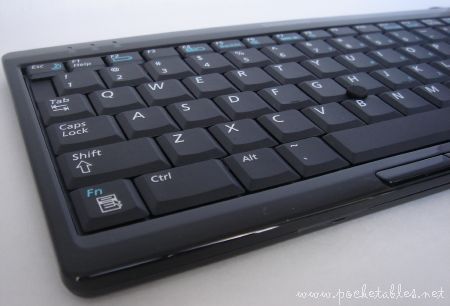 Although the keys feel a bit "shallow," they don't have a negative impact on typing.
I usually average about 86 words per minute (wpm) on a laptop keyboard; I average between 84 and 89 wpm on the Samsung Q1 keyboard, depending on how I use the organizer.
Keyboard + Organizer
Maybe it's because I have a soft spot for official accessories, but I think the Q1 organizer and Q1 keyboard should never be separated. I bought the organizer with my Q1P, so it's been sitting unused in a drawer for over two months.
The organizer is a trifold affair, with the bottom/left-most flap serving to keep the keyboard and Q1 screen apart. The magnetic clasp prevents the flap from laying flat (shown below); typing is much more comfortable when the flap is folded under the case.
Here's how everything looks from all angles when the organizer is closed.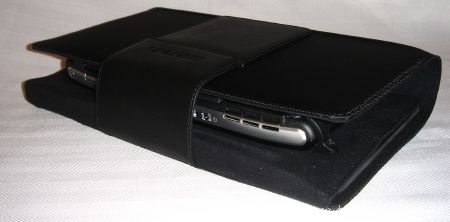 It's an incredibly attractive, professional-looking case that no other handtop or UMPC offers. Carrying around this setup may seem very much like carrying around a chunky clamshell laptop, but it really isn't (aren't my arguments water-tight and compelling?).
The keyboard snaps (and I mean snaps) into place and is secured by two plastic clasps at the top and bottom. It doesn't come out as easily as the Q1 does, presumably because there's less of a need to remove the keyboard, particularly if it's used solely with the Q1.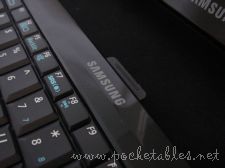 I don't know what the little Velcro bit above the top right corner of the keyboard is for (the stylus?), but I use it to keep the USB cable from dangling. I like when cables are tidy.
I love that the organizer has a built-in stand. It helps to transform the Q1 into a notebook replacement almost instantly.
Conclusion
If you don't have a Q1 and the organizer, then this keyboard is not for you. A Bluetooth-enabled foldable keyboard is much better in terms of range, mobility, and compatibility. It's also similarly priced, as $100 for a wired keyboard like this Samsung one is kind of ridiculous.
If you do have a Q1 and the organizer, then you have to get this keyboard. It's an absolute must with its sleek looks, pointing stick, mouse buttons, and shortcut keys. You'll type as fast as you do on a full-sized keyboard and use the Q1 even more than you already do. The UMPC is easily removed from the organizer, too, so switching between more traditional notebook use and slate-style tablet use is a breeze. And you can't put a price on freedom of choice.