3G Fujitsu LifeBook U810 has SIM card slot
The HSDPA-equipped Fujitsu LifeBook U810 that users in Japan have been enjoying as the LOOX U50XNX for the past few months is finally headed stateside. Beginning in March, the "winged" U810 will be available in the U.S. with integrated 3G wireless connectivity via AT&T's broadband network.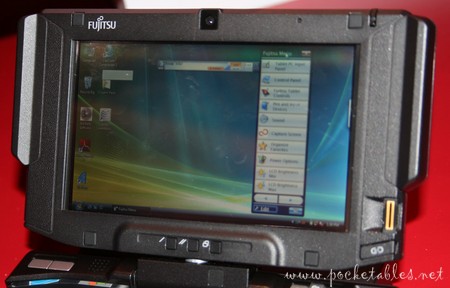 Aside from the addition of the antennas housed on either side of the 5.6-inch touchscreen, nothing about the UMPC will change. It will keep its original 40GB hard drive and continue to run Vista on the same 800MHz Intel A110 processor and 1GB of RAM. One minor hardware modification worth noting, however, is the SIM card slot hidden inside the battery compartment.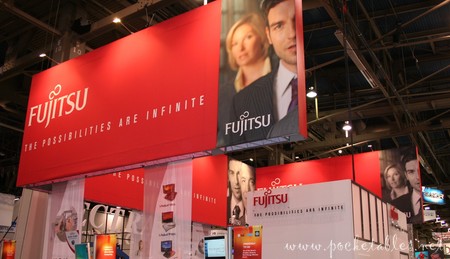 I stopped by the Fujitsu booth today to ask about the possibility of SIM swapping, as the card in my AT&T Tilt is always itching to get out.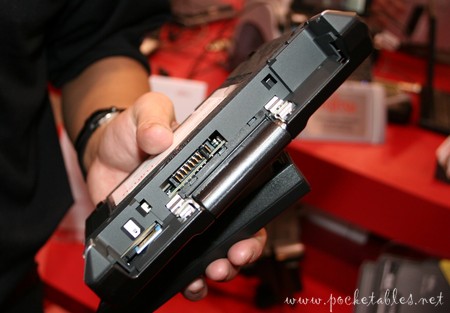 Unfortunately, the product manager I spoke to said that the SIM will be specific to the unit and therefore unable to accept a card from a cell phone. The voice plan from a phone, he said, would be the main issue (is this true?). Data plans with AT&T begin at about $60 per month, which is a pricey recurring cost for a device that can already access 3G networks via Bluetooth-enabled cell phones.
Here are some additional pics from the Fujitsu booth: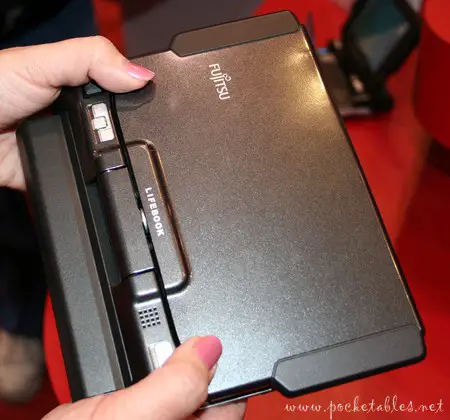 The 3G-enabled U810 was also shown at Digital Experience, the pre-CES press event, on Sunday. The display wasn't as nicely set up, but it still attracted a good amount of onlookers.
I picked up one of those life-size paper models in case it wanted to make an appearance in my full U810 review, which I'll post in the next week or so. I wish these kinds of models were available at every booth; they're very handy for size comparisons. The only other one I have is of the DataWind PocketSurfer2.