App Review: TSF Shell 1.5.0.091
TSF Shell is a replacement launcher application with a hefty feature set and a pricetag to match. We've reported on this before and were not too terribly impressed when it was first released but it's time for another look.
TSF Shell is known as either TSF Shell Pro, TSF Shell, or TSF Shell 3D depending on where you look in the video, program, or website. My best guess at the name they're using right now is TSF Shell 3D, although there have been no changes to the Google Play name and these are not different products. The branding has changed, but some of the promotional material/demo have not.
If you haven't already seen the YouTube demo for the launcher, it is impressive. Unfortunately they don't deliver everything on the video straight out of the box. The flag map is nowhere to be seen, and the box icon is just a transparent square. It should be noted that the music, gallery and time/date/city widgets are separate free downloads.
One of the first things you have to learn is that TSF widgets and elements have different actions for pressing, double tapping, flicking, and holding. For example, the folders element when pressed opens a standard generic looking Android folder, which when held allows for positioning anywhere on the screen regardless of how many pixels off it might be, and when flicked across will pull your icons out in a line you draw like charming a snake.
The app launcher has six different styles of transition you can use and each has a 3D/2D lock so if you don't want to look at your icons at an angle you don't have to be exposed to that. While all of them are neat looking, the 3D tube selector is actually quite useful, allowing you to see through your current page of icons into the next or previous page.
The app launcher also allows you to hide or delete applications from the selection screen, which is pretty handy.
In the app launcher area, you can also select several applications by double-tapping them. This takes the headache out of setting up a screen or folder, having to go back in, long press an app, then drag it to the right screen. You can select as many as you want and then drag them as a bunch to whatever screen or folder you want. The timing does not seem to be critical as I have yet to screw up a move of multiple items.
Consistently overlayed on the left you have a fully configurable quick launch bar (shown here as a pushpin.) You can place whatever applications in it you want and order them however suits you. The quick launch bar is divided into four separate sections: your apps, TSF apps/widgets/elements, TSF animation, and settings.
The current list of TSF apps/widgets/elements I have are the folder and contact elements, the album, music, and weather widgets, and the memo pad.
The folder element can be dragged to any screen and named whatever you want, and it functions as a gathering place for your icons. Flicking your finger over it will temporarily make all other screen elements disappear as you drag a line of your icons around. This allows you to put a lot of your favorite applications or people into one conveniently placed folder and drag them out to select easily. When you're done selecting something, all other elements will return to the screen, or your app or action will launch.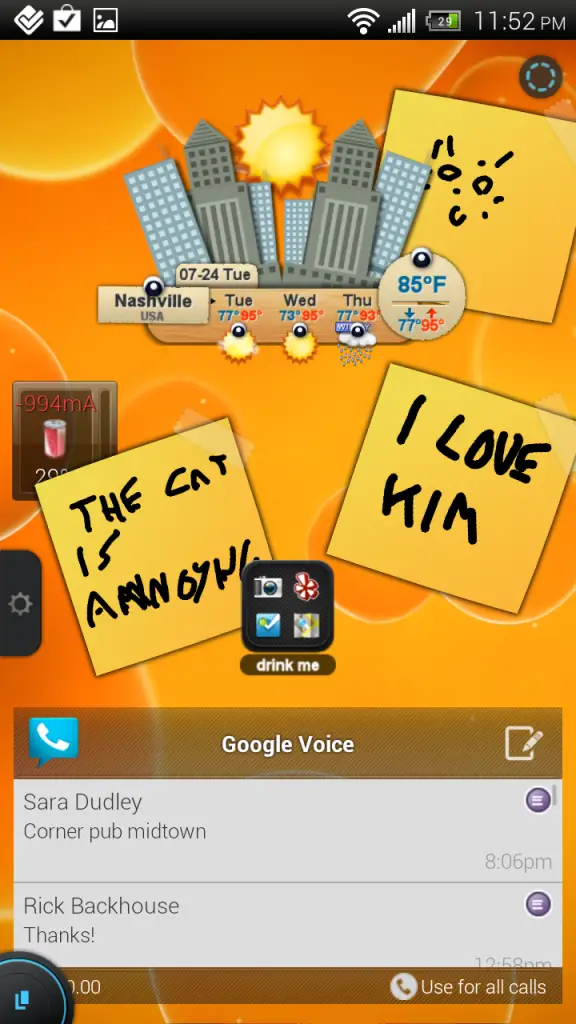 The memo element allows you to doodle and then stick it anywhere on your screen. Memos can be resized, positioned to within a pixel or two of where you want them, rotated, and can live in front or behind other elements or widgets.
I'm not entirely sure what the purpose of the memo element is, but it does provide some decor.
Memos cannot be edited or corrected, so whatever you're doing you have one go at it, much like a Sharpie and a Post-It-Note. Unlike Post-It-Notes, you can't pick it back up and add to it.
A contact element is just like opening a person's details page. After tapping them you get the option to contact them in any method you have available. Email, Gmail, text, phone. One of the disappointing things about the contact element is it does not pick up any Google, Facebook, or Exchange-associated photos as far as I can tell. You'll need to have a contact photo on the device to pick one.
That might be advantageous if you have friends who constantly update their Facebook photos to whatever the cause of the week is, though.
The animations elements allow you to position three random decorations on the screen. If you want you can have them animated and move left to right. It's kind of cute around Halloween or in Seattle/Oregon, but all they provide at the moment are a pumpkin, a black ghost, and a cloud.
On every TSF screen, except the app launcher, you'll see a circle in the top right unless you've turned the display icon off. This is your lasso tool. Lassoing an icon, element, or groups of elements allows you to arrange them, gather them together, choose all of them for some action, create a folder and throw them in, or delete them from the face of your desktop.
While there is indeed a picture showing the lasso tool appearing in the 3D launcher, it is not there and only appears when you press power+vol down to take a picture.
The gallery widget exists as a bunch of photos strewn about. You can define the area they spill into, the larger the more photos you can see. There are no special tap or slide actions for the gallery widget, you just tap to open and are presented with a tornado/corkscrew display of all your photos. All background icons disappear to give you a clean screen for your tornado.
The first time you launch the gallery widget it will be really slow and unimpressive as it builds a cache of photos. After the first launch though it's pretty neat.
One of the failings here is there is no built-in image viewer. Tapping a photo brings up a request to choose a program to open it with. While that's not a deal-breaker, the widget displays the photo already, so you would think it could display it a little larger.
The Music widget is one of the widgets with multi-touch capabilities. Tapping it opens a list of music on your computer, flipping down over it causes the album art to spin up to the top. It's a pretty widget, but only works for albums on the SD card.
The Weather widget displays time, date, weather. If tapped it pops a city up, flipped it moves some of the hanging pieces around. You can configure the widget to use Celsius or Fahrenheit, also also to use the hardware sensors so the hanging pieces will always tilt true to the ground.
TSF's screens are two separate areas, the desktop and the app launcher, however swiping from the bottom left toward the top right from any screen will bring up a select screen showing the app launcher and the desktop pages side by side. You can have home configured to switch between the app launcher and the desktop, but it's just as easy to swipe unless you only deal with one desktop screen all the time.
You can also just tap the bottom left of the screen and the multi-page select will pop up. An interesting thing at this point is that in the top right an icon that looks like three squares pops up. Pressing this results in the screens lining up and a black screen appearing underneath them. At this point you can reorder the screens to however you want by selecting and dragging them left, right, or dropping them face down next to the black screen till you want to put them back in.
Dragging the black screen up will add a new blank launcher screen wherever you want to place it.
Apps and icons can be positioned wherever you want, and most can be rotated. Widgets seem to need to lock where they would on a normal launcher and cannot be rotated.
One of the neat things about this launcher is also the ability to use live wallpaper. Although you have to change the render mode to mixed, throwing on a wicked animated background and then snake-charming my icons out of a folder offer great amusement when I show it off to people.
You can save and back up configurations so you should be able to take your desktop and settings from ROM to ROM if you're flashing. I have not had a chance yet to try this out.
After using this launcher for two days exclusively on my HTC EVO 3D (running Devil Toast) and my HTC EVO 4G LTE running Rejuvenated Stock, it's functioned flawlessly on Toast and mostly awesome on RS. I'm not sure if RS or Sense 4/ICS have some issues or my modified configuration, but changing widget options on Weather and Music tend to re-launch the launcher.
As there are only about four widget options in the entire thing, this really isn't a dealbreaker for me. Also as I'm running a rooted ROM and several random tweaks, mods, kernels, etc that might be the issue. Who knows.
So now, the launcher is quite amazing, all the things you can do with it are incredible in my opinion, but is it worth the price tag of $16.80 USD? You'll have to decide that for yourself.
While having all this functionality is amazing, how much time do you actually spend configuring the launcher? Are you happy being stuck lining your icons up and keeping them oriented the same way or do you want to create a great circle of icons that looks like an eye? TSF allows for some amazing customization, but how much time do you spend looking at the launcher and icons itself vs how much screen-on time is in an app.
The price tag is fairly high, the configuration options are high. After two days of  running it I'd say I've enjoyed it about $9.50 worth personally. It really feels like I've got a new phone here.
I've already ditched several widgets that were staples of my ROM switching days for features built into this rather feature-filled launcher.
Download: Google Play